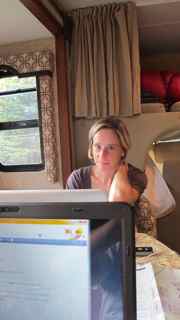 From the RV office of Miss.Melanie Chambers.
Day one. 
The dishes in the back of the RV rattle and clatter.
Hold er steady, cap-tn. I'm givin' er all I got! 
 Newfoundland's Trans Canada Highway isn't the smoothest, but it sure is scenic: rock borders the highway -- like a giant flame torch blew a path right through the sucker-- while beyond the rock, it's a green carpet of pine trees. At the helm of my ship!