I am staying at an agroturism place off a gazillion side roads about 17 kilometers from Sibenik; closest pub is three kilometers down the road--horror.  Wonderful people. I emailed one of the daughters, Ivana, months before I came. I was so excited to finally meet her after so many emails, we hugged when we first met!
www.kalpic.com
They even have a dog named Stella--fate!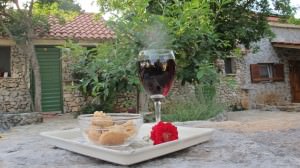 I arrived, tired from driving for about five hours to a glass of wine and homemade cookies. Oh, and a flower on my plate. My room is in the background. Birds chirping, water flowing...ahh.