12 Aug

Day 26: Pedestrian Kensington–not pedestrian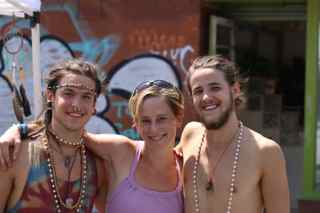 Every last Sunday of the month in Kensington Market cars are forbidden. Astrologers, food stalls and reiki healers spill out onto the streets. I found Lucas and his brother at the bottom of Augusta Street under a pop-up tent. So, I ask Lucas how he and his brother, two young boys from Chalk River in northern Ontario came to become healers. "We just smoked a lot of marijuana and we discovered we have this amazing energy." Alright Lucas, lay your healing hands on me. For $1 a minute, I find seven bucks and change at the bottom of my bag. "Let's see what you can heal for this," I say dumping the coins in his hand.
"Lay back. Now, what is your intention," he asks. "What is one area you want to focus on in your life, to find some clarity." I tell him love.
So, laying down on a thin carpet, I can hear people on the street walking beside me as Lucas begins to talk simultaneously putting one hand just above my chest and the other above my stomach–you can feel the warmth from his hands. "Feel love in everything around you. Accept it. Accept it." He keeps chanting. On my left side I hear his brother humming and rubbing a large cauldron until it sings. Lucas places his hand on my forehead. Again, heat soothes. A touch, even from a stranger, feels comforting. Trusting. These are good people.
The singing cauldron stops as his brother places his hand on my hip; Lucas touches the other side. Their hands move down the side of my thigh. And stop thinking dirty thoughts– there was nothing creepy about these two. Normally there are five people touching you. Mama Mia! Five. That's ten hands. Ten. "Take some deep breathes," says Lucas. Their hands are on my shins at this point as I inhale and exhale giant gusts of stress from my lips. I feel light and loved.
When it's all done, I shake myself into movement and get onto my feet. Lucas gives me a firm hug. "Wow, that was amazing – thank you."
And so begins my walk through Kensington Market. Musicians, belly dancers, and free spirits. I just feel happy at this market, always. Walking alone, soaking up the feel-good vibe, I grab roasted corn on the cob. Each bite is a burst of butter, lime and hot peppers. It cannot get much better.