20 Jan

Skiing the Canadian north

"Hey, Mel, (it's the beginning of the week). Do you want to come to Arrowhead to ski for the weekend?" D'uh! Yes please.

I love Toronto, but sometimes you need quiet, and wide-open spaces; you can find it in Arrowhead Provincial Park (neighbouring Algonquin Park), two and a half hours northeast of Toronto.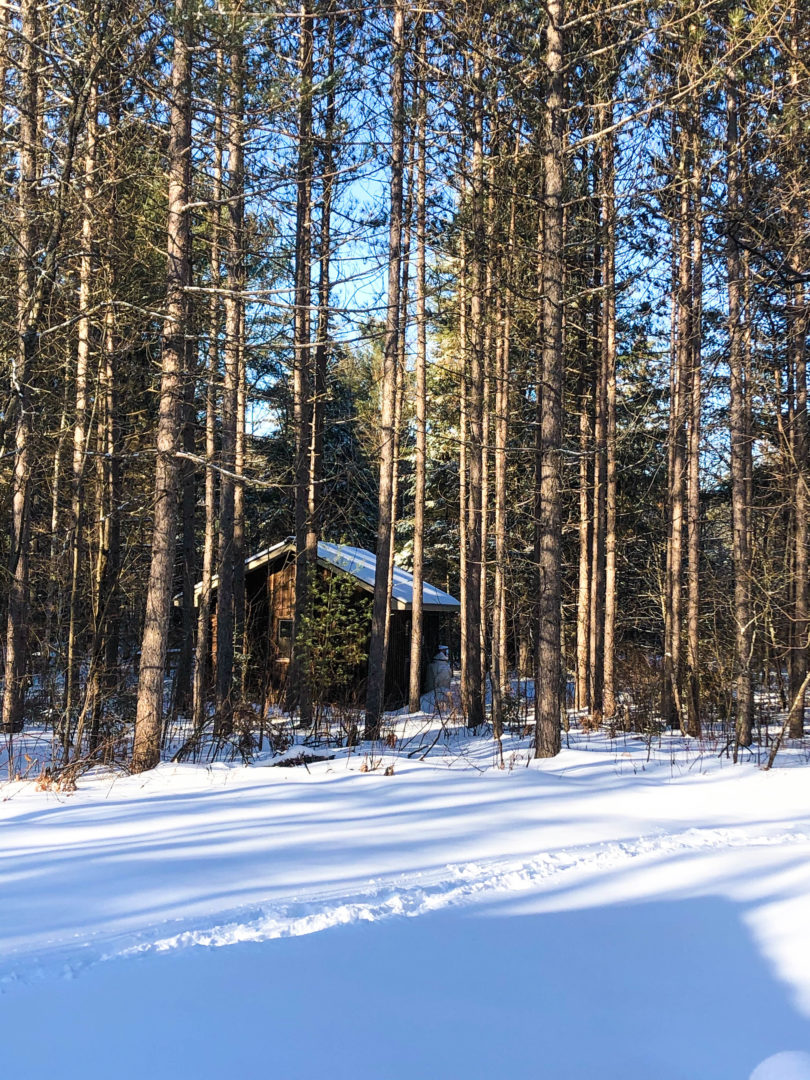 And, it pays to have organized friends who plans months in advance. My friend booked a cabin in September 2019! It's January.
It would also be a weekend of firsts: first cross country ski of the season, and my first trip with my new friend (something that gets harder as you get older, n'est pas?) As a fellow outdoorsy person, Kaydi and I met through a mutual friend when I was looking for advice about bike packing around Japan. Kaydi had done it solo a few years ago. Over beers in Toronto, and the company of her foster service dog Wendy (Kaydi also trains service dogs –her cool quotient just keeps getting higher!) we talked about the love of the outdoors, travel and adventures. I left the bar feeling giddy: a new friend!
So, stocking up the car with skates, food for a few days, and the skis (full packing list online), we kept our fingers crossed for snow. This is one of the mildest and wettest winters I can remember – would we even get an opportunity to ski? The forecast in Toronto was calling for rain all weekend and up north, it wasn't much better- freezing rain.
Other than the 33-kilometers of track set classic cross-country ski trails, and skate ski trails, Arrowhead is known for its 1.3 km skate path that cuts through the forest – and get this: on special weekend nights, the path is lit with tiki torches!
After a late arrival Friday night, we woke up to the sound of rain on the roof. Snuggled into my sleeping bag on my bottom bunk bed, Kaydi on the top bunk, and her friends in the bed next to us, we spent most of the morning in pyjamas, talking, until someone moved for coffee.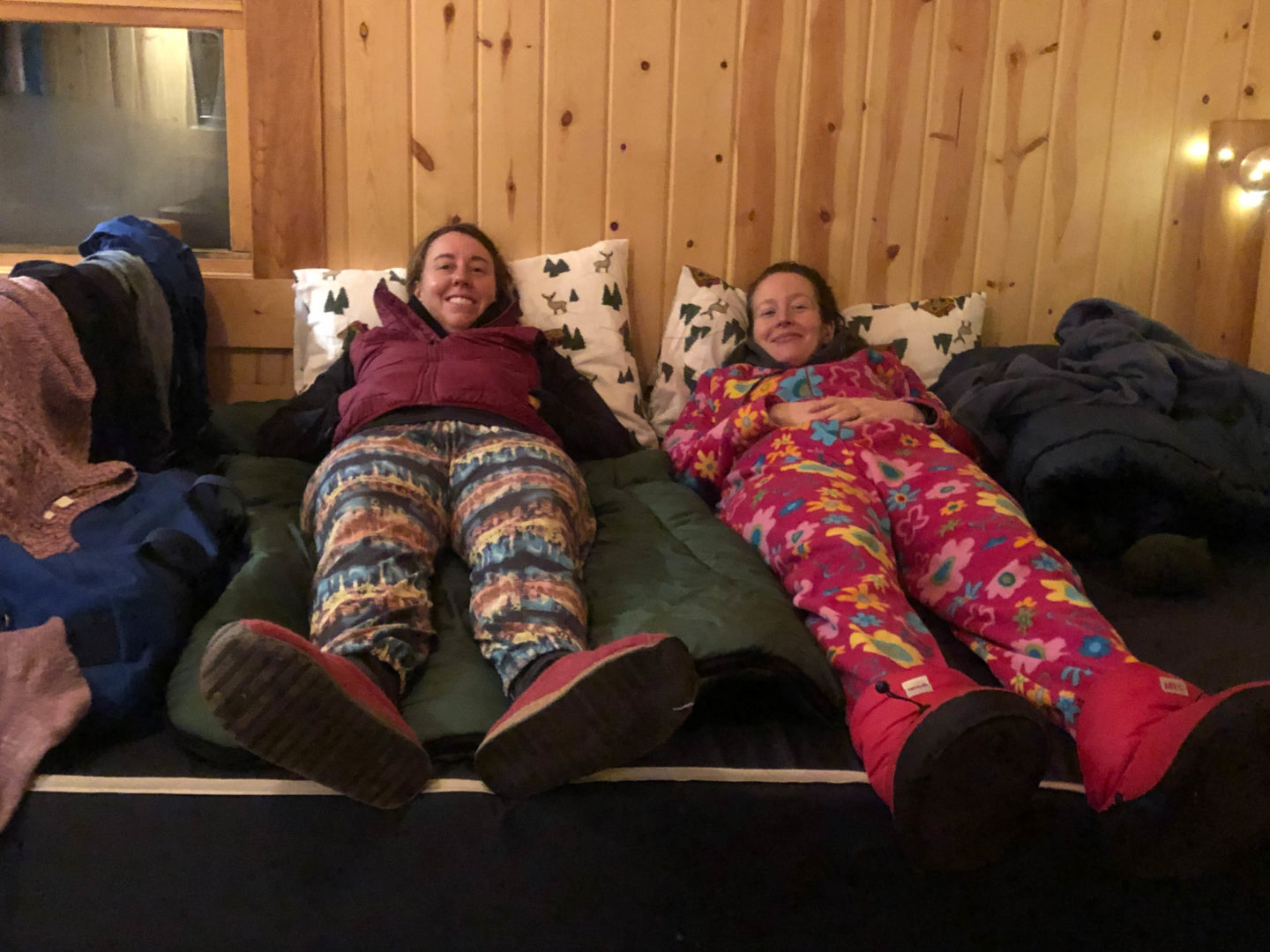 My fellow camp mates work in the outdoor industry as writers and editors; Kaydi's girlfriend is a paddling guide, and Kaydi edits a paddling magazine. These kids have fantastic outdoor gear, and years of experience playing in the woods. So, while I was watching my Cuban fine grind coffee slowly drip from a Bodum for 15 minutes, the others were sipping their instant coffee. Instant coffee next trip.
Over coffee, we also watched a drama unfold outside our window: some city folks had driven their tiny weenie Volkswagen in front of their cabin (forbidden according to a sign in the parking lot) and were now stuck. Honest mistake, especially if you show up in the dark. But less forgiving, as a Canadian, is driving into northern Canadian backcountry with summer tires. Eventually, when our gang rolled out of bed, and guilt propelled us out of the cottage, we helped give them a push. Even with the push, they still didn't managed to get on the main access road.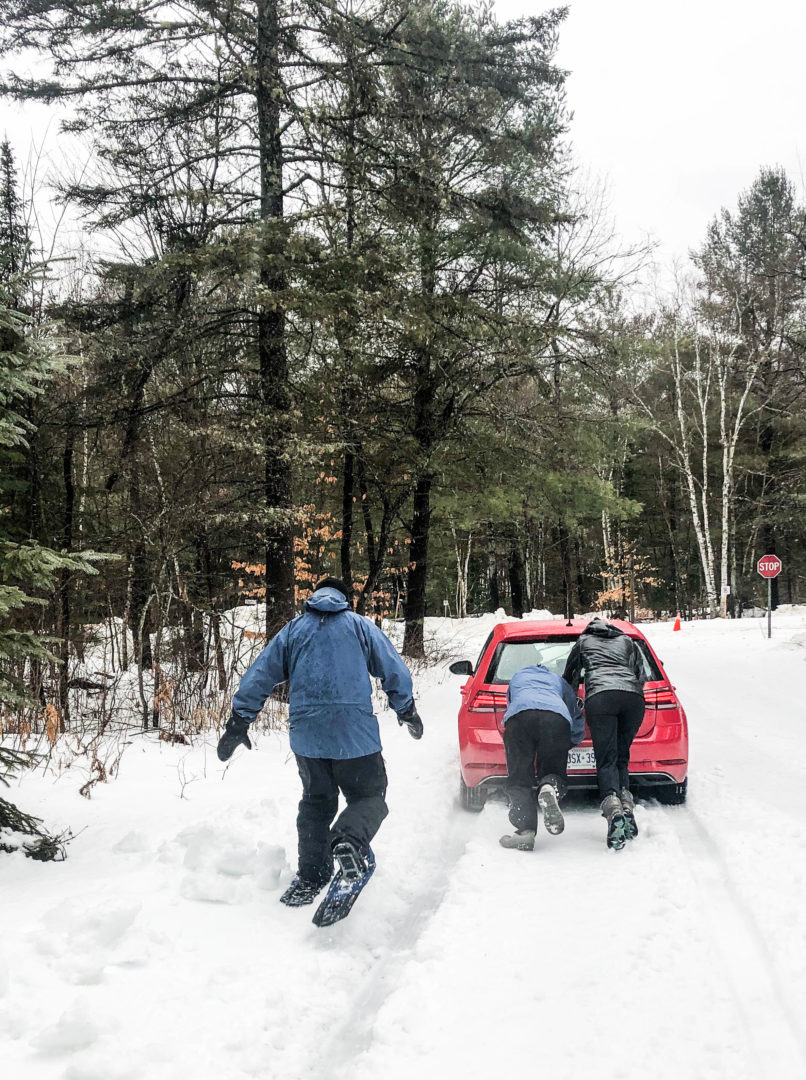 Since it was still wet, we went for a small walk to the nearby Stubb's Falls — "winter is what you make it," says Kaydi. Smart lady. In Toronto, it can be hard to enjoy the winter if it's slushy, but with proper snow, winter is magical.
By lunch time, it was snowing! So, we waited – ate chips — and waited some more. It felt so indulgent to lounge around talking with new friends. At 4pm, we were on the trails! Technically the trails weren't open, so we attempted to follow the old trail. When one of our gang returned to the cottage, the three girls decided to do a small loop. But it was getting darker, and when one loop began to look like another, we realized we were lost; however, you can never really get lost these days – Hooray smartphone!
We arrived home, and began dinner prep. I love how these outdoor weekends revolve around eating and skiing – if it's not one, then it's the other. And since the cabin options for cooking are also simple, barbecue or microwave, we had hamburgers. Kaydi was in charge of dessert and brought cupcakes. Another reason to adore this gal! Sweet O'Lenka's in Toronto.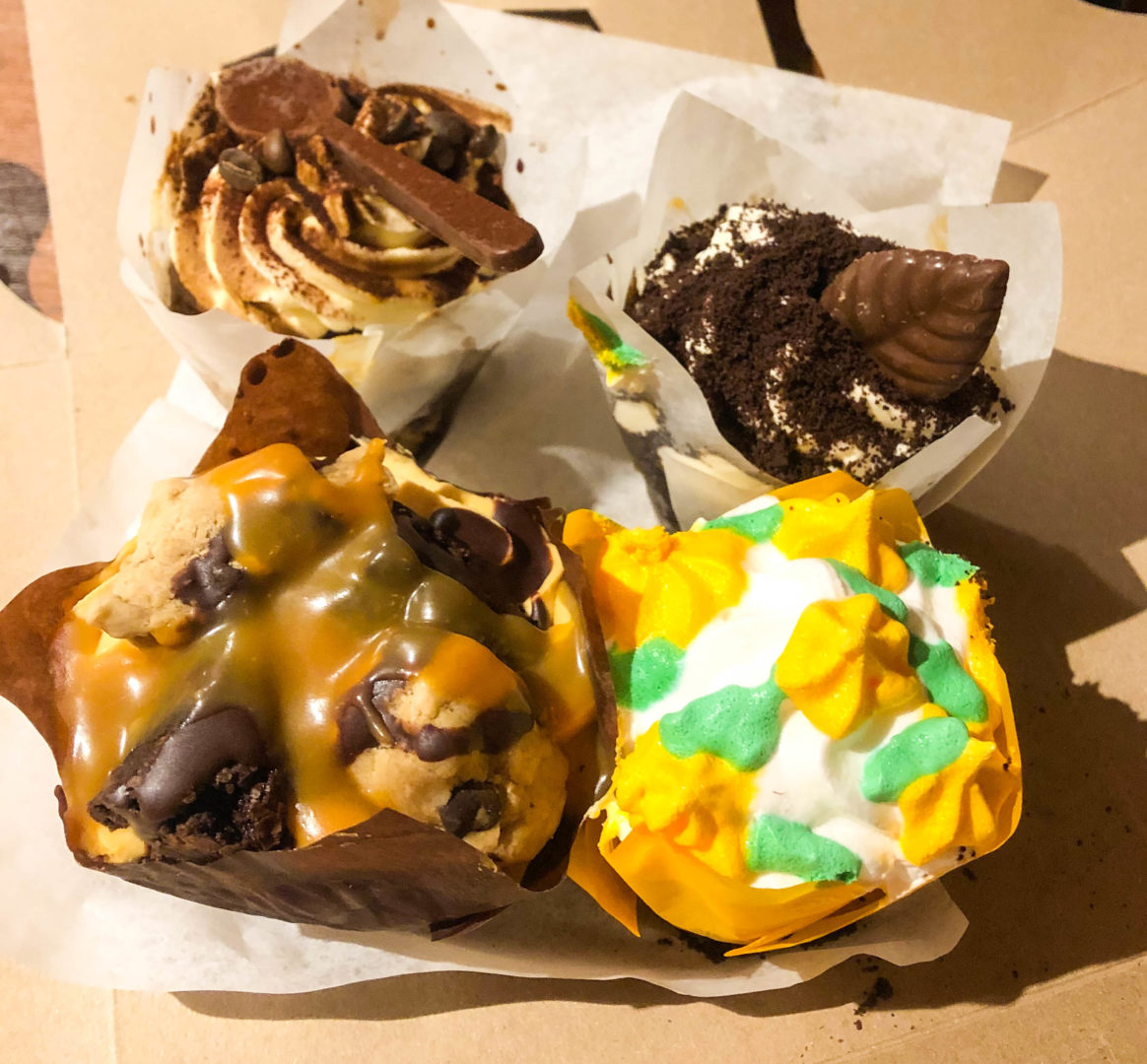 We shared the goods: first taste was lemon poppyseed and marshmallow mango mouse icing, then cookie dough with caramel and finished with chocolate chip with chocolate mouse icing. The final tiramisu would have to wait—we hit a sugar wall, and had to back away from the cupcakes. Sugar overload was also responsible for making one of us vomit in the night – not fun going outside in a blizzard to cough up cupcakes.
We woke up to a blue sky and freshly groomed trails – in fact, once we got onto the Arrowhead Lake trail,  we were the first skiers after the groomer. The tracks were perfection – the 'ditch' was sliced like white steel. I love that feeling of super human gliding – your body stretches out to its longest like a giant star – my right arm out front and left leg out behind. The air was delicious – so cold you feel it inside your body. Stretch, glide and breathe.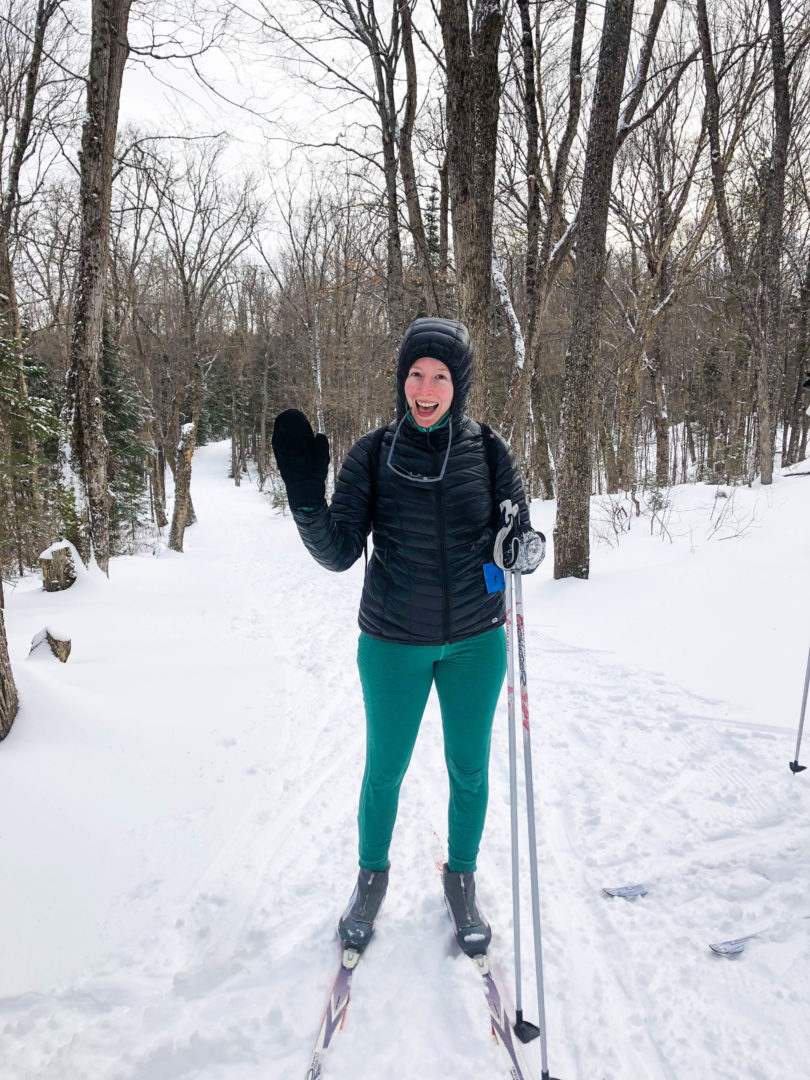 We got a few hours in, then peeled off a few layers in the new Visitor Centre – with a wall of glass that looks out onto the trails and a fire place inside, it's spectacular. Spreading out the remainder of our food on the table, sharing crackers and cheese, I felt satiated—just the kind of feeling you only get from participating in a real Canadian winter.