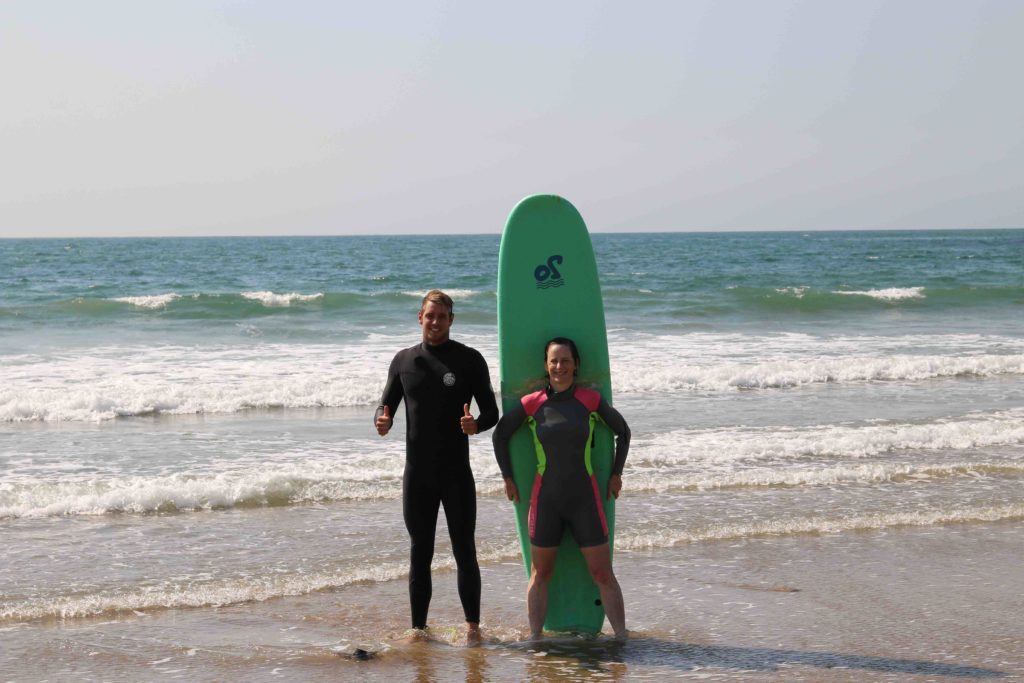 06 May

A surfer's tale.

First time surfing in Mexico I hated it. Swore I would never do it again, ever. Caught in washing-machine waves, smashed in head with surfboard and eating the sandy ocean floor. Party on. But, looking at the waves in Durban, they are tame by comparison; and to be honest, a friend had just posted a New York Times article that justifies sucking at surfing. It was a sign to suck at surfing, one more time. And honestly, I'm thankful I gave it a second chance.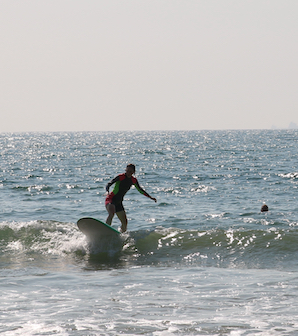 I signed up for two private lessons (about $40 for two hours). Private because I need a lot of attention. Meeting on Addington Beach (where the swells are not as high), it was a perfect place to begin. Durban's waterfront is a beautiful stretch of beaches and restaurants; it has a cool California vibe.
This is where I met Josh Saunders. Just what you'd visualize in a surfer: tall, dirty blond hair, killer smile, but that's where the similarities end. Over two days, I discovered this Olympic-bound swimmer's gentle beyond-his-years soul.
On the beach he showed me how to hop onto the board, but he also tweaked my stance once I stood up: "point at the beach, where you want to go, but keep your body facing the outside of the board." Dressed in my retro grey and pink wet suit, I started to hum the Hawaii Five-O theme song as we ran towards the water. "You probably don't know that show," I said to him. Josh thought I was 34. And you wonder why I like this guy? Flopping myself onto the board, with my toes curled, arms in push up position, looking towards the beach, Josh held the board: "you ready?" Heart thudding, feeling my rib cage dig into the board for balance, I was ready.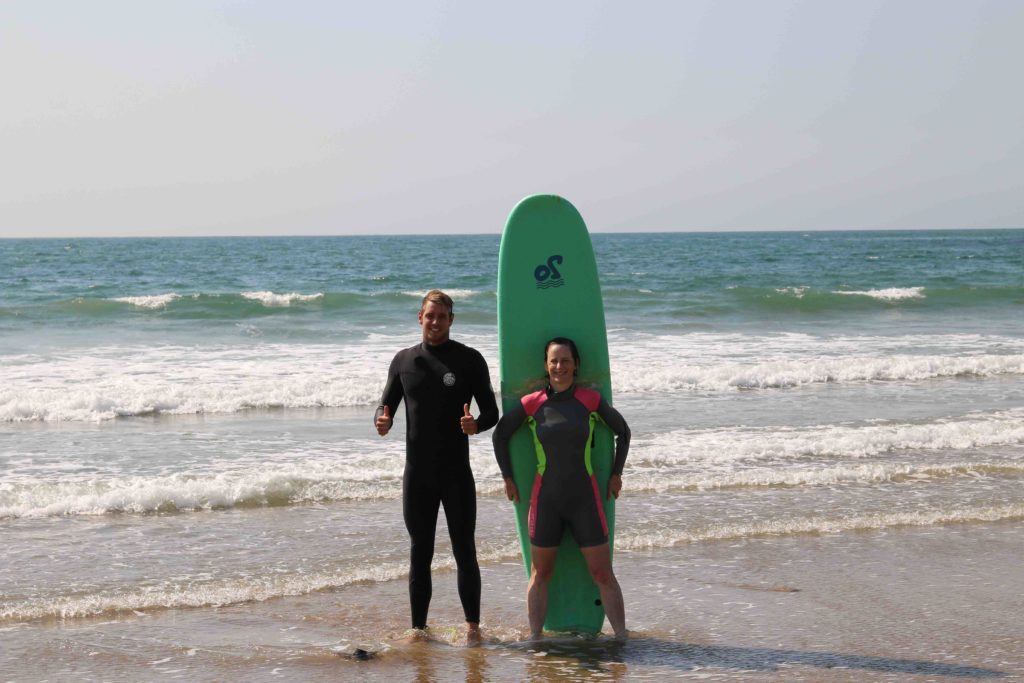 He pushed the board into the wave and let me go. "Up!" He yelled. I popped up, but within seconds was off the board and into the wave.  On the beach, Josh's younger brother Dan was taking photos. Dan was heading off to work on a sailboat for months, or longer. Freckled faced kid who preferred skateboarding to walking, the new high school graduate was about to have first life adventure. Josh was both proud and scared for his younger brother. "We're really close." This was obvious.
Round two. This time I was determined. "Ready?" I popped up quickly and adjusted my right leg into the centre of the board, yoga warrior pose style with feet facing out. On my wee little board, I was following the wave onto the beach. "Wooot woooot!" I yelled. Walking on water, I was surely going to touch the clouds soon. Moments after the woot woots, I crashed into the wave, but it didn't matter. I had those few seconds. Josh was impressed. "I rarely get people getting up that fast, well done." For the next two hours, we chatted as Josh pushed me into wave after wave, each wave longer on the board, more confident. It's like when you get a good flow of berms on the mountain bike and you can't stop smiling. Turning back to the water, Josh fist pumped the air every time I stayed up until the wave broke.
Josh revealed his swimming ambitions. He is training for the Olympics; he's that good. On our second day of surfing, he also told me that his mom died of cancer last year and that his training had to come second for a long time. Both him and Daniel have a tattoo on their triceps: Adele. Their Mom. From what I gather their father wasn't in the picture much; Mom was the rock, the support. The way Josh spoke of his wanderlust, his love of people and his care for his baby brother, you can tell his mom was a force. "I'm at a cross roads, I don't know what I'm going to do." That's ok, I told him. You're 21, kind and hard working. You'll go far.
At the end of the final day, the three of us grabbed lunch: bunny chow. Finally, the Durban Indian dish I heard so much about. Durban has the largest population of Indians outside of India in the world and in 1860, immigrants arrived to work in the sugar cane fields. They created bunny chow for lunch in the fields. Bunny chow is half a loaf of bread, hallowed out and filled with curry. No utensils required, you just break off the bread and scoop up some curry. Since then, it's become a Durban favourite. I barely got through half the loaf, but man did I try.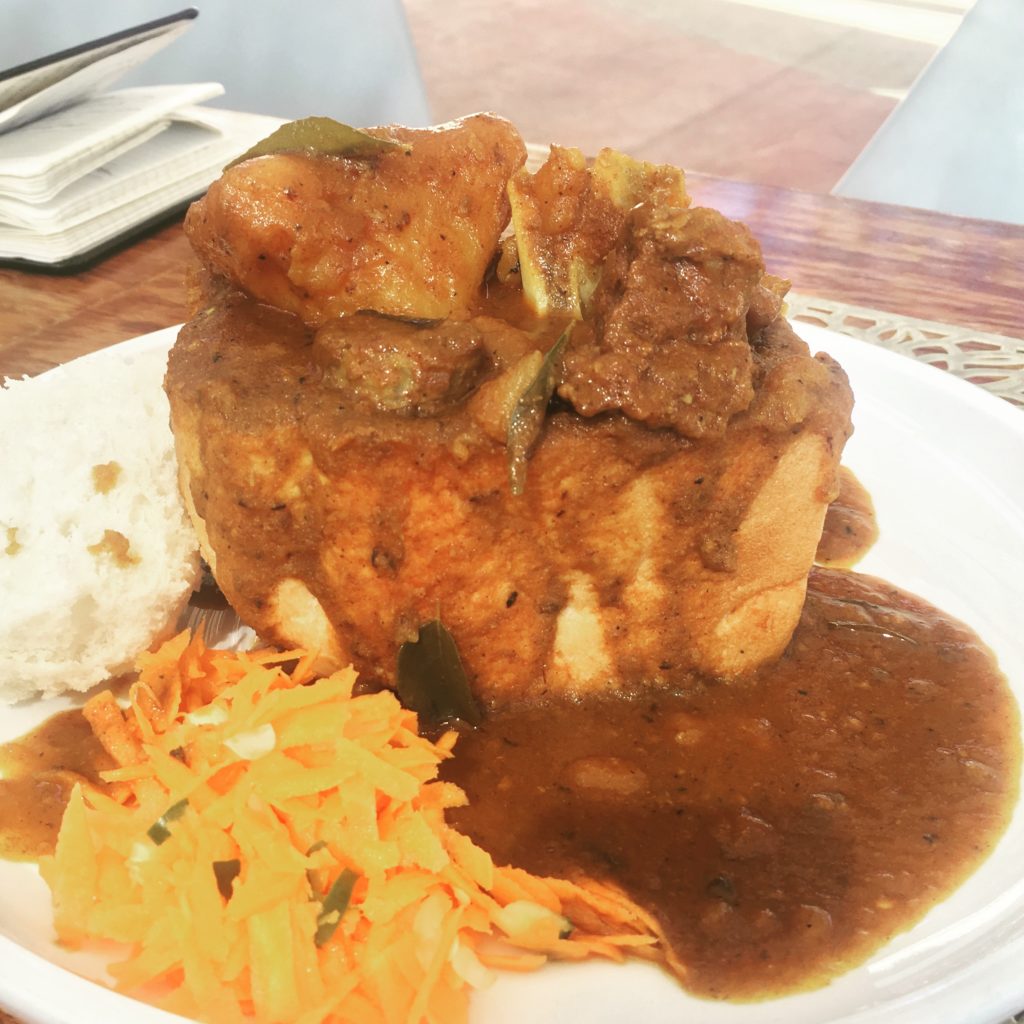 After Daniel left, running off on his skateboard, Josh asked me for some life advice. Wow. Gulp. "Well, don't be in a rush. Follow what you love. Have balance in your life. And, save money. Money should never be an issue in your life. Save." I don't know if it helped, or if it sounded too glib, but after we parted, I had to sit at a cafe for a while and reflect. I emailed him right away and told him that I can't wait to see what adventures he's going to have in life, because he will. He's that kind of person.