21 Dec

So, Norway. You think you're cute?

There are places that you see in photos and say: "I want to see that!" Alesund is such a place. Squeezed onto a little inlet, the town looks like a doll house city from the Sunnmøre Mountains above.

And with its fairytale facades, it's charming personified.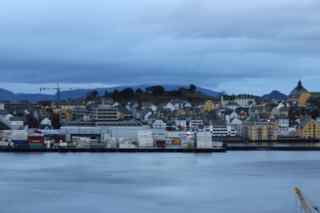 Reachable by two ferries from Trondheim– and a five hour drive — Alesund feels like it's on another planet: one inhabited by everything cute. Flowers etched into window boxes, and cafes that smell of cinnamon.
The town burnt to the ground during a major fire in 1904  — 850 houses went up in flames, and then it was heavily bombed during WWI. Ironically enough, it was the Germans, who traded a lot with the town at the time, that helped rebuild in the Art Nouveau style, which is quite Dutch.
I couldn't stop taking pictures: every building was different.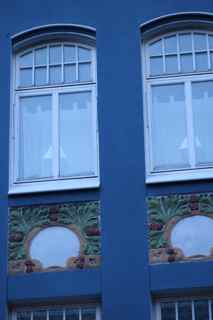 It's a small town so we only spent a few hours drinking coffees, and shopping. I could tell Bjornar was in pain the entire time–cafes and girlie shopping. Oh joys of all joys. It's every man's nightmare–waking up in cold sweats dragged from one cutsie shop to another and another. Horror. Horror. Horror.
This is the main square. Love this sculpture.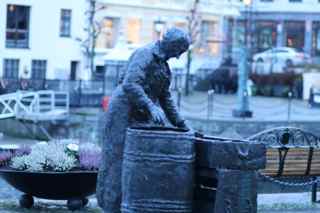 Then, I found it. The perfect shop: Sydvesten. It's beyond adorable. A woman was knitting alpaca wool when I went in– there's scarfs, mitts, ceramic mugs–all homemade.
https://www.facebook.com/pages/Sydvesten/118741288166537
I bought some wee little mitts for a little guy back home and Bjornar held my coat as I tried on an alpaca sweater that sheds more than my cousin's dog Sernie. Adorbs! Did I just write that? What is happened to me? Snow is melting my brain.