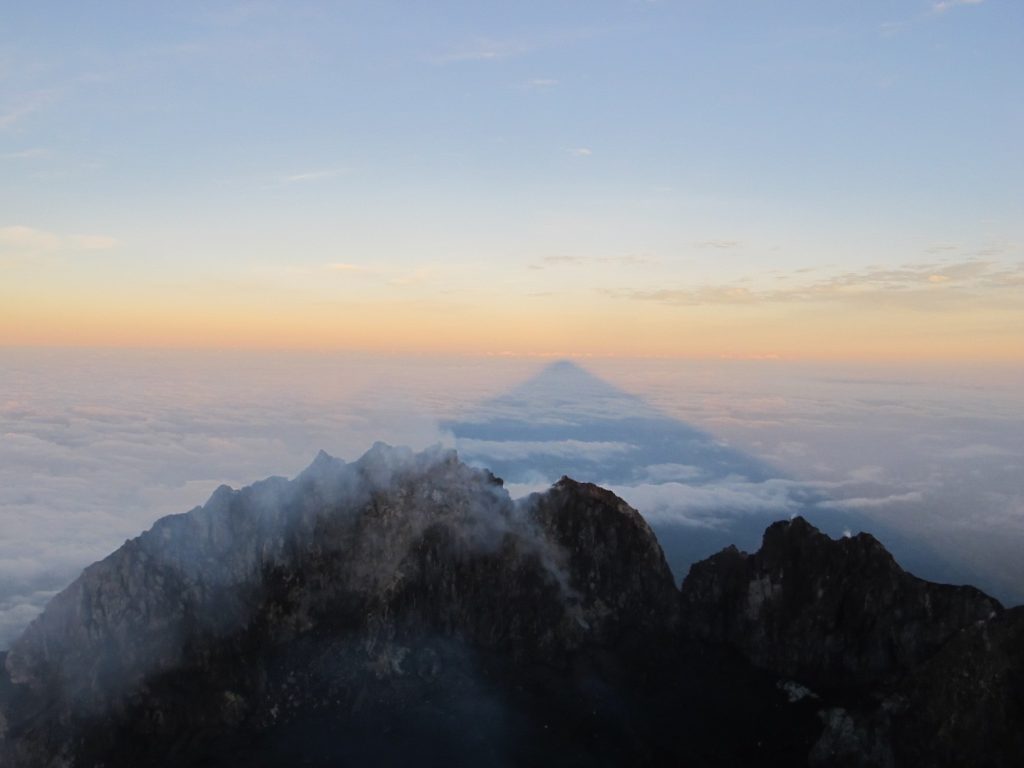 18 Jan

Bali High: hiking volcanoes in Indonesia

Hiking a volcano in the dark to see the sunrise, and skiing down loose lava rock to the bottom.

These epic hiking stories appeared in Travelife Magazine: BALI

Click to read!  At Bali's ancient Pura Besakih temple at 2 a.m., the night fog rests on the dragon statues as if they're going to wake soon. Endless stairs lead to networks of courtyards and elegant spires; it's the oldest and most holy of Bali's Hindu temples. But tranquility is an illusion on this particular morning.

Our guide is visibly distressed. He's not sure if a young, but out of shape, Belgian girl can hike the entire 1,000 metres vertical to the 3,000-metre peak of this volcano. Maybe her partner, but not her.

"I want to do it!" she says gasping for breath.

The experienced group ahead isn't waiting and I follow them as I also paid for the harder route. The guide relents and we all begin scrambling over the lava rocks to reach the sunset. Hours later, I'm watching the orange glow burst onto the horizon. Looking around, no Belgian girl.

Indonesia is located on top of the Java Trench, where the Australian and Indonesia tectonic plates meet, and as a result, it has the most active volcanos in the world, about 129; therefore, gunung (volcano) bagging, hiking as many as possible, is the Indonesian traveller's imperative, like snorkelling in Australia's Great Barrier Reef.

After the sunrise on gunung Agung, descending is similar to downhill skiing — digging my walking poles into the lava, if I don't lean back enough, I could fall and roll to the bottom. When I arrive at 10 a.m. in the parking lot, no Belgian girl. At 1 p.m., she arrives mud-faced and disheveled, bursting into tears. "That was the worst ever! I almost died!"

That's the thing with gunung bagging; no two volcanoes are alike. Some are easy, like Batur in Bali, which at an elevation of 1,000 metres, is manageable without a guide; while others, like Agung, where hikers must grapple with altitude sickness and steep lava slides.

Basing myself in Bali — a central jumping-off point to the other Indonesian volcano hikes — I don't anticipate liking the island. After the media blitz of the book Eat Pray Love, Bali, in particular Ubud, the once calm Hindu village, became overrun with hippie yoga-loving vegetarians. But what's so wrong with $10 massages, exotic fruit juices and artisanal roasted coffee beans? And what's more, the entire island has always been peaceful: Hindu Balinese place fresh flower offerings on the road every day so the air smells divine.

Days after I recover the feeling in my legs, I'm ready for more. This time it's a big one: the second-highest volcano at 3,726 metres, Rinjani on the neighbouring island of Lombok, takes three days to conquer.

On the first day, after hiking through a meadow with the smoking volcano in the background, a path leads into a gnarly series of switchbacks to a dramatic cliff where a line of hikers' tents are perched along the crater rim. After a bowl of Mr. Noodle with egg doused with hot sauce, I fall asleep despite the high-pitched laughing of the nearby guides.

Days later, we're above the clouds at the summit before the sunrise — travellers huddle to stay warm, and everyone congratulates one another for making it. A son hugs his teary-eyed 70-year-old dad as he arrives just in time. Everyone goes silent as the sun grows, and warms our faces.

But the next volcano, the most active in Indonesia, would be the most difficult yet. Days before signing up to hike Merapi in central Java, I read about eruption warnings. On the slow ascent, I notice words embedded in the rock: In Memomoriam. Sumarno (Joker). 14.6.2014.

"Wait a minute, wasn't that just a few years ago?" says one of the guys. He couldn't have died from an eruption — the last one on Merapi was in 2010 killing 30 people.

But since my gunung bagging adventure began a month ago, I haven't seen any red lava spewing from the crater like it does on those Discovery Channel shows. So far, I boiled an egg at Batur in the hot steam inside a hole in the ground, and smelled rotten egg sulphur. So, how did this guy die? Maybe like the Belgian girl, it was just too physical? Merapi is the most active, but it's also the steepest. At times I'm grabbing tree roots to pull me up. And with a super-strong agile mountain goat of a German girl in front of me, I'm tempted to ask for a piggyback.

Once we reach the summit, it's so windy my coat puffs up like a balloon and it's a struggle to stand up. Teetering on sharp black basilica rock, and seeing giant gaping fissures on the ground below — maybe once a field — it feels like we're on another planet.

Back in Yogyakarta, the largest city located two hours away, eating my kale and chickpea salad (I told you it was touristy), I recognize the German hiker at Merapi. "So, want to hike another?" she asks.

The next day I change my flight so I can "bag" just one more volcano — gunung Lawu.

Arriving in the village of Solo, a few hours from Yogyakarta, lunch arrives on a scooter. A young man hands a freshly skinned rabbit to a woman who quickly cooks it over hot coals. Across the street, the trail head from the Cemoro Sewu entrance is a cobbled stone walkway. This popular holy Muslim trek is manicured. And with more rainfall in the region, the forest is also quite lush — different from the barren landscapes of many volcano hikes.

After a few hours, our guide is lagging behind. We decide to keep going, until we reach our hotel: a corrugated shack. At 3,100 metres, the air is crisp so we hover over a fireplace, resting our socks close to the flames until they steam.

Tucked in our sleeping bags, we wake after a few hours.

With our headlamps on full blast, we sleepily walk the final hour in the dark to the summit at 3,265 metres. A handful of other hikers congregate — and again, the same sunset, only this time I look at the colours a little more intently. And despite the cold, I stay a little longer.

My new German friend and I hug one another, then sit and stare at the sun, not saying a word.