07 Jun

Bali — mom, send my things

North of Kuta, where Aussie spring breakers vomit pink drinks and make regrettable decisions, is Ubud—a slightly less busy Balinese town.

Driving in late at night, flowers and jasmine overtake the air. A few snaps of the town vibe…downtown and the rice field burbs.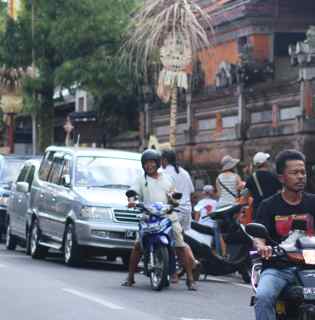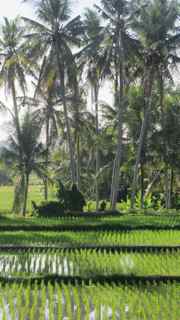 My room, in a villa called Loka Pala, is one of a few rooms around a courtyard pool, a hammock with candlelight and ricefields in the backyard. Opening the glass doors, a wee kitty saunters in at my ankles and purrs. Mom: send my stuff please.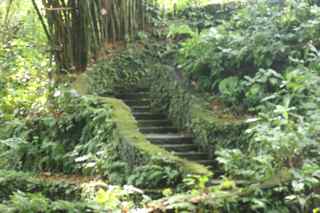 Entrance of my room.
In Ubud, massage, vegetarian restaurants, and yoga studios rein. I met an aussie woman at a coffee shop off to her third class– it was early afternoon; she also comes for the  food: "if you're into health food it's cheap and vegetarian restaurants are everywhere."
For me, breakfast of fried rice with green onions and spices nestled in an omelett, with a chocolate and banana smoothie (ok, not quite traditional) and two coffees cost $7.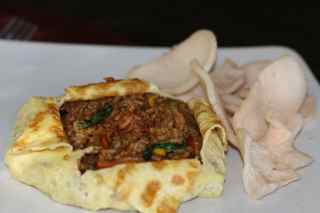 Lunch: fish wrapped in banana leaves and chilies.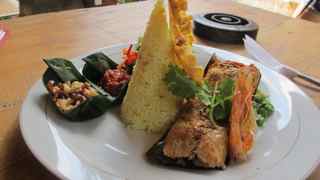 About 80% of Balinese are Hindu—offerings outside of temples include flowers, incense and candies.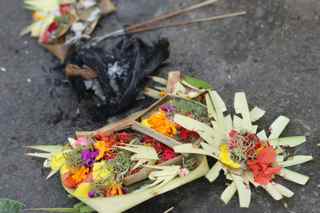 Temples with elephants, and scary creatures are everywhere…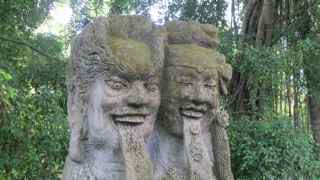 FYI: those are extended tongues. Why one would need such a long tongue I can only imagine.
The villa is down the road from the monkey sanctuary; erase from your mind cute cuddly monkeys. These little guys are hellions.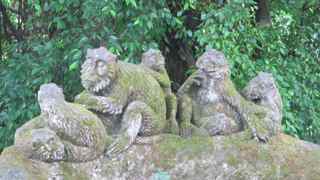 If you have food, watch out. I saw a monkey grab a woman's calf and hold tight no matter how much she shook her leg, which evolved into a swift kick. Showing some teeth and hissing, he backed off. I also saw a woman on the back of a motorcycle holding three trays of eggs (a feat in itself); a monkey jumped on the seat and tried whacking the eggs out of her hands.  Hmm, rethinking walking through …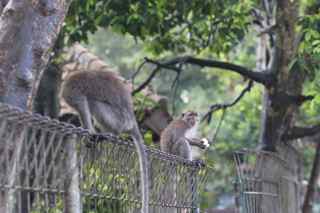 I meandered deeper into the town— shopping galour. I caved (full disclosure: I have no clean clothes!) and bought a silk dress, sarong and top for $30… perfect for non-stick clothes. Did I mention that the humidity is like sitting in a steam room for a few hours? Prune fingers and constant sweat. Attractive.
I found this shop, Butter Cup, that sells all things miniature; reminds me of dollhouse furniture.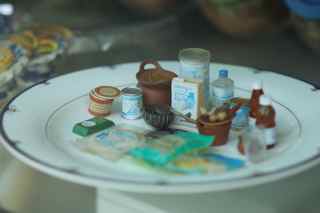 Also bought homemade dollies for friends with kids from this lady.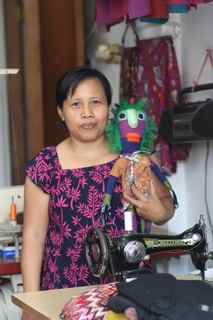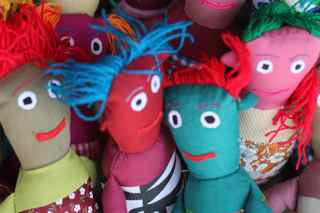 Walking along the bridge into town, I coo at the sight of a baby tucked into a mommie's front pack—mom hears me and stops. I catch up for a 'peak-a-boo' picture.
Flawless.
And inevitably: massage. Why not? Turns out an hour of bliss runs $10. The entire family is there: kids running around playing, while grandpa comes out and shakes my hand: "ready?" Behind the curtain, Balinese music plays. He motions for me to lose the dress. Well, he doesn't say it like that! For a milli second I felt weird; paranoid westerner. Belly down, face in the cut out hole, a bowl of flowers sits on the floor beneath my nose. Inhale jasmine and fresh flowers with every deep sigh. I sigh a lot. For over an hour he gives me the strongest massage I've ever had: imagine deep pressure points on the top of your hand sending electric currents through all the way up to the shoulder.
Afterwards, we sipped coffee and talked about the weather while his grandkids screamed and played. I told him I would dutifully return after each volcano hike. Mount Agung in Bali is my first at just under 4,000 meters. Starting at midnight we make accent before sunrise. Jello legs–hello!