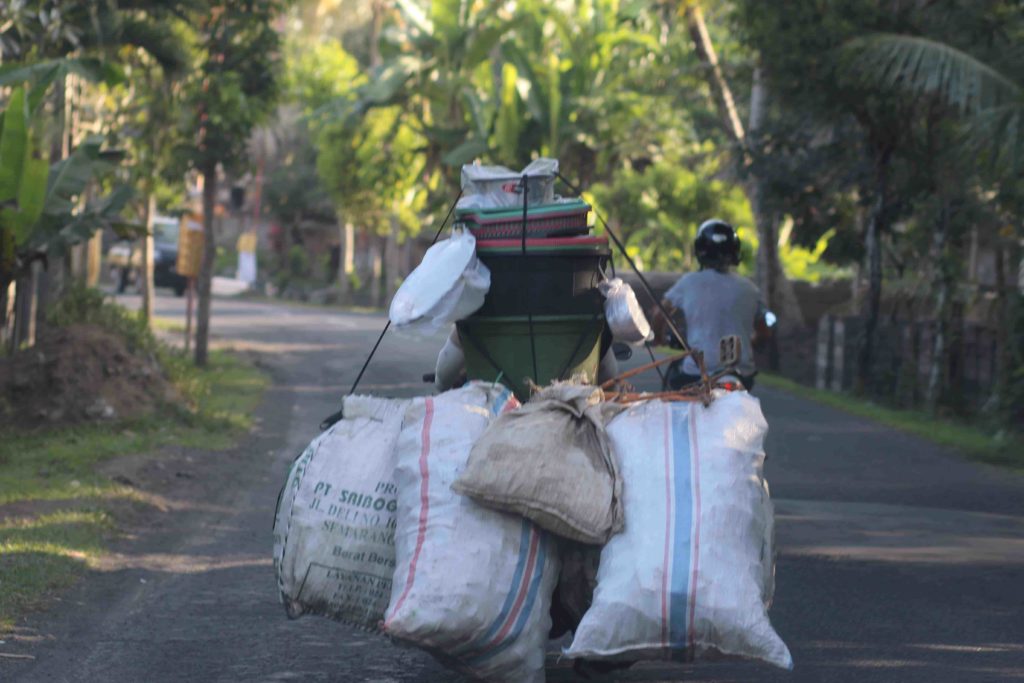 24 Sep

GLOBE AND MAIL: Bali Scooting

Don't need a licence to drive a scooter in Bali- only nerves of steel and a touch of stupidity; appeared in The Globe and Mail. 

It was my first time riding a scooter, but that didn't matter.

"You have passport with you?

"Umm no."

"No problem."

So, in Ubud, Bali, for a cool $50,000 rupiah, or $5, I secured my helmet (not required either), revved the gas and got ready to merge into the chaos.

I'd been watching the local riders in amazement since I arrived a week ago. Drivers in bare feet and no helmets; children perched on the handlebars. I even saw a golden labrador wedged between the driver's feet – tail, butt and head sticking out. Another carried what must have been 50 balloons – so many I thought he would float away. And hungry? Rice cookers and hot plates were affixed to back seats. A moveable feast.

But I was desperate to get out of the city. The daily barrage of street vendors was overwhelming. "Taxi? Taxi? You need massage? Massage? Transport? Maybe tomorrow? Give good price." This is Ubud since the movie Eat, Pray, Love was filmed there.

Driving to the beach was the only escape, even though I'd already met two travellers who'd been hurt or hit up for bribes on their scooter adventures.

Once out of downtown, I assumed I would be home free. But first: the roundabout. Drivers from all directions spewed into the circle. Adding to my confusion: Balinese drive on the opposite side of the road.

Don't think, just do.

Cruising at 30 kilometres and flashed my hazards, streams of drivers honked and passed. But I got through it.

Driving south, I passed villages specializing in traditional crafts. I scanned the goods as I passed: 10-metre high stone carvings of Hindu and Buddhist gods; gargantuan wood art, think tree roots resembling thunder bolts. But stopping the scooter is still iffy, and I don't want to risk it.

Eventually, the traffic dissipated – the scenery is straight from a travel brochure and I glided peacefully beside sprawling rice fields. This was the Bali I'd been looking for.

Another hour on the bike and I was in Kumabas, close to my beach. But, I needed a break. Layered in sweaty dust and suffering from numb butt and clenched fingers, I couldn't pass up a $5 massage. After two glorious hours (I love this country!), I was ready to take on the road again.

Walking back to the scooter, a Balinese guy with a small hoop earring and no shirt stopped me. "I protect your bike. People steal here."

"Great," I thought, how much does he want? But he didn't ask for money; he just wanted to talk. After an hour of chatting, he invited me back to his home to meet his family and sip thick Balinese coffee. His mother came out with chocolate cake and bowed her head. I respond in Balinese "Suksma," (thank you).

By this time, I realize I've squandered my beach day, but it seems to hardly matter. I took a leap of faith jumping on that scooter, and another going home with Agung – but that's what travel is all about. The beach will still be there tomorrow.