05 Sep

Canada the accessible?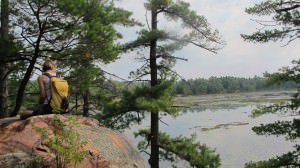 Cranberry Bog Trail in Killarny Park, Canada.
I ask my travel writing students  a question every year: how many of you have been to a national park in Canada? I once had two hands go up.
Distance is a factor: I discovered that even though Manitoulin Island looks close to Killarny Park–barely a pinkie finger on the map–you must drive around it. If you ever take a train out of Ontario, it takes an entire day to get through the province. To get to Killarny, we first had to drive north to Espanola, then east to Sudbury, then south and then another 67 kms west INTO the actual park. An extra three hours of driving in all.
Instead of backtracking and returning the same way, we ended up driving over 1,200 kms to circumnavigate Georgian Bay in about six days.
But it is worth it. I will post a series of posts about why you must see more of Ontario. As a tree planter over 15 years ago, I fell in love with the rocky landscape and giant open spaces and lakes–so many clean water lakes. This was such a great reminder of those northern towns that if it wasn't for planting, I would never have seen. Thank you planting for carpel tunnel syndrome and all the great northern trips!
Cost is also prohibitive to travelling in Canada. CBC reported recently that ridership on the ferry to Manitoulin Island, called the Chicheemaun, is down. Well, I can offer up why. One truck, going one way, on the two hour ferry costs $82! Then, for two nights camping in Killarny Park it costs another $95! Might as well head to Europe.
I do not want to diminish how beautiful it really was–it made me fall in love with Canada all over again, but it reminds me of a story I wrote years ago when I lived on Haida Gwaii (www.gohaidagwaii.ca). It's a remote island north of Vancouver Island. When I was there 10 years ago, the region was trying to attract tourists; problem is, it costs over $1,000 to fly from Toronto. Take a plane to Vancouver then another small plane to Sandspit on the islands. And, because it's a tiny plane, it's almost as much as the $600 flight to Vancouver from Toronto.
First leg of Georgian Bay odyssey: on the Tuesday night we drove from London to Tobermory, stopping along the 23 north in a town called Southhampton, which was so…stepford like. Clean and beautiful on the shores of Lake Huron, but the street had signs for no bikes. This will not do!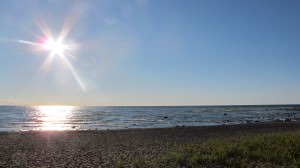 In Tobermory we only stay one night at a motel for $93, the Peakcock Villa (www.peacockvilla.com), before taking the ferry the next morning. Arriving late, we hop in the truck thinking it's too far to walk downtown. Pulling out of the motel, "downtown" is across the street–a two second drive. Whoops. Good to know. After eating an overpriced caesar salad and wings, we did enjoy the two pitchers of Okanagan Springs draft.
Taking the 11:20 ferry the next morning–arrive about an hour before to line up. And, reservations are a waste. Not only does it cost $15 to reserve, it's never full! www.chicheemaun.com
Driving into the belly of the beast.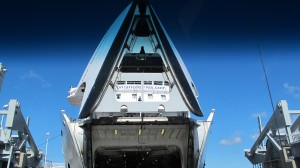 Pulling out of the bay, past the lighthouses and islands of rocks and trees, the second level on the boat has the best views and least amount of wind–oddly enough. Inside, there's cute little replica boats in a glass case and a cafeteria serving up a mean Chi-chi-maun chili. Yup, with two slices of brown toast. Tasty.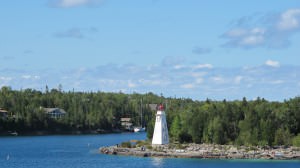 Deckside Muskoka Chairs. So colourfully Canadian.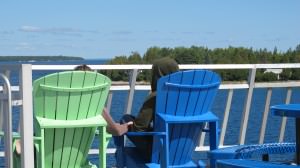 Arriving two hours later on Manitoulin Island, there are signs for stores selling totem poles and first nation's souvenirs. As you drive past the shops, the hour drive along the #6 highway (this is how long it takes to cross the island north to south), is quiet. We stop for a beach break.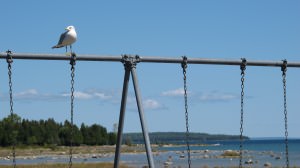 This guy covers the 2 p.m. to 8 p.m. shift. Next: why Killarny Park is worth the almost nine hour journey!