24 Jul

Day 18: 501 Street Car Foodie Tour

"It's our signature doughnut," says a young woman. The doughnut, called toast and butter, is made with sweet breadcrumbs and brown sugar butter.

Glory Hole Doughnuts (www.gloryholedoughnuts.com) is the first of six food food stops in five different neighbourhoods along the 501 Foodie Tour–North America's longest streetcar.

At 11 AM, I opt for a pretty pink hibiscus rose doughnut and a coffee so strong it smacks me across the face.

Toronto's food scene is like Christmas morning: what's it going to be this time? Every place is trying to outdo one another to become the latest hot spot. It becomes a game with your friends: "oh hey, have you been to so-and-so place? It's got the best…"

The food combinations and pairings break all the rules; imagine chomping down on a lemon ricotta doughnut, or one stuffed with gobs of peanut butter and jam or even a cherry pie doughnut?And, for $4 o pop, this doughnut better change my life. Yup, being hip isn't cheap, you know.

I suspect you're also paying for the experience: you don't get a canoe hanging over the counter at Tim Horton's now do you?

Sounds pretty wicked, right? It was.

On our four-hour tour, P and I, and one other couple, are the only Torontonians. "We went to that tower thingy," says a dad from Missouri with his family… You mean the CN Tower?

Sitting outside eating my doughnut, I meet a teacher from Cleveland on a girls' weekend with four other co-workers. "What places should we go to dance?" P and I suggest Lula Lounge and Toronto's largest Latino drag club called El Convento Rico for the 1am drag show. www.elconventorico.com

Parkdale, so named for its proximity to the lakeshore and Sunnyside Amusement Park, was primarily an upper class residential neighbourhoods where locals could stroll down to the water. That all changed in 195o's: the Gardiner Expressway effectively blocked the homes from the water. It's been a mix of working class and various artists ever since; today, it feels in flux with some antique shops, a hardware store, a few coffee shops, and many art galleries; however, it is also called Little Tibet. Must return for food! You could spend a lifetime eating your way through Toronto.

Hopping onto the streetcar heading East, we stop across from Trinity Bellwoods Park, so named for the former Trinity College built on 1852 and torn down in the 50s–the beginning of a wave of historical destruction across the city. Today it's an amazing park where Torontonians picnic, and sneak in a few bevies. Often you'll see people, alone, stretched out on a blanket in the afternoon just reading a book.

The southern gates, and a plaque, are all that's left. Sad.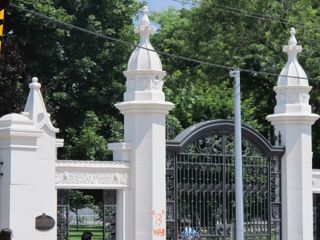 Across the street, I've stopped for coffee at The White Squirrel before (named for the elusive white squirrels that have been spotted in the park).
Instead, our group stops for some rabbit food, er, I mean veggie tacos, at Feel Good Guru — it's like a yoga class in your mouth. And, get this: along with your take out order, you can borrow a blanket from the store to bring for your picnic at the park. (http://feelgoodguru.com/)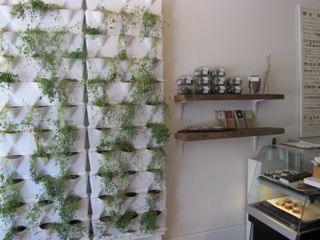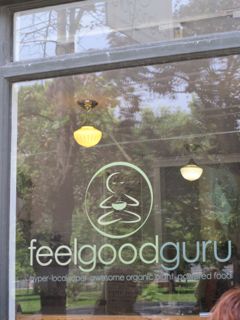 By this time, it's 1PM, and I need more than carrots on a bed of red cabbage. Kaz (Caslon Branscombe), has lived in Toronto all her life, and tells us the next stop is a surprise. We get out in my hood: the fashion district near Queen and Spadina. P predicts Vietnamese subs at Banh Mi Boys (http://www.banhmiboys.com/). Thank God he's right because I was about to gnaw his arm off.
Kaz grabs our order while the group waits beside the giant thimble on Richmond and Spadina (there's even a tape measure painted on the sidewalk!)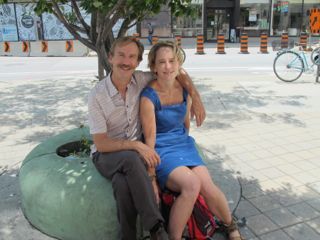 Cute as a button, and it's funny, because we're actually sitting on a giant button. Groan.
A combo of cuisines, French pork, and mayo on a baguette with Vietnamese cilantro and jalapeños. P notices a spare sub in Kaz's bag: "Is anyone going to claim that?" So far, these are my favourite on the tour.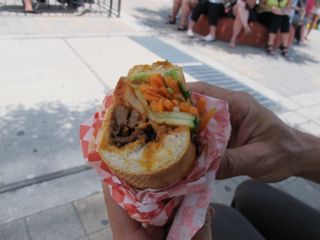 Back on the streetcar, we pass over the Don River and step into Corktown near Queen and Parliament. "This place was named for the Irish immigrants who worked at a nearby cork factory in the Distillery District–and those same immigrants were also from County Cork in Ireland."
The buildings are so beautiful… looking up into the sky, an unassuming boring street facade can transform into an ornate historical trip back in time.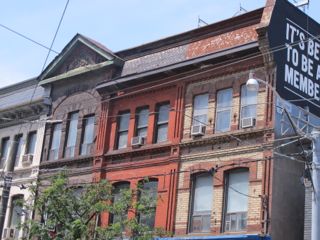 Feeling droopy from extreme humidity and heavy bellies, we hit the Redline Coffee and Espresso Bar where they make all their syrups from scratch. A melting chocolate chip cookie is sending me into zombie food land.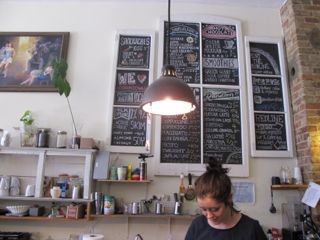 "It's name came from the constant red line of streetcars going by," says Kaz.
I'm full and we've got two more spots.
We stop in the neighbourhood of Riverside, famous for the TV show Degrassi of the same street name. Starting at the Don Valley Parkway bridge it's wedged between Corktown on the West and Leslieville on the East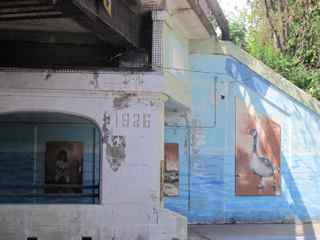 Kaz explains that Leslieville was traditionally a family hood with community centres and the like while Riverside has traditionally been full of artists, but gradually the two are now melting into one .
Second last stop.
Near Hamilton and Queen, outside the Leslieville Cheese store, we look around at this fascinating, and quickly, changing neighbourhood. Jilly's, the former strip club, is closed and will soon reopen as the Broadview Hotel, a chic boutique hotel. "It's going to be the Drake Hotel of the East End," says Kaz, who lives in the East end. "Traditionally the West has been the cool place to live and hang out–that's changing."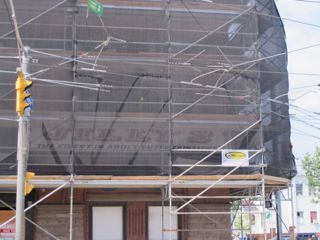 At the Leslieville Cheese store we're about to commit a possible food crime: grilled cheese and balsamic ketchup? Fancy dijon ketchups? Only if you had a million dollars. Inside, one of the ladies isn't too keen on the amount of walking. "I think I'm going to write a letter to the owners. I just didn't expect this on a streetcar tour." At most we've walked three blocks at one time. (http://leslievillecheese.com/)
Well, she's going to be royally pissed: we're walking a block to the next place.
Leslieville Pumps is a general store with a twist: it serves southern style food — think corn fritters and barbeque brisket! Retro candy bars, Cracker Jacks, and Pop Rocks are also part of the kitsch. It's good to stop now because I cannot eat another crumb of food.
The tour is just as much neighbourhood history as it is about the food. And at $80, you might be thinking something more fancy than sandwiches for the majority of the food, but I met new people, shared what I knew of my Toronto and found a whole new set of places to take my non-Toronto friends.