26 Jul

Day 22: Toronto Island Life

The waiting list to live on the Toronto Islands is 500 people and growing. If I put my name on the list, I'd sooner be dead than an island homeowner. This year only two homes sold.

Why do so many people want to live here? Easy. Only 10 minutes from downtown Toronto, it's like stepping into cottage country where trees outnumber cars (of which there are only service vehicles allowed). Indeed: it's the largest urban car-free community in North America.

After a quaint ferry ride to Centre Island on a wooden boat with park bench seats, we disembark and ride along a wide walkway to the residential island of Wards. No street lights; no traffic.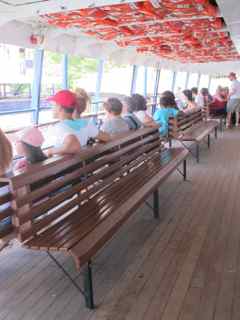 Biking along the water's edge, then over a wee bridge that brings us to Algonquin Island, imagine front yards packed with wild flowers, hammocks and boats under repair. It's calm; it's utopia.
From Wards on the west to Hanlan's Point on the east, it only takes about 25 minutes to bike across.
When we arrive at our bed and breakfast, our host David offers to make us a sandwich. "Is there a key?"
"No, we don't lock the door, most islanders don't."
His wife Ellen works in the city as an architect and her favourite part of the day is coming home on the ferry. "I can be completely stressed out but when I take that ferry home all the tension just leaves." For most Toronto kids, the islands are full of memories at the Centre Island Amusement Park. "I loved coming here as a kid," says P. "This place is special."
Islanders for over 20 years, David and Ellen are staunch defenders, and political activists, for the protection of island life, which has been threatened since it was inhabited around 1830. At one time there was a hotel on Hanlan's Point, a butcher, bowling alley and homes stretched across the entire group of islands. Then, as Ellen tells it, the city didn't think homes should be in designated park land –she thinks they just didn't want to go through the effort of putting in sewage for the home– so a bulldozer came over and smushed hundreds of homes.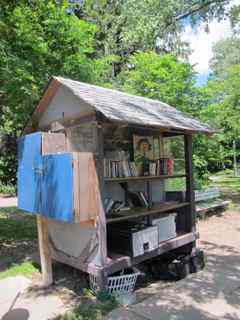 Today, zoning doesn't allow for any commercial properties save for the Amusement park on Centre Island, two restaurants on Wards, and a yacht club. "Sometimes it can be hard because once you come across there's not really that much to do at night so if you want to do anything, you have to plan to stay in the city all day."
But in island style, they do have The Bridge Boutique, a free clothing and book stand at the end of Algonquin Bridge.
On my second day, after remembering that my former journalism professor Lynn Cunningham lives on the islands, I called her up. The island's phone book is about 20 pages. To get a feel for the history and latest news, read the Toronto Islands' newsletter: http://torontoisland.org. Or, if you can get your hands on a copy of  Sandy Gibson's out of of print book, More than Just an Island, you'll get a good sense of the islands' history. One cool fact: prior to a giant storm in 1858, the island was attached to the mainland on the eastern side. Wind blew that sucker right off and created the Eastern Gap.
Sipping coffee on Lynn's front steps, after catching up (I graduated 15 years ago!), we naturally get to talking about the island and the famous waiting list to live here. She explains that when a house comes up for sale, it's offered up to the first 100 on the list at a fixed price. But like David and Ellen, she's a bit worried for the future.
"The population here is aging, and the young ones aren't active volunteers. I'm on many boards and who knows what will happen when we all go." Lynn adds that recently the Toronto Island Trust conducted a survey to see who lives here. Renters are rare, but it does happen. But more often now, illegal renting is happening when people buy homes, never move in and instead rent them out.
Sipping the last dregs of our coffee, hugging goodbye, we decide to take the ferry from Algonquin Island — there are three ferry ports and we came in on Centre Island. "We've got to move if we're going to make it," says P. Skirting around the kids, dogs and other bikes, it feels odd to leave. And it feels surreal to pedal off the ferry and into the traffic on the bike lane.  Cars, horns, sirens, people–it's sensory overload. From here island life seems like a rocket ship away.