29 Jul

Day 24: Salons and Ramen noodles

Last summer I had a Filipino transgender cut my hair for $2. Wasn't the best haircut I've ever had, but it certainly wasn't the worst, by a long shot. And, just hanging out for the afternoon with her/him and the gang at the corner salon was an experience. We drank orange Fanta and talked about boys.

So, in that same spirit, I was wondering up Spadina in Chinatown. Looking like a raga-muffin, as my mother would say, I was in desperate need of a haircut. Forget the colour–I can hold out with my dark skunk-like roots a little longer, but something had to be done with my 'wings.'

Heading north, I walked into the first place I found: Seefu Hair. I was the only caucasian. Mostly southeast Asians, my hairdresser,Tony, didn't speak much English, but somehow my hand gestures transpired into the best haircut I have ever had. Without washing, or even wetting my hair first, Tony starts cutting and snipping into the air — it reminds me of Edward Scissorhands. Hair is flying in all directions.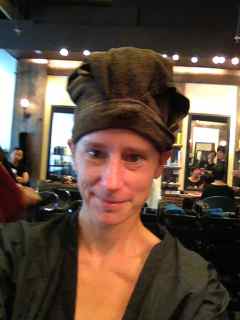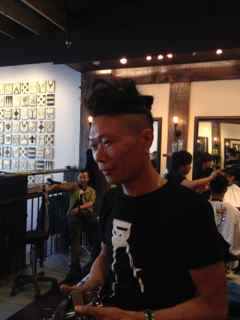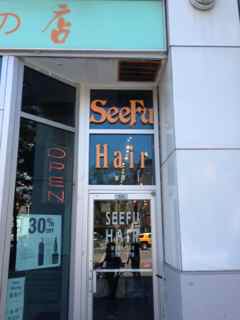 And more than the haircut, a little Japanese girl washed my hair twice in a fully reclining chair. "That smells like watermelon," I say to her. Giggle. A few minutes later, I try again to initiate conversation: "you have great hands." Giggle.
With this elaborate get up on my head, I feel like some exotic species from Star Trek– Zendorees. That is my new species. Waiting for Tony to finish cutting another person's hair, giggle-girl massages my shoulders. I think some drool escapes out of the corner of my mouth. Paying the bill, I expect a huge bill. It's got to be at least $100, but I was willing to pay it for all of this. $45. Yup, this place is a keeper.
Walking out, I grab my bike (they let me bring it inside the shop), and search for some grub.
You could spend a thousand years eating in Toronto and never hit up the same place twice. Kinton Ramen is a block down the street from me; I've passed it a gazillion times and never gone in. Today, it's time.
I'm sitting at a long picnic table with young Vietnamese teens staring at their phones. The waitress brings me a menu: make your own ramen.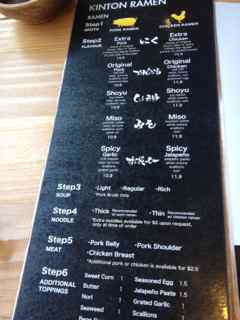 Ramen noodles became popular after the second world war when flour from the states was making its way to Asia; then, the Japanese soldiers returned from China and continental East Asia. Ramen has many permutations but it starts with either a pork of chicken broth, then you add on from there. I opt for seaweed, corn, boiled egg and roasted chicken in a pork broth. Cray Cray. Oh, I wash it down with a mojito beer and dumplings.
I hardly put a dent in the head-sized bowl. Four dumplings, a pint of brew, and ramen for under $30. I may never purchase groceries again.
Heading to the washroom, I'm mystified: mouthwash, q-tips, pads. Many fancy restaurants don't have bathrooms like these. I love being surprised. Wondering home, full and stylish, it doesn't take much effort to be amazed in this city. Just walk out the door, or around the corner.