05 Aug

Day 25: Toronto Pub crawlllll

P and I created an epic, and ambitious Toronto pub crawl list: Bovine Sex Club, Velvet Underground, The Rex, Rivoli, Horseshoe, Cameron House, Dakota, and a few others that I can't recall…. Ahem…

But after pounding the pavement in uber sticky weather, trying to find the best vantage point to see the Pan Am men's road cyclists, my energy was waning. "Ok, maybe we postpone it for another night? Or, maybe I can just have a nap and suck it up?"

I'm 42. I require eight hours of sleep, the occasional spoonful of Metamucil to have a bowel movement, and less wine to get drunk, but damn it, I can do this.

So, nap and suck it up.

The nap doesn't happen. But after a cold shower, I'm determined. First up on the epic list is the Horseshoe Tavern, which is a few blocks from my pad.

This place is a live-music institution (the building was built in 1861 as a blacksmith shop), but since 1947 such icons have played here as The Tragically Hip, Blue Rodeo, The Rheostatics, Willie Nelson and even Stompin' Tom Connors played 25 consecutive shows.

But tonight, we're on a mission. Sitting at the bar, we order a Caesar. The place smells like beer; odd, considering we're at a bar. NO, I mean the place smells like a college dorm during frosh week.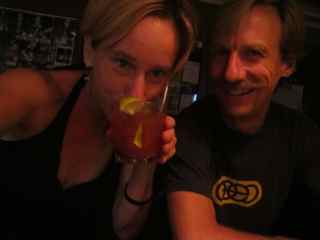 We quiz the bartender about the Caesars. "I just don't like making them because we don't have the proper ingredients." Fair enough. We order them anyway, and she was right: soupy tomato juice and booze. We suck it back and move on. It's already 11PM. Chop chop!
Just a few doors down on Queen we sit outside The Rivoli patio and wait, and then wait some more. Eventually the server arrives, with great breasts by the way (it's hard not to notice with a onesie jean suit that cuts down her chest); we ask for a recommendation: "dark and stormy, for sure. They're amazing. I drink them all the time."
Made from rum, ginger beer and lime, this 'dark and stormy' tastes more like an "opaque and foggy." But for some reason, I snort, almost launching my drink out of my nose. Classy, Chambers. But at least by drink two, or three, my energy is coming back. It often does, you just have to give it time.
P and I talk about this crazy July Project: "I really like how it's made me excited about being a Torontonian…it's not an easy thing to do sometimes when you're stuck in traffic or a driver cuts you off on your bike." But, I will certainly elaborate on that later.
I certainly appreciate that for once I feel like I'm building something – whether it's becoming familiar with this city, building a relationship, improving as a cyclist—I'm connected to something and that feels pretty amazing.
Heading farther East, I've walked by The Rex for decades—because, well, it's been here for over 40 years. The Rex Hotel Blues and Jazz bar feels like a well-worn sofa: comfy in all the right places. The band is over but ever-the-optimists, we order another round of Caesars, hoping upon hope for a tasty one this time. No deal. Still blah.
"Ok, chug that drink, we've gotta get the hell outta this air conditioning," says P. Right-cho. Bottoms up.
And judging by the time, 1am, the next bar will be the last bar. Heading back West, The Velvet Underground is another institution. Stepping through the black door and ominous silver metal sign, I've always wondered what lurks behind. An alternative mix of nouveau Goths (not sure what this is), university preppies and us; it's eclectic. Alanis Morrisette played her CD release party for Jagged Little Pill launching a decade of jilted women to summons the courage to say FU to their boyfriends.
Inside Sex Dwarf by Soft Cell is playing: tonight is new wave retro.
Giving up on finding a drinkable Caesar, we order a few Heineken's and find a table on the edge of the dance floor.
Perfect people-watching: a broad shouldered man with dreads piled into a bun dances through the smoke and changing lights. And the other dancers, all appearing awkward and inept in comparison. His fingers, heels, and chin movements are synchronized. Subtle moves but calculated and smooth. Amazing to watch. Dreadlocks jumping through the light.
Another eye catcher is a receding white-haired new waver with dark black eyeliner. A blond Robert Smith from the Cure? He's kinda working the robot-ish moves—pulling them out of the 1980s vault. He probably works at a bank.
I don't recognize any of the music, "it's more from my time," says P. He's a few years older. However, you spoke too soon: Platinum Blonde's, It Doesn't Really Matter comes on and I'm off my seat.
The night end's with me punching my fists in the air to the song's drum solo. I'm shocked no one else is partaking of this classic ritual. Oh well. You know that saying, dance as if no one is watching, well, in my case no one watches because they're all embarrassed for me. And guess what? We not only made it past last call, we almost saw the sun coming up. We're not so shabby after all–even if I need a week to recover.