13 Sep

Day 27: David Marshak's artistic Toronto

When I began thinking about The July Project, writing about a new thing in Toronto every day of July, I tried to consider all the Torontonians I know and what unique perspective they could give me on the city. I immediately thought of David Marshak. www.davidmarshak.ca

Many moons ago I interviewed David for a story I wrote for Mountain Life Magazine about Drawnonward, an art collective, of which he's a member. Here is the original story: http://www.melaniechambers.ca/?p=153. I really liked learning about what inspires seven guys to paint for a living. Artists just know how to talk about life. http://www.drawnonward.com

He'd hate me saying this, but yes, the seven of them have been likened to the Group of Seven. Maybe he wouldn't hate it, but they're more than landscape artists and they paint more than Canada. Actually, David paints gas stations and traffic. I'll get to that in a moment.

Anywho, David and I spent the day –or a good portion of it driving throughout his old Toronto haunts, places he'd painted, old bars where he played in his band, old apartments, even the art store where he met, and fell in love with his wife.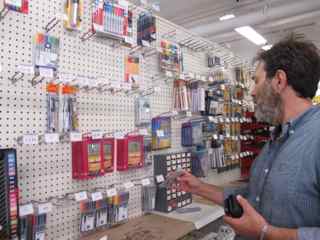 During our conversations we touched on many topics with me in the passenger seat, him pointing out the window, "that was a crazy apartment…" he is the most unpretentious artist I have ever encountered. "I don't know art speak." Art speak? "You know, perfectly crafted answers about my art, and what it means." I like this about him.
One of our first stops: Woolfitt's Art store (1153 Queen Street), now called Curry's, a giant franchise.  David fell in love with his wife who worked at the cash. "She had a boyfriend at the time, but every time I went in I would ask her to tell me where the oils were–we both knew where they were? She even had a nickname for me, 'Mountain Man." Back then, long before it was hipster, David has a fantastic burly beard. "I often came in wearing a giant parka, and I always had this giant beard."
We make our way down to the Gardiner. "Oh look, we're driving into one of my paintings." The painting he's talking about is a cross section of the Gardiner Expressway–a concrete overpass notoriously traffic laden and congested. "I never really think about the feeling behind a painting…you just know when some scenes endeavour to be photographed…it has that ahhhh quality." To this comment he sings and holds a note. "Anything in the right light looks good, even rotting concrete or an iceberg–anything."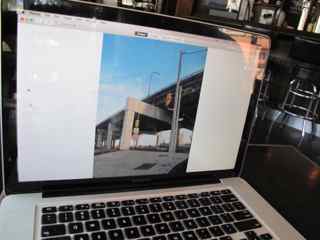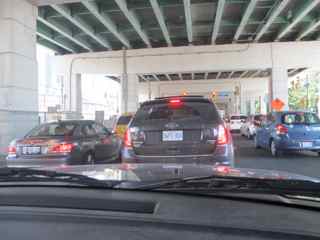 And he has painted icebergs–with the Drawnonward group they toured through Haida Gwaii, all over the far north, Newfoundland… to name a few.
But it's the urban landscapes that I find fascinating. Consider a 7/11 store at dusk. "It's the witching hour… they are neon islands on a dark street. It's not necessarily pretty but it's an aesthetic by itself." And then he adds, as an afterthought: "And then it's practical… chips, bathroom, coffee…it's called a food store. Is that ironic of not?" Good question. That's why I love artists: they see the world through another lens. One that isn't immediately accessible, but once it's pointed out, it makes life a little brighter, new.
And, even though he paints without making politic intentions, his paintings innately make statements: 'the act of painting is a reason to think about it more… like the gas stations (involves thinking about) oil and the environment and urban life."
"My painting suffered a bit in Toronto: I had too many distractions." That and living with a bunch of other men and being younger.
By this time we're getting hungry so we hit his fav bar/restaurant, The Old York, where he used to play. "I wanted to be a rock star, or a painter. I was in and out of those worlds." Today he lives near Collingwood on a farm where he grows his own vegetables….life is slower. Calmer. Balanced. But, he still orders the chicken wings: "that's what I miss about Toronto: the food!"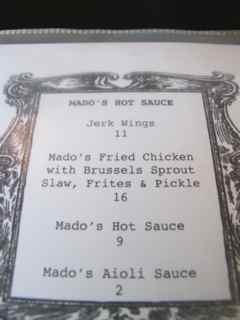 It's 3 P.M. and rush hour has hit. "Do you mind if I drop you off now so I can beat some of this traffic?" Getting out at Spadina and Queen, I feel like my peripheral vision is a bit wider: every person walking by is a piece of art; and even the McDonald's on the corner churning out burger after burger is a giant art installation making a statement about our disintegrating food system. Meaning is everywhere. Thanks David.