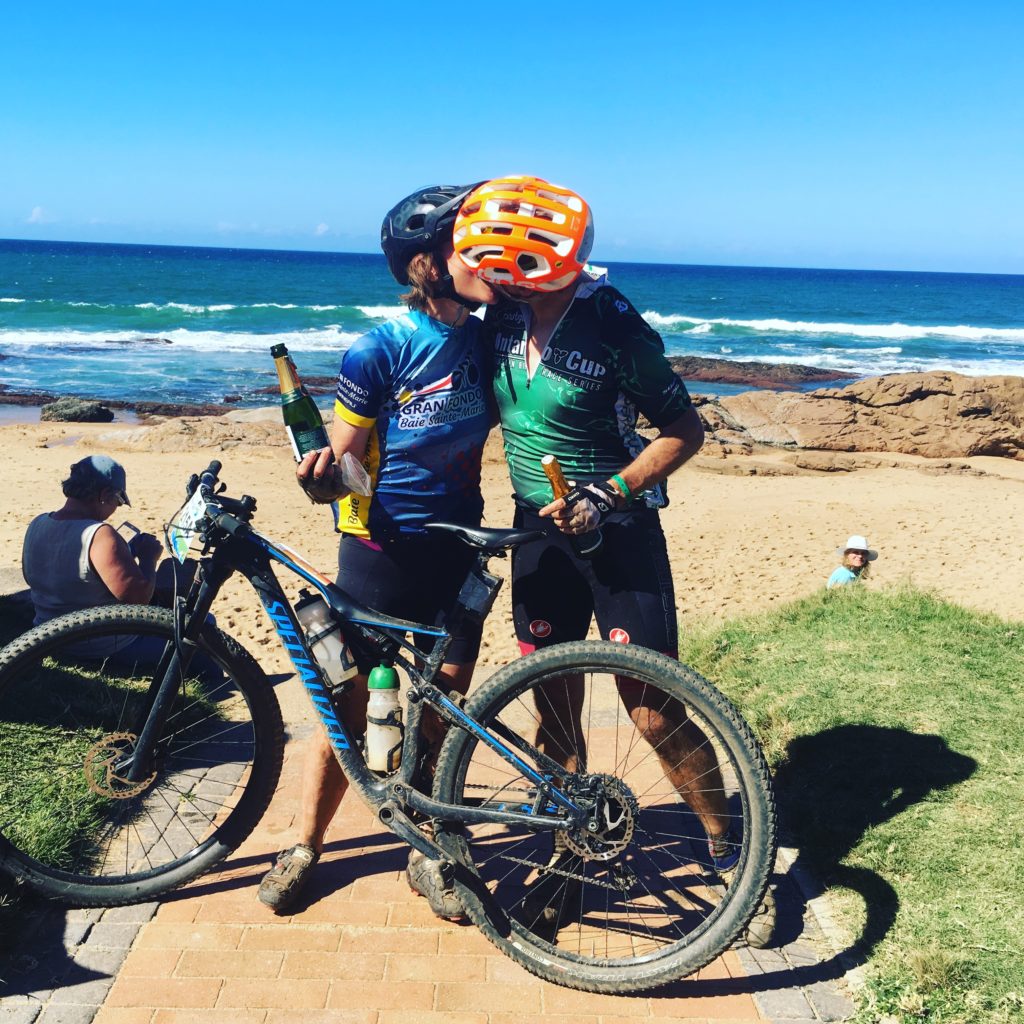 01 May

Day Eight, and the glorious ocean finish

"You have the strongest legs I've ever seen on a woman," says Malan, the rider I mentioned who is recovering from lung cancer. Indeed, hills are my forte. One look at my thighs and it's obvious, but on climbs like this, where you have to dig deep to keep going, having him follow closely behind me was a motivational gift. Today, day eight, was extra special because after weeks of suffering, I found a groove and all the elements came together: well rested, muscles feeling strong, and determined.

The day had us riding quick singletrack down into the Umkomaa Valley, a place where few visitors see, descending into the misty valley. The climb out of the valley was long and hard; starting at kilometer 40, it climbed up to about 75 kilometers. But with this epic ride there is always a reward at the end of gasping climbs: we weaved through singletrack alongside stalks of sugarcane, leaves slapping at our arms and faces.

I felt like my energy had been building for seven days; coming in under five hours, and moving into a faster group (they stager groups according to speed), it all burst in the finish line when I lifted out of the saddle, leaning over the handlebars, and gave it everything: ignore the burning thighs, dry mouth, exhaustion, just haul ass. Sprinting across the finish line, I zoomed past Paul and our two English buddies. It felt wicked!

Not long over the finish line, Paul heard his name being called. It was the guy he'd been riding with that was concussed from a bad spill over the handlebars. Patched up wrist and some broken ribs, he had no memory of the fall, before it happened and after. Scary. But, it could have been much worse. Sheldon had returned with his family to see the end of the race. Paul gave him a huge hug and felt such relief to see how well he was doing.

We sat with his wife and two kids for lunch; and knowing that our ninth and last day was only 83 kms, and relatively flat, everyone was in a party mood. I bought a pitcher of beer and we toasted to meeting and riding together.

And the coolest thing about this final camp: our tents were under rows and rows of macadamia trees. Every campsite has had its charm and this was the beautiful comforting trees.

We didn't party too hard (bed at 9!). Eighty three kms is still 83 kms after all, but many riders did whoop it up. To be honest, I was pretty sick of riding at this point. The thought of slathering my sore ass with chamois cream and sliding into tight shorts was not appealing. And on top of that, the final day was also bittersweet. Saying goodbye to people who you most likely will never see again really sucks.

Final Day: riding to the sea!

The final day didn't start auspiciously; in fact, because I couldn't find my Garmin (bike computer) with the course map, Paul had to pretty much babysit me. This is not cool. Let's get one thing straight: Paul is faster, and always will be (save for the few times I have surged ahead). We discussed our strategy before the event and we planned to ride it, take in the surroundings a bit, but not race. From many I spoke to, this is the best way to take in the scenery of this race in South Africa. I think if we had decided to race, we also might not endure it as a couple. Little niggling squabbles about lost gloves and socks when you're dogged tired and brain dead is one thing; fighting about race strategy is entirely a different concept. This was meant to be fun.

Of course we'd start out together at the beginning of the day; eventually, Paul would speed ahead, then wait at the water station. This worked really well. But today's final route wasn't so obvious: lots of forks in the road, and multiple paths. Potentially being alone without a map was not wise. Then the real kicker: cresting a hill, my chain snapped, and it was entirely my fault. I am notorious for changing gears improperly; changing on a hill mid stride was too much stress on the chain so a snap was inevitable.

We got through it, but Paul has tried to tell me countless times how to switch properly. The thought of coming this far and not finishing because of something preventable and silly, was in the end, a good experience. I learned a lesson.

As predicted, our loud but loveable tent neighbour was wearing a great tutu and drinking at every water point. Many were wearing celebratory green (the sponsor's colours). This is the same guy who, with his partner and locals, drank four bottles of wine on the first day's final rest stop, taking three hours to finish.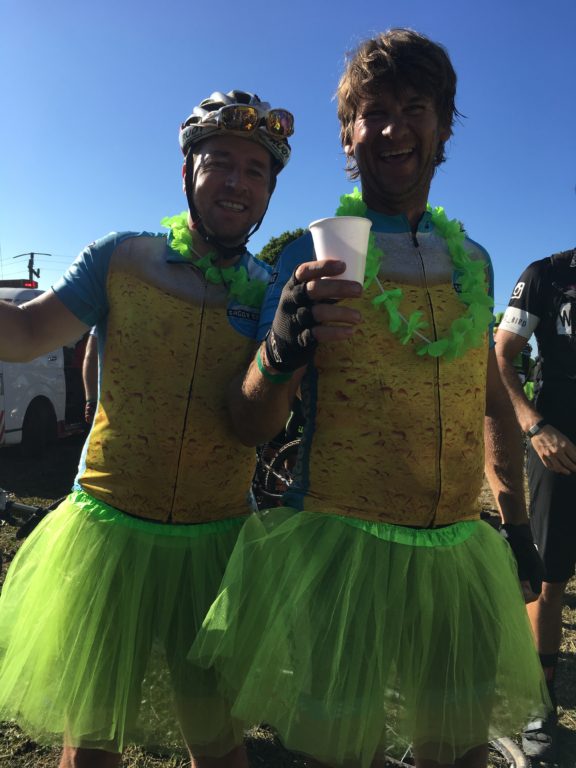 Again, today was marked with paths through giant sugar cane stalks and some sweepy singletrack, but it also offered the first glimpse of the sea, the Indian Ocean. The sight of it was enough to start peddling faster and faster; when we finally hit sea level and sand, that lead onto a plastic floating bridge, people on either sides were cheering. Coming across the finish line we were handed bottles of champagne. After many hugs with people we'd ridden with all week, Paul and I took the bottles to the beach. I jumped in immediately, and when Paul was being a baby about getting wet shorts, I splashed him till he had to jump in. Neat bit: the Indian Ocean is so much warmer than the Atlantic! Besides the salt water healing our wounds, it felt incredible to wave our arms and legs freely; cycling is beautiful but it's such a restricted and structured movement. We flopped and danced in the water like children.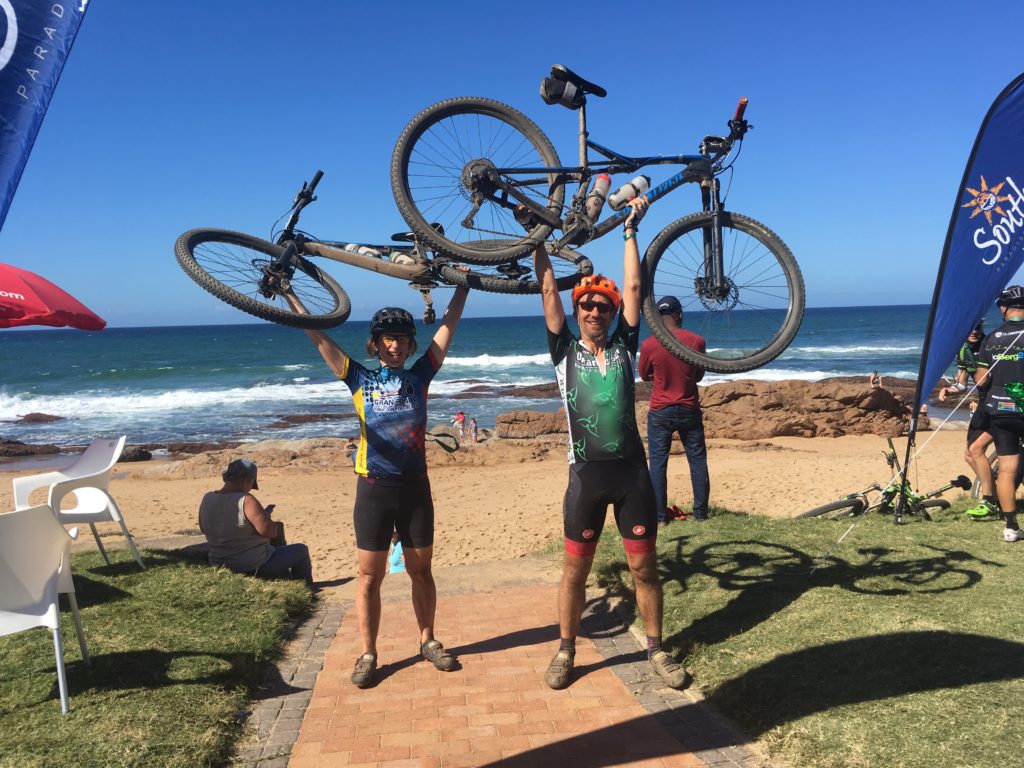 Then, we hugged, grabbing onto one another without saying much. We knew the magnitude of this moment. To have this adventure with my love, and to know we have more adventures ahead, makes me feel like the luckiest person alive. To see him ride so strongly, and see him care so deeply about people; ask questions about South Africa and what has happened here; and finally, for someone to want the best for me no matter where I am; well, no first place podium in the world could top that one, eh?
I'll blog about the after party later. That's a whole other hill oh' beans!