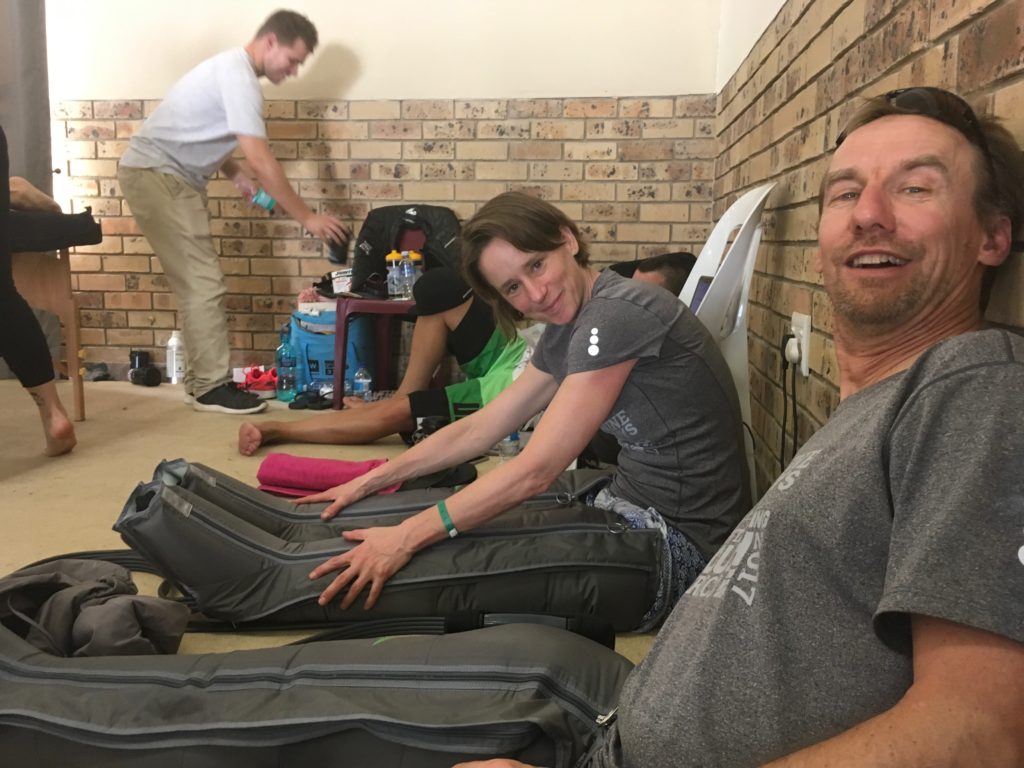 24 Apr

Day Four: let the brakes go and fly!

Painted on a rock: "Buckle up!"

I was just about to launch into a stream of berms and jumps, on a descent so fast; all I could do was hold on for the ride. Careening around corners, and getting air off the jumps, I let out a few, 'yehaws' to the delight of the line of men behind me.

Every berm and corner flowed into each other – just point the handlebars, hang on and fly. This perfection, truly one of the funnest times I've had on a mountain bike, is thanks to a guy who travels throughout the country building trails. Rob Dormel is a legend of trail creation in this country- he even has a trail park in his hometown of Sedgefield.

Today felt much better physically than yesterday, too. We finished the 93 km stage in just over five hours, but it was also nice that the organizers grouped the riders by their speed. So, Paul was able to get ahead of the pack and ride the singletrack without being slowed up by less skilled riders in the singletrack and technical descents.

This race is about endurance; it's 900 kms in nine days– often over 100 kms a day; at a rest stop a bunch of us agreed that for most of our weekend rides, we'd only do a few hours. Certainly not all day, let alone nine of them strung together. As such, many skilled mountain bikers are held up behind the pure endurance athletes (road riders, triathletes, runners and the like), who are quite fit, but whose strength isn't necessarily technical riding.

A word on maintenance.

Because this race is about endurance, the riders that succeed are not only fit, but they know how to take care of their body under intense and gruelling circumstances. While I was at the medical tent getting my sun burnt legs wrapped in tea tree oil, the doctor told me that not surprisingly, bum sores are the most common. Butt cream and a perfectly fitting chamois are saviours. (I discovered some female specific bib shorts this year for the first time and swear by them!) Hydration is another key: we've been putting electrolyte tablets in every water bottle fill up. We both return to camp with salt stains around our eyes and on our clothes.

The other amazing feature of this race is the route. In fact, the motto is, "The Route is King." The race traverses private farmland that most travellers won't see. And the other cool thing: most of the places we stay at night are schools. Much of the money from the race goes towards funding these schools. In South Africa, government school funding doesn't amount to much so this race really helps the communities we race through. On the second water station today, two girls dressed in jester hats were singing an improvised song, playing against one another, and serving ice cream. Every few words they'd sing in loud English: 'Ice Cream!"

Just before the third and final rest stop – we rode past some amazing mushroom like trees on the escarpment. As I approached Paul ahead, he was stopped and signalling for me to stop, too. "Listen." Men and women's voices singing from the valley below.

We mushed on. Paul was ahead again. When I caught up to him at the third stop, I found him sipping coffee from a white china cup under a shaded tent; the women serving the coffee were ululating.

Back at camp, the usual routine: drop off bikes for washing, shower, eat, and, today, we tried a new thing: we stuck our legs in some boots that inflated, squeezing tightly around our legs, feeling the pressure fluctuating and then releasing. It's supposed to help blood flow and aid in recovery, or something like that. We'll see.

For the rest of the day, we sat by a creek on a blanket sipping our coffees.