10 Dec

Day one Cali-life

"Last call for flight 521 for San Diego." I'm sprinting with a full backpack and laptop bag, jumping over luggage; "sorry. Pardon me. Coming through," I say dodging travellers. Mouth is cat litter dry and my heart is kuh-thudding.

Gate C95 is my goal. I see 92; jump over a bag; 93. I'm flush red. 94.

"I'm here, I'm here," I scream.

Walking onto the flight, my face is bright red and sweat has gathered around my forehead.

After the almost six hour flight to San Diego, from Buffalo, I'm greeted by Anthony. Oh Anthony, a straight talking Sicilian/Californian who has me in stitches on the drive to Escondido, about 45 minutes north of San Diego. If Anthony is a gatekeeper of what to expect from the Golden Door, then this place is unpretentious and kind.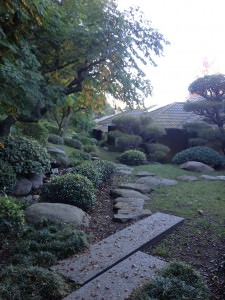 We arrive to a gate, and yes, the next set of doors are indeed golden, and once inside, it's a traditional Japanese village on 377 acres: dim lanterns light the roads, twisted bonsai plants, sliding Shoji screens, and wooden bridges. It's silent except for the trickle of water from a nearby fountain. As one of the original destination spas starting in 1958, it is soothing right from the get-go.
DAY ONE
Walking down to the Fitness office, I can smell rosemary. I meet with Carli, my fitness coordinator, who tells me about how it all works: there are fitness classes, spa treatments, yoga, facial treatments etc… you design what you would like daily; massage and facials are the same time every day.
Your daily intenerary arrives the night before, on a Japanese fan, and the next day you saunter from one treatment or class to another.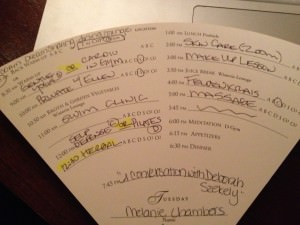 Or, you can lay by the pool or like many here, just take a nap. I, of course, start with a spin class, hit restorative yoga then it's off for a wrap. "It helps sore muscles," says the attendant Melissa who swathes me in hot towels then wraps me up like a mummy for 15 minutes. At minute 12 Melissa senses my claustrophobia and unwraps me.
The care is exceptional: normally 40 guests, this week there are 21 of us–couple from Seattle, New Jersey, etc. I'm the only "foreigner." One woman has been here 16 times. Normally it's a staff to guest ratio of 4:1. And the coolest part: you really don't have to pack much. The spa includes fresh shirts, shorts, pants and a Japanese robe to wear (they launder daily). I've been hanging out in my robe all day.
I also meet with Ellen, a personal trainer and former competitive swimmer; I reveal the aches and pain sob story and that working out now makes me tired. "I see women your age in this fight or flight mode. You're aging and you're trying to work out harder, which means you're overdoing it and it's a desperate struggle." Desperation to stay energetic; desperate to do more on less sleep. Oh, then she says the hormone word. Something to look forward to on top of the regular monthly joy women already endure.
I make my way over to the pool area for a warm tomato broth and protein shake. Lunch is salmon on top of hummus and an avocado vinaigrette. I will never eat this healthy again. Ever.
Skin care with Zoom; that is her name. She's a tough talking Chinese lady with magic fingers. I have scheduled two more sessions of yoga, but I'm afraid sleep wins out. There is only so much restoration I can do on Day One. Go ahead and hate me now, because two hours later, and after another veggie shake, my masseuse shows up in my room for my, what will be daily, massage.
I'll start to introduce you to some characters in the next few days. It's almost 8pm and I am pooped. Hiking the surrounding mountains starts at 5:45 tomorrow morning.