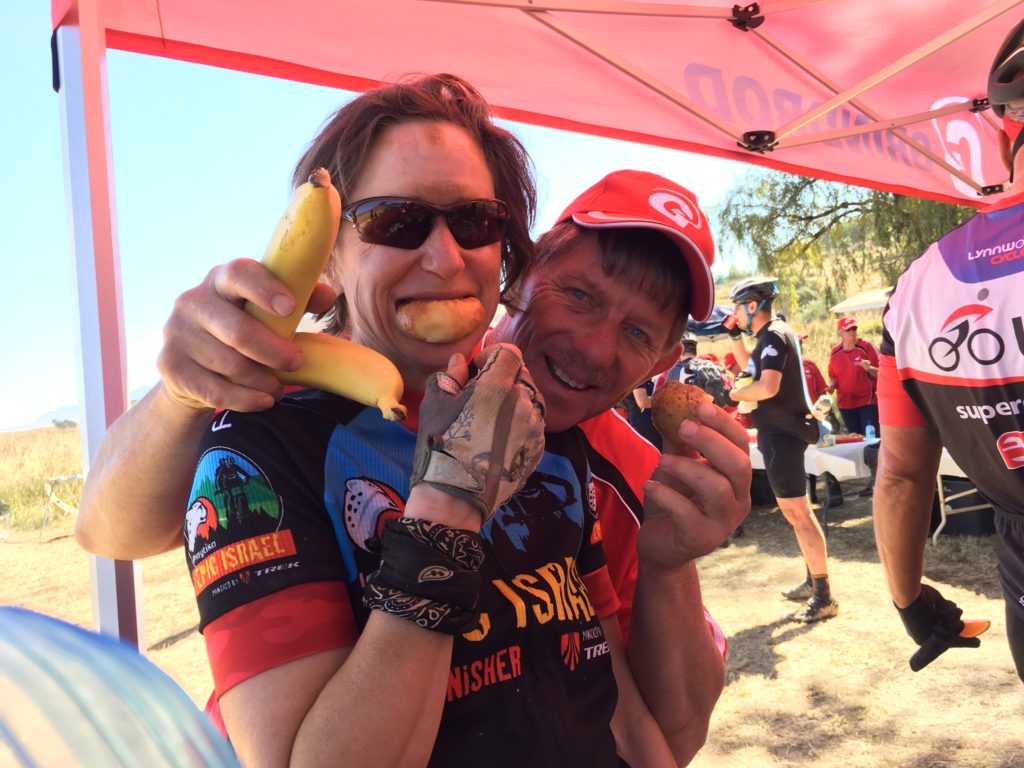 26 Apr

Day Six: believe in yourself

It was a whopper of a day. It began with the steepest, and toughest two kilometre climb of the week ('handlebars to nose' kind of steep that had us walking it–well most of us, Paul nailed it). Just shift into a small gear, lower your head, and pedal. Pedal and don't look up so I wouldn't see what was left.

The other challenge was the razor sharp super steep switchbacks down the side of a mountain called Harrison's Pass (named for the brothers that created them). We were warned about these the night before. But after the tough climbing earlier in the stage, my legs were already so tired. With my ass hanging off the saddle, I kept saying in my head the rules of switchbacks: break before the turn then let go of the brakes into the turn. It's a scary thing to let go of your brakes because if you don't aim the wheel correctly, you might fall off the mountain.

A few times, I stopped so I could collect myself, chill and take a few breaths. Clipping back into my pedal was a challenge when my legs wouldn't stop shaking and my heart was in my throat. But, I got back on, aimed the tire, looked ahead, and let the brakes go. Not too long into the descent, a man behind me said: 'believe in yourself!' It's amazing with those words, and his support, I stayed on the bike the rest of the way. That's what I love about mountain biking: it makes you more confident. Just when you think you can't, if you believe in yourself, you can do things you thought were impossible, hard, fearless. It's a great feeling.

When I reached the bottom, fingers numb from braking so hard, Paul was waiting with some local kids.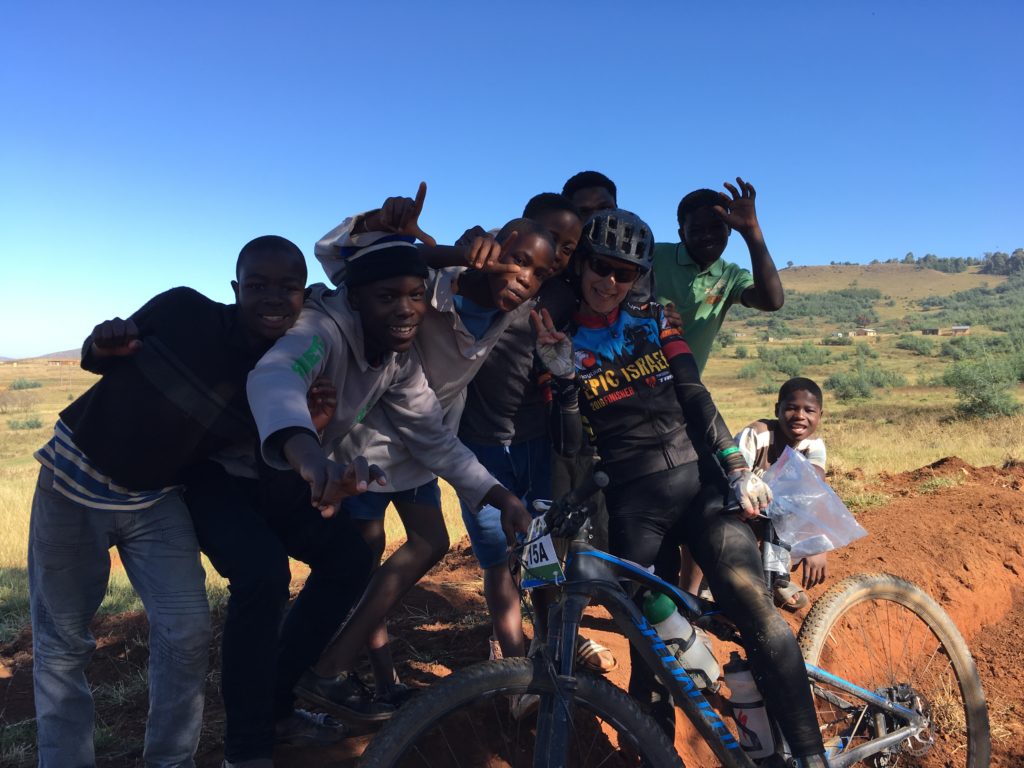 The other remarkable thing today is the change in landscape. After the water station, we entered a fragrant pine and eucalyptus forest called the Xumeni Indigenous Forest. The plush forest floor dropped faster and faster while we rode the sweet new singletrack.
Near the end of the ride, which included a few more long climbs, I was rooting around in the back of my jersey for another gel and riding with one hand (hard to do on a bumpy gravel road). It was another 15 kms to the next water station and I could feel my energy drop; between drinking and eating, you're constantly shoving something in your mouth. Let's get one thing straight: riding these distances you have to be self sufficient and monitor yourself. You've got to stay properly fuelled. You also have to have all your own gear. In my back pocket are tools, electrolyte tablets, arm warmers from the morning, sunscreen, and gels. I already had three gels in the morning. It was now noon and I couldn't find any more. I didn't want to stop to find one–it is so hard to re-start peddling once you stop. Momentum. I tried a few times to find a gel. Nadda. Then, I thought, ok, one more time: aha! You can't imagine my excitement. I sucked that thing back in no time. And really, it doesn't take too long before I felt revived, somewhat.
When I finally reached the last water station, one of the local helpers (farmer) got a kick out of how fast I shoved a donut in my mouth. The people at these rest stops are beautiful.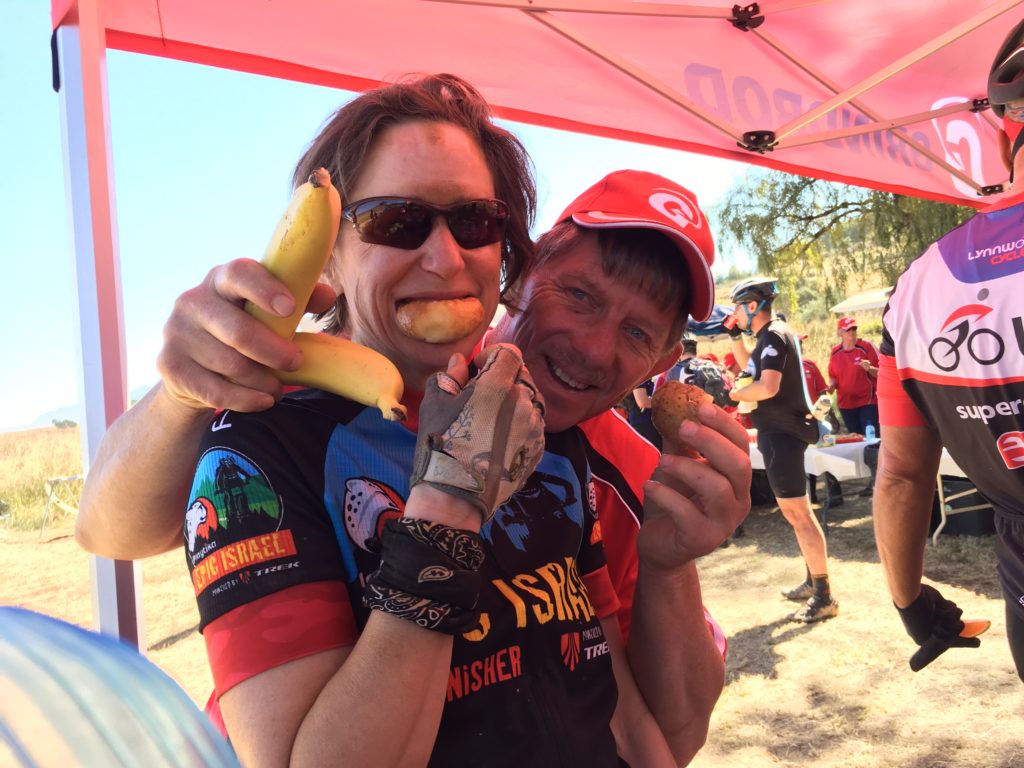 With the climbing and then switchbacks, today's riding meant you had to be alert the entire day. So between the technical descents, gravel roads, and then forest drops, your brain is pooched after six hours.
Paul and I are having a glass of wine now- well deserved. Ohh so good. Tomorrow is supposed to be a bit of a "rest" day, at only 82km, followed by another hard one, and the last day is a breeze. Ok, time to eat again then massage.