13 Dec

Day three: toes and tips

I sat next to the founder of the spa, Deborah Szekely, last night at supper. At 90-years-old, she no longer owns the spa, but she acts as a consultant. And wow, she looks amazing. Bright skin, great posture and smartly dressed in wool pants and an orange-flowered scarf. Classic. For people who have been here regularly (some as many as 50 times!), she is the guardian of all that is good here.

"You're investing 60 hours in yourself." The outcome of that, she adds, helps guests readjust or redirect parts of their lives. She also laughs a lot when she tells this story: "men who have been here before always want to hike the mountain to see if it's easier or harder than the last time. It's their test."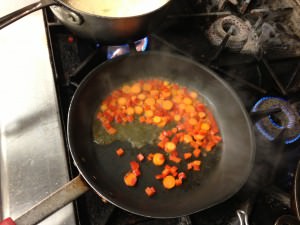 It used to be a mecca for Hollywood celebs. Bert Lancaster used to come here to practice his lines with his coach, says Deborah.
It's not that way anymore, but that's not to say celebs don't come: Meryl Streep was here last week with her mom; Nicole Kidman, and this week I met Chaz Ebert, movie critic Robert Ebert's wife.
It's not inexpensive. About $7,500 for the week, it is far out of reach for most. But with that, you're pampered. The food, above, is all from their garden, and if you ask, you receive. I wanted candy-coloured toes, et voila.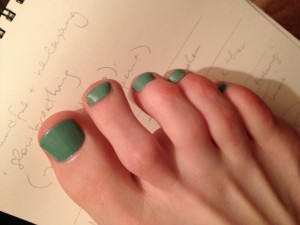 But seriously, the staff expertise is second-to-none. Ellen Walsh, my personal trainer, is a healer. We started out the week working on my sore IT band and hamstrings. But, as she watched me cycle and move, she discovered I don't rotate from my hips often. As a result, my lower spine is rigid and straight, taking more pressure than it should. (I'm butchering her eloquent scientific explanation, but you get the idea!)
More amazing people here. Wendy Bazilian is celebrating 10 years as the nutritionist for the spa. www.oneinabazilian.com. She's been on the Today Show, Good Morning American–the list is extensive. Her partner in crime, husband Jason, who calls me Miss. Canada, is the first doctor of Acupuncture and Oriental Medicine (D.A.O.M.) in the United States.
Here's the dynamo in a funky aerobics class.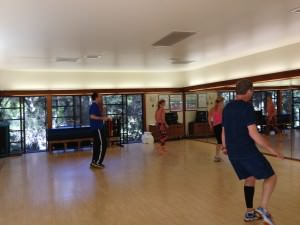 I ask Wendy how healthy food has changed in 10 years at the spa: "before, nutrition was less research driven…it used to be that it was low-calorie and low-fat, but I liaison with the chef, the gardener, the guests …I call it more of a nourishment program." Taste, flavour, and presentation are all factors that go into the meals here.
Dessert at lunch.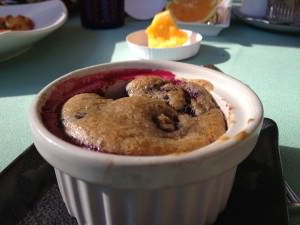 The third night is a cooking class. We watch chef Curtis Cooke make Uhu (parrot fish) with Thai vegetable and red curry, oh, and chocolate chip cookies, healthy style.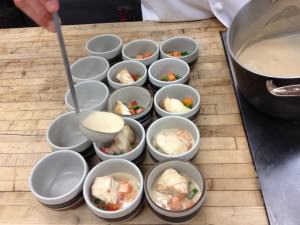 I asked about using kerob for a chocolate substitute as he uses dark chocolate. He's on board with alternatives, but ultimately, "when something becomes popular the big guys get on board (companies) and mess with it."
This cookie, made with flaxseed and coconut oil instead of butter, tastes every bit as sinful as the regular kind.