25 Jul

Filipino Family

Every time I walk to town, San Juan, about 10 minutes from my cabin on the beach, I pass a host of characters. Off to the side of the mud road, before turning onto the pavement, broken tube lights hang over a dozen pic nic tables. It's Doctor Jekyll and Mr. Hyde-ish. The roof is made from corrugated metal and blue tarps. Illegal gambling.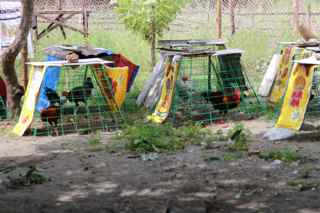 Across the mud road: a dozen or more knee-high A-frames for roosters. Illegal cock fighting.
I pass the gambling, roosters, and men who watch me intently, before turning the corner on to the paved road in front of the church.
And there they are: two giant white slabs inscribed with the ten commandments. See the irony? Non?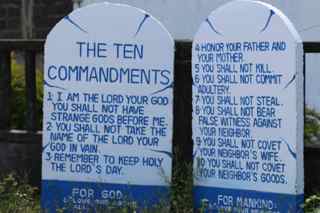 Walking back to my cabin, if gambling is finished, some of the men linger to sing karaoke across the street; imagine a middle aged man, leaning back, microphone to lips, and closed eyes belting it out: "I can't live, if living is without you..I can't live..I can't give anymore." Yes, even the most hard core gamblers are moved to sappy love ballads. Filipinos love their mushy music. And it's not just the older ones: I was shocked when a 20-year-old knew the 70s band Bread.
I was here about a week, or less, before I met the neighbours next door—Atabang (spelled phonetically so you can read it), from Calgary, but born in The Philippines is on maternity leave and renting a cabin with her mom, older daughter, brother –as well as the extended family—friends of her brother's, former neighbours, or anyone who they take in. At times there can be up to 15 people at the cabin and gazebo.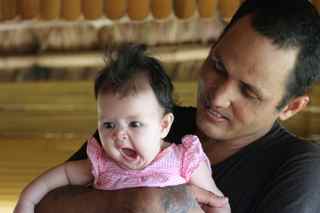 Atabang works in Calgary at 7/11 and comes to visit when she can; she takes care of everyone and that has included me since arriving. A picture of her brother Ryan and new baby!
"Melanie, come eat." For the past three weeks, I have eaten more meals at my neighbours than alone. Our first adventure was hiking to the San Gabrielle waterfalls; we all piled into the back of a jeepney, with towels around our necks. When we got to San Gabrielle, Atabang asked around for a local guide to take us to the waterfalls. But as suspected, once they saw me, white girl, the price went up to a few hundred pesos per person. Without me around, the price was about 15 pesos per head, if I recall correctly. You get the idea. Soak the tourist.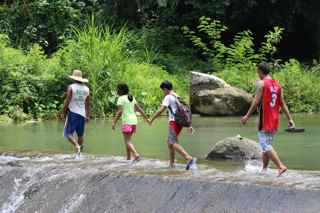 We walked for two hours through the mucky jungle—across the river—almost lost a few slippers (flip flops) through farmer's field and past water buffalos on ropes pacing back and forth, until we could hear the water. For a few hours we jumped in and played, posed for pictures and ate chips and hopia (mung bean pastries) and drank coke.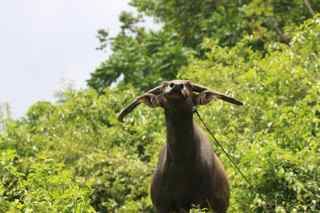 The rain was fierce walking back to the cabin–we were all drenched. This time we piled into the tiny side cars of the tricycles then jumped out for street food–hiding under an awning, we ate pulutan (street meat) of pork and beef on skewers before jumping into the jeepney to San Juan.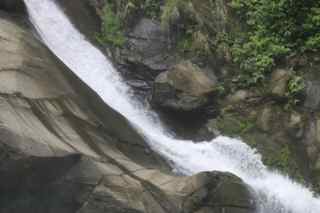 Back at the beach, we ran into the water with our clothes on. I had a perma grin the entire time. It was surreal. I knew I was there but I felt like a million miles away–like I was watching it from above. And I don't mean heaven. It was that amazing.
Ever since, we have gone singing at karaoke, and danced disco in San Fernando; a few days ago I rented a van to see the Hundred Islands in Aliminos where we zip lined and drank beer.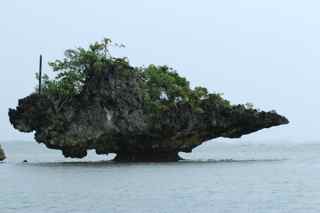 At first all the kids were shy with me because they didn't speak English. Now, Braicy and Kersey and I do gymnastics on the beach and draw (crayons go a long way in communicating). A few days ago we walked into town for ice cream.
A sample of our amazing drawings and the ice cream trip! Braicy being Braicy. This kid melts me.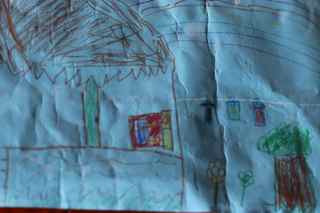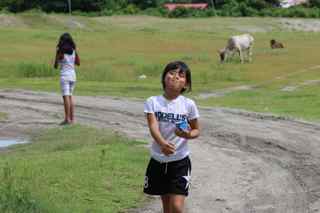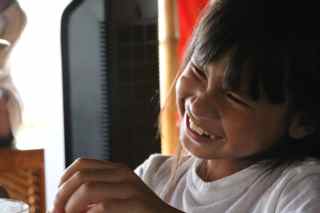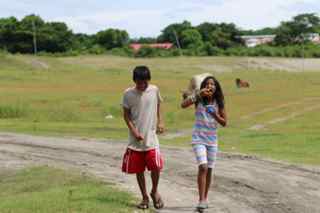 I've done some trips—Mark Doc and I—one of Edward's friends, went biking for a few days. I will write a blog post about this for Mountain Life Magazine. Stay tuned. Hanging coffins and huge climbs.
But the best part of all these adventures is hanging out with the family. I missed them when I left for a few days. A view of the sun set from my cabin. Life is simple and good.