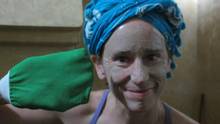 05 Aug

GLOBE AND MAIL: Hammam Education–Morocco

FEZ, MOROCCO —  The Globe and Mail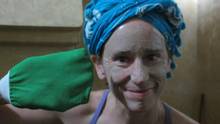 Lying on my side, in underwear only, my ear rests on an old lady's inner thigh. Every time she leans in to scrub my chest with her sandpaper loofah, her doughy breast bounces off my head. She, too, is in her underwear. My nostrils are overcome with almond oil and body odour.
I'm in a public hammam in Fez, Morocco, a bathhouse where men and women have come for centuries. After buying a ticket for 20 dirham ($2), we step into the reception. Heads turn: I'm the only white person. In the first of three rooms, we strip down to our gitch. I watch as Muslim women unfurl their head scarfs and slip out of long djellabas. Three employees are asleep on benches: the scrubbers.
The second room is an array of colourful plastic buckets. My Moroccan friend points: "This is hot and this is cold water. Fill to your liking." Using plastic scoops we fill a few tubs, lay our mats down and get wet – really wet. It reminds me of playing in the tub as a kid. Next, we slather on black soap, leftovers from pressing olives for oil. There are no suds. It feels like spreading butter on my skin. Across from me, a larger woman is getting right in there: every crevice, crook and cranny. I sheepishly coat myself. Finally, ghassoul: chips of clay that turn into a face mask when soaked. Genius.
The hot steam sinks in as we talk: "I bring my daughters here, and I remember coming as a child. We used to laugh and dance with the other women," Saida says.
My scrubbing lady arrives holding two buckets; she motions me to the next room. "Remember," Saida says, "if she doesn't scrub hard enough, she is not doing her job." I'm a bit scared, but I signed on for the whole deal.
Sitting in a corner, the attendant cuddles up behind me. As if trying to remove a stain from a carpet, she scrubs my back with almond oil. Threads of grey dead skin plop to the mat. Next, she motions for me to lie down: ear to thigh, arm above head. My armpit gets a working over, then my neck and chest. Breasts don't abate her speed. After the other side, it's the legs. Oh, the legs. Rubbing my quads until blood red, it stings when she splashes them clean with water. "Tu es très forte." You are strong, I tell her. She smiles. Behind the ears; side boob; knee caps; top of toes. It lasts for an hour and a half.
After soaping up, I return to reception; women ask where I'm from. "Ahh, Canada." I don't know what image that conjures for them, but their eyes grow wider. I like this.
Getting dressed, I notice broken blood vessels on my chest and red spots on my legs. In Canada, I'd ask for a refund, but here they're my cultural immersion welts of honour.