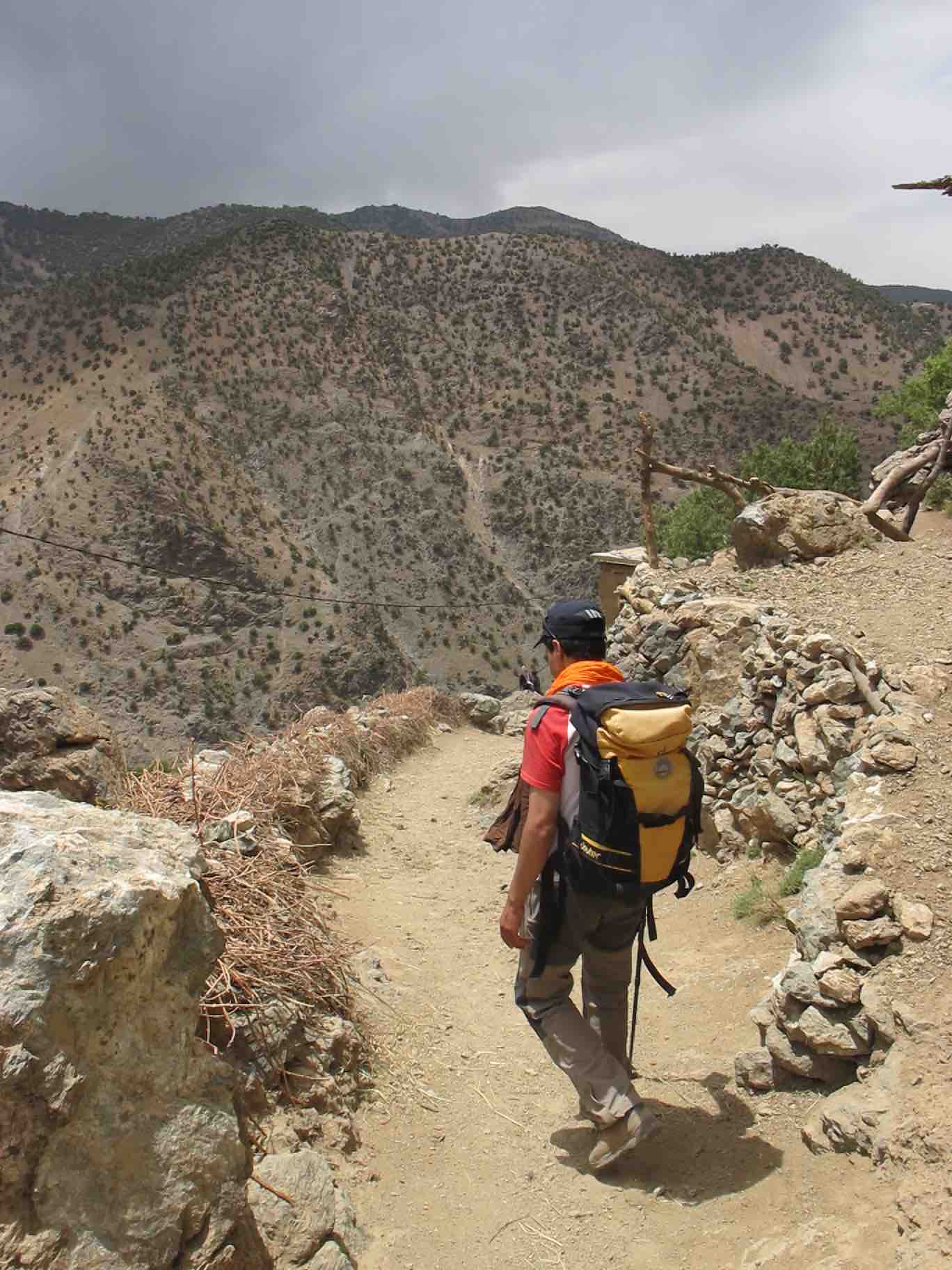 08 Nov

Hiking North Africa's Highest Peak!

Me, two guides and a donkey. This story recounts the hike, but not the hormonal 20 something guide. Oh my, there's always a story-behind-the-story. Amazing hike nonetheless.

Tracing the map to North Africa's highest peak

under the candlelight, my guide Abdel points to

the flame; it reminds him of growing up, without

electricity. "We were one of the first families to

have a black-and-white TV – everyone from the

village would come to watch – when someone

died the old women cried because they thought

it was real." That was 12 years ago in the

village of Imlil – the starting point of our four-day-

deep 4,167-metre hike to Morocco's Mount

Deep in Morocco's Berber mountain country,

donkey traffic jams are more common than cell

Day one: Imlil, Kasbah du

Locking eyes with a shopkeeper in Imlil, it's 

game over:

he's onto me. "For 

you 

free, come 

visit my store," he says,

beckoning me. Avoiding 

eye contact, I reach

dusty steep trail leads to a mysterious door

(Narnia?). On the other side, roses and bright

gladiolas line the stone walk. Looking up, Mo-

rocco's High Atlas Mountains wrap around the

Kasbah Du Toubkal hotel. The French military

abandoned the place when the French pulled

out in 1956; a British trekker, with the help of

locals, began to transform it. Imlil was the back-

drop for Martin Scorsese's 1995 Dalai Lama

movie, 

Kundun

, because it looks like Nepal.

Leaving the hotel, it's not long before we're

hiking alongside a bone-dry river valley. In 1995

a flash flood carrying a six-metre wall of water

decimated a nearby town, Ourika; "entire trucks

were washed away," says Abdel. Imlil escaped

its path. Today, cement dams segment the river.

Rain seems inconceivable in this heat.

Reaching the plateau (Tizi n' Mzki, 2,489

metres), Brahem, the 21-year-old newlywed

muleteer, unloads the panniers and begins

frying lamb meatballs in cumin. Abdel lays out a

red pattered rug and plates of black Moroccan

olives, camel cheese, and bread. Munching

on my spread, I feel a drop. Like clockwork

everyday, rain gushes for 10 minutes. It's all or

nothing here: desert or flood.

Trekking after lunch, the valley opens up: mud

huts for animals stacked on the side of the

mountain and on the other, terraces of vegetables.

Running down the mountain, women carry

bales of hay on their backs. "Look, she carries

more than the mule," says Abdel. Soon, the trail

cuts narrowly through clay adobe houses. A girl

is talking into a cell phone. It's on speaker as

the little ones huddle around her legs to listen.

Electricity arrived last year in Ait Aissa, a town

The sun has returned when we arrive at

Azzaden Trekking Lodge for the night. Inside, I

wash my hands with rose water and eat a date

dipped in milk. Berber tradition. After a tagine

of chicken, dates and chickpeas, I fall into a

deep sleep and have 1,000 dreams.

Day two: Refuge de Tazerhart,

Passing the mud huts from yesterday, we get

stuck in a goat jam. Shepherds yell. Goats bleat

and scatter. We're heading into the ice-patched

mountains and we won't see another village or

cell phone bar for days. Lunch on my Aladdin

blanket is contemplative; sipping sugary mint

tea, I survey the valley and a distant Marrakech

to the north. "We drink this like five times a day.

We call it Berber whiskey!" says Abdel.

Two hours left for the day. Lifting my head, food,

waterfall and sleep are steps away, but it feels

like the longest part of the day. Suddenly a woman

runs behind us; it's the first sign of tourists.