19 May

Hiking/camper van life

Camper van life is simple (campah van in Aussie). It's what they call motorhomes. But, navigating the camper van campsites in Australia is a bit complicated, at first. I arrived half an hour late to my reserved site in Port MacQuarie. Lights off; no one home. Parking in a random lot made me feel a bit uneasy so I drove across the street and asked a motel owner if I could stay. Not only did they let me stay, free, they let me use their WIFI and washrooms.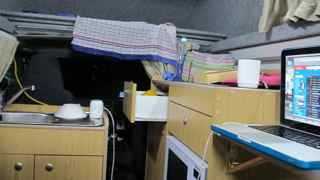 Warning: don't even THINK of speeding in Australia. Undercover cops and unmarked cars are everywhere! They even have random alcohol and roadside drug tests (not that I was going to pull a Rob Ford or anything). So much for laid back, eh?
The next day the owners said I could use a bike. The sun was coming up as I discovered these painted rocks on the wharf of Port MacQuarie —most of them were families that stayed in the cabins nearby. Some rocks were also memorials to people who died.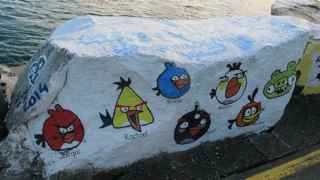 My first stop, Yamba, has s very secluded beach walk called the Yuraygir Coastal Walk. Look at this sucker– I didn't stick around to see what emerged.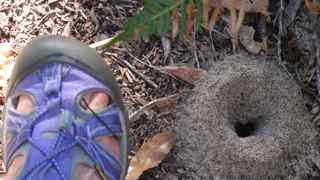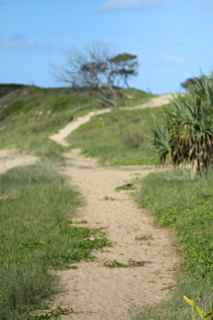 Named after the blue hue from eucalyptus trees, the Blue Mountains is a series of towns with amazing hikes around canyons. Katoomba is the main hub, but it is insanely touristy. I went to view the iconic Three Sisters and then got outta there!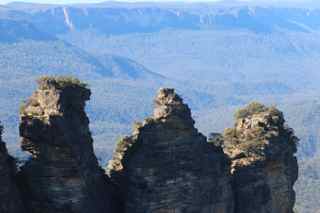 My first hike began in the town of Blackheath—the highest town at 1,049 meters. From the parking lot on Govetts Leap Road, the trail hugs the cliff side for a few kilometers overlooking the Grose Valley and then drops down – dramatically down—and then scoops straight up, sometimes under ice cold drops from the nearby waterfalls.
This is from the hike, Grand Canyon, in Blackheath.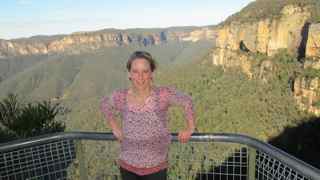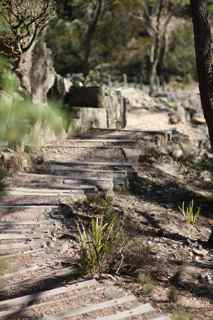 That night, hanging out with a cool local, we listened to jazz and ate meat pies (the official meal of Australia!) at the Ivanhoe pub in Blackheath.
Next day, down the road, I hiked Wentworth Falls and met two women who invited me to lunch.
Back on the road…will send pics of Wentworth Falls and more soon. Off to Sydney …