10 Jun

Hiking highest peak in Bali–or is it?

"You know Miss Saigon?" Yoyo our driver asked when he heard I'm from Toronto. "No, but I have seen Mamma Mia. Very good." He didn't respond. "Ohhh no, he says, "I said, Mississauga."

Miscommunication would permeate this volcano trek. Looking on to the crater rim.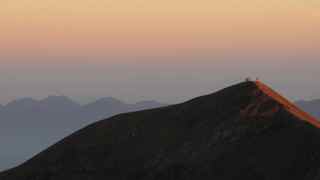 The day before, booking the tour to Bali's highest peak, Mount Agung (3142 meters), I wasn't sure the girl at the tourism office understood a word I uttered. Hardly speaking english, she nodded at everything I said. "I want hard summit please…not short one, hard one."
Nod nod.
So, after lounging around till midnight, I ventured onto the dark road and waited for a van; and you wonder how I get myself into so many predicaments! A van does arrive—with a young couple from Belgium–which was another miscommunication: I asked the girl at the office for a solo hike. A girl likes to hike at her own pace.
We started at Bali's most important temple, Besakih (Mother Temple) at midnight—partly to avoid the heat, but mostly to watch the sun rise.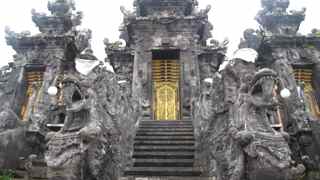 With our headlamps blaring, we set off past the ominous gargoyles and the temple stairway into the woods.  But, not before the guides made an offering and prayed for a good journey at the foot of the temple.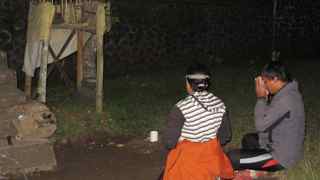 Up and up; barely able to see the next step. We joined some others, and I don't know how it happened, but I get stuck at the end. Is it bad protocol to budge in front of slow hikers? Step, step, pause. It was killing me.
Everything was tickityboo; I could learn to be patient. I was hiking afterall, and this is where I wanted to be.  It was silent and dark until about two hours into the hike when a french couple began scrapping with the guide—over what, I had no idea. Turns out the guide was about to take us up to the crater rim, a less strenuous, and less scenic hike and not the hike the french guy paid for, or me for that matter. So, for the next half hour their guide was on his cell phone waking up his boss to ensure he could take them up—and moi. Long story short, we began to move onto the Summit track… and yes, it was hard.
Once we got out of the forest, the loose lava rocks and mountain grade changed considerably—about 45% grade I was told; at times we were climbing a wall of rock while other sections meant teetering on the side of the mountain carefully placing a foot on the next rock hold.
Behind me I could hear the Belguim girl: "I'm scared." This was only the beginning of the accent. Coming down should be a treat.
To the left side I could make out the city lights from Denpasar—the main city to the south of Ubud. The last part of the accent, I got my wish: I was up front with the guide breathing heavy and sweating buckets… wow, that last sentence sounds different from what I intended. Let's keep our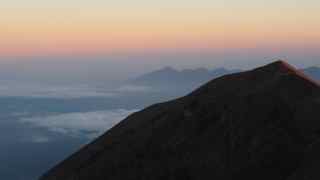 minds out of the gutter,
shall we?
Turning onto the peak, we began the last five minutes to the top at about 5:45 am: yellow light was emerging on the horizon.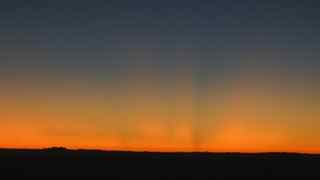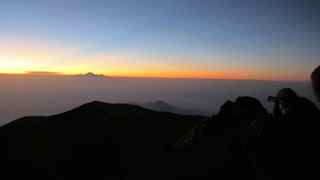 And shockingly, I could see the outline of a volcano ahead. Rinjani—my next volcano hike on the nearby island, Lombok, hundreds of miles away.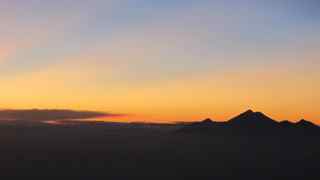 Finally at the peak, it always makes my heart leap when I see a peak—and here, from every angle you could see volcanoes, and ocean. And, below the peak, a gaping rock crater that was once the active 'eye of the storm.'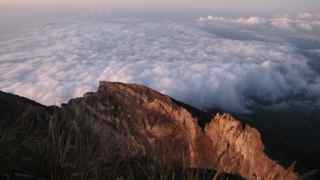 It all seemed so dangerous—like we shouldn't be here, but we were!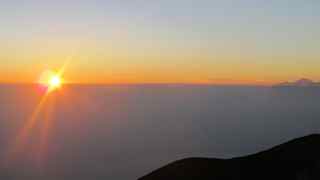 Going down wasn't as fast as I thought it would be; for a good portion I was on my ass sliding until my foot caught hold. Delicately placing my feet and inching along. Already, the Belguim girl and her boyfriend were behind. I should add they always had a guide–they were never alone. The guide pointed out the temple, immediately underneath us. Why can't we just grow wings and fly down?
This is just before leaving the lava flow. And, my favourite picture from the entire hike. Look at that blue!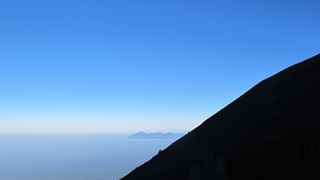 Eventually, myself and the French guy were hop scotching the final descent—ricoqueting off rocks on the side of the trail. Quads don't fail me now. The poor suckers could buckle at any minute – I was reaching my end.
Finally, just before 10am, we saw the edge of the temple. I don't have to describe that feeling—you know, when you want something so badly and it finally happens. Giddy. Elation. A party inside all for you.
So, I had to wait for the Belgium couple as we took the same car—about an hour and a half from Ubud. No probs: sleep in the car. I had been awake all night and I was ready to crash, hard.
I slept until 1130 or so. No sigh of the Belgians. Hmm, this isn't good. One of the other guides came down and said she was crying last he saw. Thankfully they have a guide for what it's worth–he can't carry them out.
Yoyo, the driver is hanging out, pacing. We sit on the pavement and talk about Bali. I ask him about the two biggest things to change Bali, and I don't mean that the two are equal to any extent, I only mean that both have changed this island irrevocably: 2002 terrorist bombings and the movie Eat, Pray, Love.
Yoyo was on his way to Kuta, the town where the bombings happened, to see karaoke with a Japanese friend the night of the bombings. Trying to get into the centre, they discovered that the roads were blocked. Police were calling it a fire. Turning on the radio, they heard the truth. More than 200 people killed by a terrorist bomb.
Next, Elizabeth Gilbert's movie Eat, Pray Love, which recounts the writer's four months, of a year-long self-reflective journey;  this book, then subsequent movie, changed the town of Ubud, above Kuta, forever. "It will never be the same here," says Yoyo who played an extra in the movie. "Julia was nice," referring to Julia Roberts who would eventually play Roberts on screen roll. It's not quiet here; it used to be quiet, spiritual; now it's commercial. Crime is on the rise. Taxi drivers calling out, 'taxi' every few steps; tours are ready to take you to every inch of the island for 'a very good price'; wifi in every café. And if there is one example that can solidify what is happening here: my beautiful quiet sanctuary guest house, Luka Pala Villa, with its serene pool and quietness, will become a Japanese resort soon. The new owners drained an entire rice field to build an addition.
I'm saddened by this. It's beautiful here. Yoyo too misses the good ole days. The Belgians are expected in another hour. It's noon now. Eventually, I see her: she isn't smiling and is staring aimless into space–like she just saw a dead body.
Eventually she reveals the story: you know when a mountain is  so steep your legs keep going and you can't stop them? Well this happened to her, only she then hit a root and went flying face-first into the trail. Luckily a guide was there to break her fall; if not, I can't imagine what would have happened. She fell two more times. Her partner also had a similar fate.
This all ended happily, but I have to finish by saying, after all this couple went through, we still stopped at a coffee plantation to have a tour, with the intent that we would stay for lunch and spend money. Really? These two people just went through hell and we are going for a coffee tour? Granted they didn't know what they were sighing up for which brings me to my moral of the story: they only signed on for the crater, but when everyone else went to the summit, they wanted to go as well, not fully knowing what they were signing up for. So, a few lessons learned. I am skipping some elements of the story, how I then had to pay extra (the summit means the guide receives another 350,000 rupiah: $35), so on top of my 700,000, about $70, I payed another $10 or so for the summit. Not bad considering all the hooplah.
It just reminds me that as a traveller, be responsible. That goes for me, too! Ask; if someone doesn't know, ask someone else.
Came home to an hour long bath and wickedly sore muscles—already. Tomorrow: six buck massage.