27 Jul

Italy with kids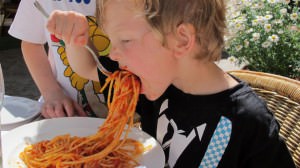 In a quiet cathedral in Sorrento Italy, 5-year-old Harry Poitras drops to his knees in the pew, clasps his hands, and prays: "Please God, make there be something besides spaghetti and pizza on the menu."
Luckily, gladiator school, biking in Borghese Park in Rome, making homemade pasta and playing in seaside playgrounds make Italy an affordable and historical trip with bambinos.
"I hoped the boys would love things that I loved about Italy: the history, the landscape, the people and the food," says Durham Region mom Rachel Poitras, who recently returned from 10 days in Italy with her two boys.
Starting in Rome and heading south to Sicily, bringing the 'famiglia' to a country that loves kids — even in fancy restaurants — is easier than finding a pizzeria.
"Almost everyone we encountered, from museum guards to cab drivers to hotel concierges, was willing to help us in any way with the kids," says Miranda Green-Barteet of London, Ont., who travelled with her 5- and 3-year-old two years ago. "Italians love kids," she adds.
Pre-trip booking
Family hotel rooms, with single beds, are difficult to find and often require a three-night stay. Poitras started planning a few months in advance with the help of a travel agent who spoke directly with hotels.
And travel off-season, in spring or fall, to avoid monster lineups.
Roman gladiator school
Picture it: ominous Roman music plays while a Russell Crowe lookalike helps the little ones navigate gladiator training.
Dressed in burlap sacks cinched at the waist with rope, kids run through an obstacle course, then wield their soft foamy swords in a battle.
It's euros well-spent, says Poitras. "The kids are still talking about it."
Led by the Historic Group of Rome, kiddies also get a bit of a history lesson in the gladiator museum full of swords, headgear and Roman artifacts.
Average $75 per person for two hours; cheaper with large groups. Book through viator.com. Booking through an Italian tourism agency doubles the price. Bonus: kids get a graduation certificate.
Villa Borghese
The lineups and bustle of Rome can be overwhelming for kids and parents ("Mommy, I gotta go pee!"). This park is 6 square kilometers, where kids can kick soccer balls, row boats in a lake, cycle, or race go-carts. ($20 to rent four bikes for one hour).
But the real cheese on the pizza, so to speak, is the Bioparko. One of Europe's oldest zoos with more than 200 species of animals, it's enough for an entire day. A train makes stops at the reptile house, petting zoo and playground.
Enter through the Spanish Steps or Piazza del Popolo. About $18 adults, $15 kids. Tip: arrive one hour before closing. 9:30 a.m. to 7 p.m. until late October.
Amalfi Coast playgrounds
South of Rome, the Almalfi Coast overlooking the Tyrannian Sea is dotted with beaches, parks and playgrounds for kids. "These parks have some of the most sophisticated swings I have ever seen," says Poitras.
From the centre of Sorrento, walk 15 minutes to the beach in de Gennaro, where kids can collect shells and play soccer while mommies can sip a local pinot grigio at the beachside patio at Taverna Azzura.
In the centre of Sorrento, Parco Giochi has merry-go-rounds, swings, see-saws and slides. For weary parents, the espresso kiosk is dreamy.
After supper, take a horse-drawn carriage through town and along the coast — it's enough to lull your little darlings to sleep. About $30 for half an hour.
Pizza and gelato
Half an hour along the coast in Positano, kids can roll out pasta dumplings for gnocchi, or make pizza margherita (mozzarella, tomato sauce, and basil) in the colours of the Italian flag.
"Kids will also learn a little history on where and how the first pizza was made in Naples," says Lauren Birmingham Piscitelli, owner of Cooking School Italy. She explains that chef Raffaele Esposito, a Neapolitan chef and baker, created a special pizza for Queen Margherita in 1889. It's now Italy's most popular pizza.
Day-long tours also include gelato-making and market food tours of Positano's fishmonger, and a famous pastry maker. Stop for local tastes of salumi, prosciutto, pasta, bread and seasonal fruits. The tours cost about $240.
Sicily's rockin' volcano
After an eight-hour ferry ride from Salerno to Messina in Sicily, Taormina is an hour south and a good base for volcano tours.
After a day of beach-romping in the seaside town of Mazzaro, take the gondola to Taormina. At the Teatro Greco (Greek Amphitheater) built in the 2nd Century A.D., kids love ducking in and out of the endless doorways and ruins. Parents appreciate the backdrop of the seaside and volcano. ($8 adults; $4 kids)
About half an hour from Taormina, Mount Etna — one of the world's most active volcanoes — is best seen from a tram (at Rifiugio Sapienza). From overhead, you can see how the black chunky lava flow swerves around buildings and islands of trees.
"It would have been cool to go into the burning volcano — except burning would have ruined the holiday," says 8-year-old Charlie Poitras.
However, at 2,500 metres above sea level, a four-wheel ride can take you pretty close. Private excursions ($180 for four hours) include a tour of a lava cave.
Harry and Charlie did finally find some non-Italian food just before bedtime (Italians typically start supper at 8 p.m.). Too bad mommy's only options were grocery stores, and Irish pubs.
Melanie Chambers is a freelance writer based in London, Ont.