27 Jun

Java — Buddhist love

Of the some 17,000 islands that make up Indonesia, I am visiting three in one month. Only about 6,000 are inhabited but I feel Bali, Lombok and now, Java, are enough for now. Flights between them are also cheap.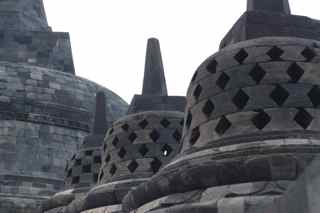 Borobodur–the highlight of Java so far. Largest Buddhist temple in the world. 
And if I thought Bali was hot, Java is a new level of hot and sticky. Arriving off the plane (Garuda Airlines is the best!) from Denpasar, Bali at night, it was still unlike anything I've experienced.
Everyone says that Bali is not the real Indonesia, too commercial and easy. Well, they are correct. Java, mostly Muslim, and less English speakers, is not a cake-walk to navigate this place at times.
I suggest finding a good tour company to book some tours. We used Annas. www.annastour.com. 
On the first day, my Dutch buddy, Ellen, began with a sweaty tour of downtown Yoyakarta–a good base for more volcano hikes and temples, but not much else. Staying south of the centre at the superb guesthouse Ministry of Coffee, www.ministryofcoffee.com ($30 CAN a night with breakfast), we're a good 10 kms from the action.

Ellen and I began walking the streets. Tuk Tuk drivers everywhere.
We approached one.
Tuk tuk driver doesn't speak English.
Mel: "No problem."
Tuk Tuk driver doesn't doesn't see too well.
Mel: "Problem."
The next one also didn't speak English, but has sight! Deal. It cost us $5 for a front room seat while our driver biked in back. We could have walked faster–turns out our driver was turning 100 years old, or so it seemed. Eventually, we got downtown, paid too much to see the Palace and returned back to our guesthouse (Ministry of Coffee) in an air conditioned taxi for less money than the tuk tuk.
Next day we had a plan: Borobodur–the largest Buddhist temple in the world!
The lower panels symbolize human desire–you know, booze, sex and dancing! As you move up the steps, it moves to learning and then self awareness. TIP: leave early to beat the crowds. Our driver picked us up at 5am!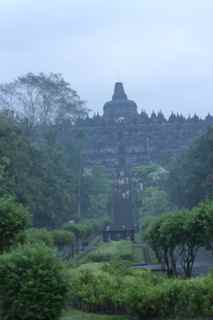 Build sometime around 750 AD, Borobodur has survived multiple volcano eruptions from nearby Merapi, a period of abandonment –almost a millennia-and mudslides; many buddahs have lost limbs along the way.
At the top, some school kids swarmed us and asked us questions: where you from? You like Indonesia. Picture? I told them I like hiking, biking etc… One young kid, to the left, asked: "You like a challenge?" Perceptive kid. It was a wonderful moment.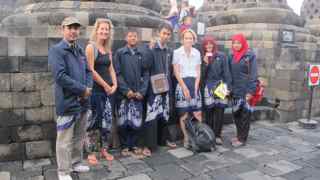 Ellen really wanted to see the elephants. Here are two, unfortunately shackled, but having fun regardless. Amazing how all of us animals crave to be touched, loved.