19 May

Killarney — hike, paint, canoe and restore

After a few days in hot southern Ontario, riding through Hardwood Hills' Trails near Barrie, we drove almost four hours north to Killarney Provincial Park only to see snow outside the tent on day two (minus 6 with windchill!). We spent the day playing pool inside the deserted and eerie Killarney Bay Inn, which felt like the inn from The Shining. Population 500, this was the only place open in Killarney, besides the general store. Tourism season starts May 24 weekend.

But, it was already summer in my heart. After a jog around the park, I ran into the water, then I ran out of the water. Earth shattering cold.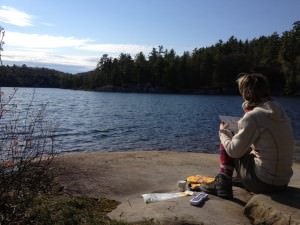 After a few all natural hot dogs over the fire, I grabbed my Art Kit from the park office (the Friends of Killarney loan out watercolours, paper–all the tools for a Group of Seven wanna-be). In many ways, the park wouldn't exist if it wasn't for their efforts.
A.Y. Jackson (Group of Seven) petitioned the provincial government when Trout Lake was under threat of logging (name changed to the Ontario Society of Artists).
So, with my plastic glass of red wine, I painted, er scribbled, the white quartzite rock and maple trees. Masterpiece.
It's amazing to think that before 1960, there was no road going in to Killarney.  Killarney Mountain Lodge (www.killarney.com) was opened around the second world war so eventually a road was developed some time around 1962.
Driving from Barrie, many things change along the way: forests are denser, rock slabs are taller, blackflies are fierce. And, the wildlife. We saw two different black bears, one with her three baby cubs–cute until they grow up and rip your guts out.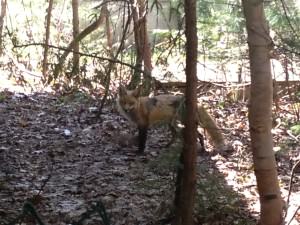 Here's a little chocolate legged fox hanging out near the park office.
We also had routine morning visits from this little guy — he likes his coffee strong.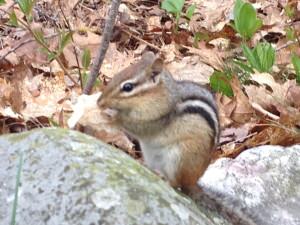 HIKING
Killarney has a handful of day-long hiking trails (in addition to the mammoth La Cloche that takes 7 to 8 days). The day hikes are not too strenuous; the newest, and hardest, is the Lake of the Woods trail (3.5 kilometers). It took us an hour and a half–with lunch–at a mighty steady pace. Rocky accents and drops, it's dramatic to see a footbridge leading to a rock island in the middle of the lake; however, we were hiking so fast–no time to take pictures–these are from The Cranberry Bog Trail.
CANOE 
For maps visit: www.friendsofkillarneyparkstore.com
Paddling is the main reason to visit Killarney Park: we met a guy, solo, who parked his car at the main entrance, then canoed to a different camp site every day–hopping daily from lake to lake for a week or so; some sites are on their own island! At nearby Killarney Outfitters (www.killarneyoutfitters.com), which sells Lole clothing, girls, rent a canoe (full day) for about $40. The store gives you a key, to which there are two canoe pick up sites: Lake George and Bell Lake Road (about 9 kilometers down the main #637 highway).
Launching from Lake George, we coasted around the cliffs of George, then portaged to Freeman's Marsh, where we splashed our sun burnt faces then dried out on a rock listening to a nearby waterfall. Wind swooped all around us: over the smooth terra cotta rock and through those famous slanted maple and spruce trees.
I felt entirely like a I look: happy, fresh and calm.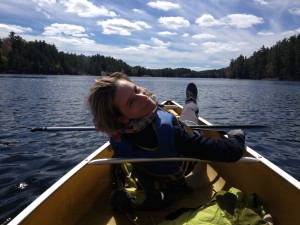 ART IN THE PARK
Since the area was inspiration for the Group of Seven, the park has an artist in residence every summer. This year it's local Pierre Sabourin www. pierreajsabourin.com.
I bumped into him at the park office and was invited to take a peak of his studio in the town of Killarney–12 kilometers down the road from the park. This is his latest: a winter scene of Chikanshing Creek. He lives in Killarney all year round: "It was an especially long winter this year — never ending."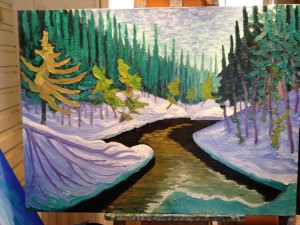 Home now. Unpacking, everything smelled like wood smoke. It reminds me of boiling the water to make morning coffee and mostly of the camp nights. Slumped in a camp chair, I watched as the last piece of wood crumbled into pebble sized embers, until I couldn't keep my eyes open any longer. I slipped inside my sleeping bag, zipped it up tight, and fell fast asleep into a wood smoke  trance.