20 May

Kindred spirits on the Tusket River

We hugged like we'd known each other for years. We'd never met before.

As two who share the love of travel and writing, Sandra Phinney and I met online through an association and then started yakking; what we discovered is that we share so much more. I recall Skyping one time when I needed some ideas where to send a story idea; Sandra suggested some markets I'd never heard of, but what unfolded was profound.  From the get-go she makes me think I can do more: be a better writer, and connect more to my writing. And, this is how it all began with us, this mutual admiration society. www.sandraphinney.com

A few months back, when I wrote about a project I am planning for July, writing about my 'home' as if I was a traveller seeing it for the first time, a long time resident of Yarmouth, and former farmer, Sandra wanted to do the same from her home turf. Obviously my Toronto experience will contrast to Sandra's rural digs, but I decided to drive to Nova Scotia from Toronto to spend some time with this amazing lady and hammer out some ideas and our vision for the project.

Arriving at supper time, the lobster and wine were waiting, as were her husband Barrie and doggie Alaska who ran to my feet looking for some love and pets. With about 50 acres on the Tusket River, Sandra's home is tranquility. Beavers swim by her cabin; blue jay's visit her feeder. It's oh so quiet.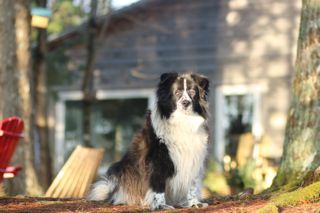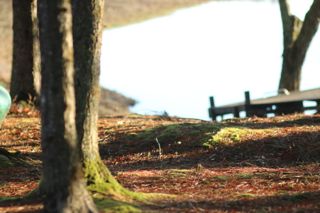 We slid into conversations about common loves: nature, family, and travel. At 70, Sandra is more curious and open to new experiences than most people I know. I loved her from the start.
And when she suggested shopping the next day, that was it: kindred spirits. Our first day together we spent hours partaking in a Nova Scotian tradition of sifting through used clothes for hours. Below are some of my 'finds' at Frenchy's.
We also went to visit a goat farm. Sandra was writing a story and needed some pictures: Hug Your Nanny Goat Cheese. https://www.facebook.com/HugYourNannyGoatCheese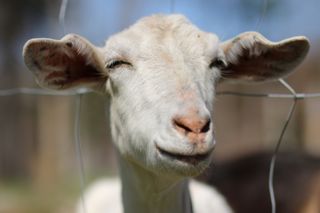 Sandra's home is located in an Acadian area. Cack in the 17th century when the British took over, they expelled the French loyalists, the Acadians, from the area, but some hid or returned years later. So, with this little pocket of culture comes some food that you can't find anywhere else on the planet. Rappie pie. "It's the pulp drained from shredded potatoes — it is kind of like glue," says Sandra. So, chicken pieces, potato residue and onions…hmmm. Glue.
And in between all this, remember it was only three days, I managed to get out and ride my road bike. First ride, Sandra arranged for a local to give me a tour: Beth had done an Ironman but yet she kept complimenting me on my legs! Iron*friggin*man. Then, the next day I cycled out to the lighthouse. Super curvy roads through fishing villages with loads of ups and downs. Lovely.
This is just such a superficial glance at those three days, but I'll write more as our July Project unfolds  as there is a lot to unpack there.
Sandy Pines and Mae Belle. The start of something good.