16 Mar

Starbucks doesn't cut it–London coffee friends

I don't recall how I found the East Village Cafe. It's not like it's in my neighbourhood. A few doors west of the Aeolian Hall, it's east London. But for the past few years, almost like clock work, when I begin to mark student papers, upwards of 75, my Saturdays are spent here. Sitting in an old wooden church pew, fuelled with enough caffeine to start a small plane, I can plough through paper after paper. Eat a few oatmeal energy balls with raisins and I get a second wind to mark for the entire afternoon. That is, until I need wine and migrate down the street to The Morrissey House to see my gang.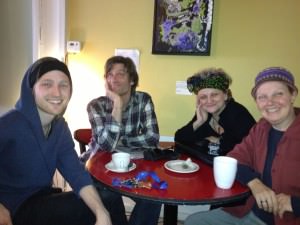 Here is the 'coffee' gang. Glenn and Linda, second to left, and right, began the shop five years ago, then Leeza came on board. Recently, Kyle has begun serving java.
East Village is now closed for about a month; they are moving across the street to their own building. It promises to be bigger and better, but for the time being– I'm lost. My Saturdays are messed up. Hoppin from Starbucks, to Organic Works Bakery on Wellington, I feel aimless. I miss Leeza reading my palms, and talking to Glenn about travelling.
Soon they will need a few hands to help paint, or clean the new place. I'm ready.