30 May

Making Ze Pasta with Marcello's moma

It is simple ingredients: looks like cornmeal type of flour, and four small chicken egg whites. Oh, and fresh saffron, which turns the flour yellow.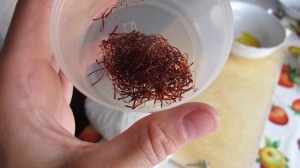 Marcello's father grows it; he used to be a farmer. Then, add a small glass of water into the mixer.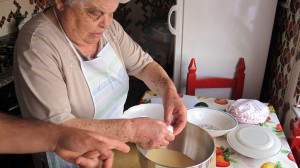 Marcello's mother taught her how to make pasta.
As she sets up her electric mixer and pasta press, she explains how much easier it is than when her mom made it.
Marcello explains that his home is a traditional matriarchy. In this Italian home, mom's hold all the power. As she makes the pasta with dead focus, not letting me touch anything, yet, I can sense this!
Next, the filling. Ricotta cheese, chopped spinach and more saffron. Oh, and the egg yolks. She also makes a sweet filling with ricotta, sugar, saffron and the yolks; this version is fried and drizzled with honey.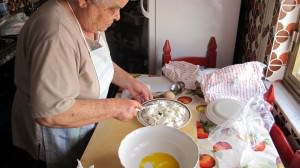 She lets me chop the spinach! I pass the test.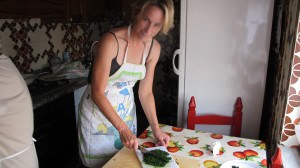 Final mixture: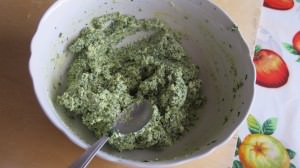 Now, before you get anxious for the assembly part, there is more kneading required. This is where the pasta press comes in. Mom cuts off a chunk of pasta, flattens it and then puts it through the press–about 10 times until the dough has a smooth consistency. It's ready.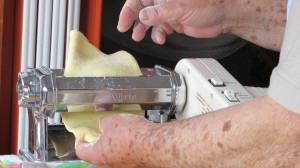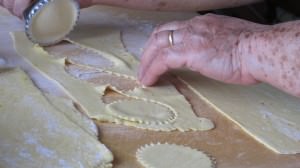 The ravioli shapes –numerous–depend on which part of Italy you come from. In the south of Sardinia they make round shapes! So, with a metal cutter and handle, she cuts out a top and a bottom. Now, assembly required!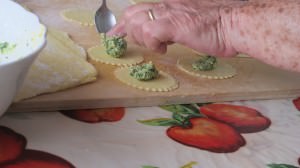 Shapes!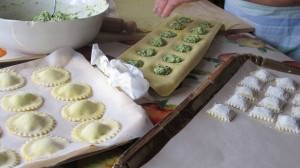 I'm in! Yippee, my turn.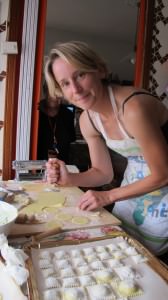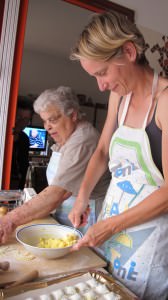 Does this make me an honorary Sardinian now? Please oh please!
Oh, bella Melania cooking.