26 May

Melbourne day

Plan of attack driving a 4.6 meter long camper van into downtown Melbourne: park in the burbs then bus it into the city. Makes sense, right? But, do I know where I am going? No idea. When I'm somewhat central, I pull into a large parking lot (Melbourne Convention and Exhibition Centre). Coming around the front of a hotel, the valet comes out and I ask about parking. "Well, it's normally $40 a day, but I can give you a voucher and you can park for $20." Pays to be a female sometimes. I know this.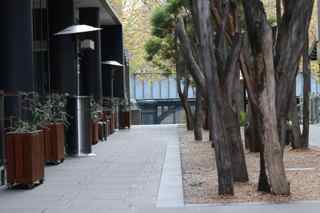 The lot is located on the edge of the city in an area called South Wharf and is a five minute walk to the centre of the city. Say what? Horseshoe up my butt sometimes. I know this. The city is divided by the Yarra River and the walk along the river into downtown is littered with gorgeous chef-named restaurants such as Rockpool, Aussie chef Neil Perry's baby, and beautiful big and bold public art.
Funky bridges cross the river everywhere!
I grab a flat white (milk coffee) and continue. I am already in love with Melbs (as a friend calls it). And, I notice scarfs, nice scarfs. I notice women wearing funky boots and skirts. Ohhh, could this be style? It is!
Coming across a set of bikes for rent, I get excited. Ohh, should I? Why the hell not? My fingers are shaking I'm so excited. Believe it or not, I have never rented from a communal bike system before.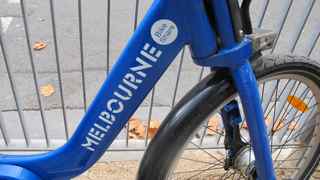 Keying in the code, the bike releases into my hands! Looking over my shoulder – it's mine! Really? Hopping on, I'm off in record speed on my trusty ride. The river path goes forever and I follow without caring where I end up. Eventually the restaurants melt away – now it's just rowing clubs, the river and park benches. I end up in a small town 5 kms outside the bustle. Sweating now. So good. I'm flying high.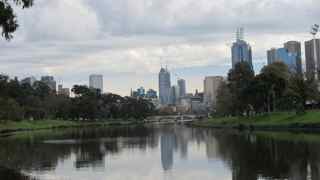 Back in town, I head across the river and start a bit of a climb. "Excuse me, do you know of a funky neighbourhood," I stop to ask a woman holding the handles to a very nice leather bag and pretty pattered scarf. Her eyes widen. "Really?" As if I just asked her to eat a giant Sundae that has no calories.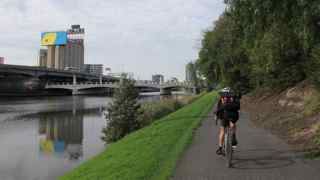 "Well, do you have a map?" Ah, no, I reply. "I live across the street. I'll get you one. Stay here." I stay. She returns moments later and relates some goodies.
Honestly, the rest of the day is spent meandering around—not really stopping for too long. I'm just enjoying the flow of everything. But, I have saved the best for last.
After taking the bike back to its home, I intend to walk to the prison museum, but with so much of travel it's the path we didn't mean to take that is the best. I have about an hour and a half to kill before I drive to the ferry just outside of town.
I'm almost at the jail museum when I find myself taking pictures of a pale yellow Victorian home on the corner of La Trobe and King Street.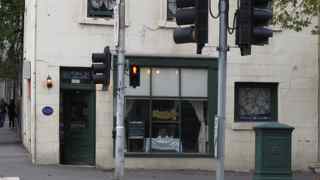 The wooden door is slightly ajar and I push. Inside is an English tea house that looks like my grandmother's living room: Paddington Bear is sitting on the white laced covered tablecloth, napkins are folded in triangles placed in ornate steel holders, crushed burgundy velvet seats are thread bare and worn. George comes to the door—he's an older man who is struggling to straighten up; white icing sugar is on his nose and side of his mouth. I love him immediately. I think it's closed but I don't give up. "Tea and scones?" After correcting my pronunciation, he says scones are gone but there is always tea. I sit and take it all in. A brown dog, resembling an ottoman, saunters over, bouncing at my ankles.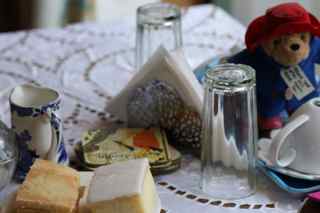 George returns with cakes. "These are from yesterday, but you're welcome to them. Cut off what you would like." Two bricks of cakes: one is icing and custard; the other: apples and sponge cake. This cannot get better. I wait for the tea. Paddington Bear is staring at my cakes.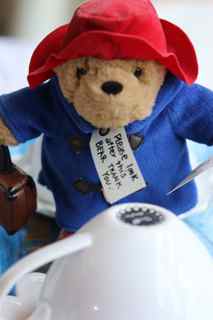 Every corner of this place, no bigger than a kitchen, is full of bric and brack—English for 'knick knacks.'  A piano melts into the wall—I wouldn't know it existed if it weren't for the pictures frames that needed a place to rest.
Smells a bit mouldy, too. Newspaper articles of the place line one wall. "Debate over Melbourne's oldest surviving building: maybe La Trobe's cottage in South Yarra?" And here I am, in said dwelling. Turns out the building was brought over from England in 1839. George and Lola, Lola is his wife whose family owned the original, have been here serving afternoon tea and luncheon treats for decades.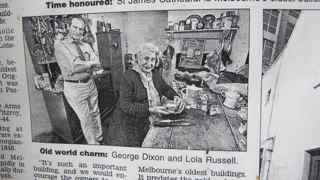 The Misses, Lola, comes out. "You have a lovely place here." "Oh, this place? It's all old and grimy now." She shuffles between the french doors that obviously lead to their dining room— a chandelier and dining table behind the doors. Loud dramatic classical music is playing. How did I get here? Outside, people walk by looking at their phones. Cars zoom by.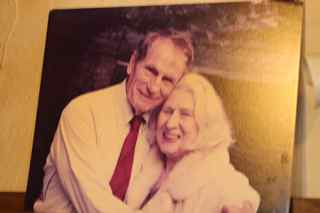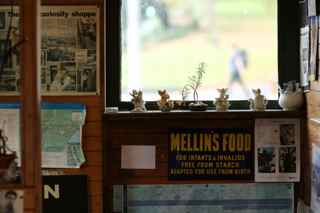 This is every much a cultural experience as the museum I was supposed to visit—I'd say even more because no museum could make me feel like this.
I begin to leave. "I thought you would stay all afternoon," he tells me. How did he know I wanted to. I wish I could, I tell him. "I have a ferry to catch, to Tasmania." "Do you want a banana to take with you?" I could squeeze him. George won't let me pay, either. Walking me to the door, icing sugar still stuck to his nose, I think: 'I'll never see you again, but for this one hour, I am so glad I met you.' He smiles at me, like he is reading my mind. "Safe travels." I walk out beaming, bouncing down the street to catch my ferry. These are rare travel moments but you recognize them immediately when they come along.