03 Jul

Morocco–where to begin?

I was scared about visiting Morocco. As a blond, blue-eyed, solo girl, I heard stories and I naively believed them. In Portugal I met a woman from London, England who said a man wanted to trade her for a George Forman Grill! So far, no grills; no camels. I arrived in Casablanca late at night so I had a driver take me straight to my hotel ($40 if you prearrange). I saw two accidents on the way. Crowds of people standing and watching. One was a motorcycle accident with clothes strewn everywhere. I had to look away. Drivers are insane here.

I took a train to Fez the following morning. In the taxi, I'm ready to go, and a guy pops his head into the cab and yells at me: "ou?" As in, where are you going? My cabbie and this dude started screaming at one another; eventually my driver high-tails it out of there. This is Casablanca.

Fes–the city of Moroccan artists and gastronomy–was still busy and overwhelming, but charming. Shop keepers are a bit pesky, trying to get you to buy something, but they are harmless. I walked by one guy twice. "What, you don't like me? You don't like my store? Why?" He laughs.

Start in the old medina (meaning old walled city); Fes' medina has 14 gates. It is 16 kms around and there are 187 neighbouhoods, each has its own bakery, mosque, hammam (bathhouse), fountain and Koranic school.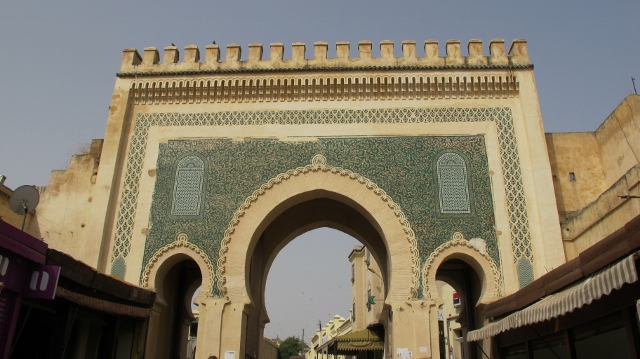 Inside, it's a maze of tiny sidewalks, not even wide enough for two people to walk side by side at times. And thankfully, no cars. You can venture alone, and get lost, or hire a guide for about 200 dirham ($22 Canadian). Don't hire one outside the city walls, or the train station; scams.
Inside are souks (shops) selling everything from goat heads, spices like famous cumin (spoonful with water good for upset tummy), fabric for djellabahs (full Muslim dress with hood), jewelry galour, home made leather shoes …it goes on an on. Oh, and barter for a price, half, if you're good!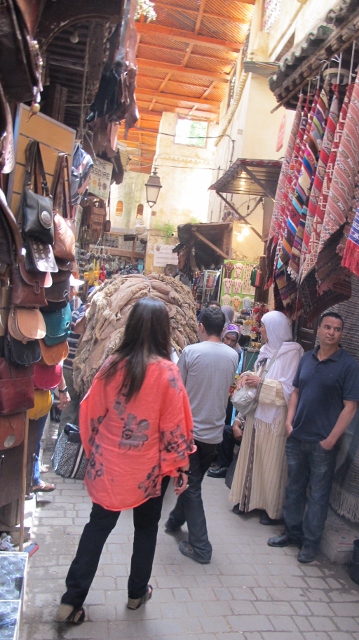 Beware: if you hear, BALAK! Step aside, fast. A donkey loaded with goods is a coming and he will knock you down!
Here is a sample of what I saw, oh, and bought.
Leather tanneries–popular.
Ramadan, when Muslims fast for 30 days during the day, is coming soon. My guide Saida says many Muslims eat chbakia, (almonds, cinnamon, flour soaked in honey), as soon as the sun goes down with Moroccan soup, harira.
Moroccans buy them in giant plastic bags!
Caftan–for dressier occasions.
A University in Fes
Making copper pots.
.
Using his foot to stabilize the cow horn, this guy makes traditional hair combs day after day.
Morocco's most famous leather tannery. White barrels are where the skin and fur soak for a week in lime juice and pigeon excrement (makes the leather soft) to separate the fur from the skin. Then, it goes to the dye barrels, which is all natural: pomegranate for red, etc….
It seems like a very arduous life. Making  chbakia (above), a man stands barefoot in a little cubbyhole, no bigger than a closet, scooping cookies from a steaming hot fryer.
President's house
Carpets, nougat…arg, too much. Looking at medina from south fortress.
Visit a ceramic studio outside the city. Use a red taxi. Painting free hand.
TAGINE! Stew like meal cooked in clay pot. Tasty.
If the medina gets overwhelming, and it will, visit a cafe and go to the terrace. Here you can get a bit of peace and see the bustle from above.