08 Jun

Mountain rescue and made the news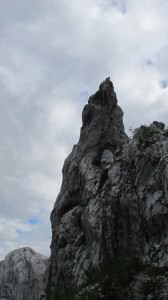 Ok, that is an ominous title, but yes, myself and a Welsh girl I met were certainly stuck on a mountain rock face in Croatía's Paklenica National Park (southern end of the Velebit massif above town of Starigrad). Long story short, and I will provide details, but we took a wrong turn and started climbing the rock climbing trail –not the hiking trail.
We climbed three rock faces, teetered on rock ledges, up hand width crevices and flat rock using only wire rope attached to the rock. It was the third one, when Emma's legs were shaking, that she decided to call the police. "Mel, I can't do it. I can't go any farther." I looked down, at the rock face and rope –attached to the rock we just climbed. I thought to myself, well we certainly can't go back. So, there we were, on a rock ledge facing the ocean. Stuck. The conversation played out something like this:
Policeman: Are you hurt?
Emma: no. We are stuck.
Police: We can't get you if you are not injured.
At that moment, a helicopter, which looked like it was heading towards us, stopped and hoovered around the ledge.
Police: there is a helicopter there to pick up a man. He fell.
Emma, crying at this point: Please, we are stuck. It is too dangerous.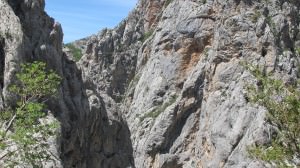 Her fear was infectious. I doubted if I could climb up. I wanted a helicopter too!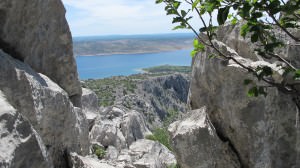 Views of the Adriatic Sea. Waiting for a police man to rescue us before we decide to keep climbing….
At the top walking on white rock, as I make my way following the red dots, the last one leads to the edge. Below is a canyon. No freaking way. This time it is me: "Emma, stay where you are."
She calls again.
Policeman: where are you?
Emma: I do not know. We are on the third peak from the water.
Policeman: do you see a box?
Emma: A box? No.
He decides he will come meet us and help us down. Minutes later, after stepping over a series of razor thin rocks, stacked like plates, we see a rock that reads: Anica Kuk. 712 meters.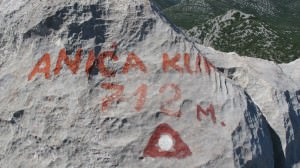 We have definately climbed more than that! But, god, it feels amazing to see a sign. We know where we are!
As we step down a few meters from the peak, we come across  thee box full of papers and well wishes from climbers. I leave a pair of socks and a note with my web site–free advertising!
THE BOX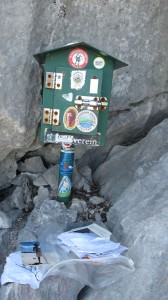 To my climbing friends, forgive me. I am not a climber. Turns out we made it safe and sound– no helicopter needed. But, I am writing the park to ask for definitions of the climbing rocks on the brochure AND some distances between routes. POSTED on the trail.
When I got back to my room, Ivana informs me that "the tourists' death trap" is notorious for chewing up and spitting out novices like myself. It is the most dangerous mountain, she says. Then, second thing: oh, I heard about your story on the news. You and the guy who broke his leg.
Could have been worse– and hell, makes a good story, don't you think?
ox