14 Oct

New York: all the people that you meet, walking down the street

I had two goals in New York: shop and eat. I did both.  A lot.

Nancy and I woke at 5 am. The flight left at 7:30 am. Gulp. But, I was totally energized. I've been to dozens of cities around the world, but this was the first time in New York–the city that makes the rest seem like small beans.

Staying at a boutique hotel, www.hotelchandler.com near the Empire State in the Flatiron District. The century old building reminds me of the New York in movies, especially the marble stairwell where a victim falls over the edge, falling, and falling only to land, splat, at the bottom. Is that morbid?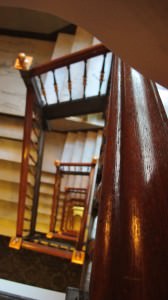 We dropped our bags and made our way down Park Ave. I have grown up hearing about these streets and places. I feel like I'm in a movie.
We were famished and found out about Brasserie Les Halles (www.leshalles.com). Chef Anthony Bourdain is said to have helped start the French-inspired restaurant.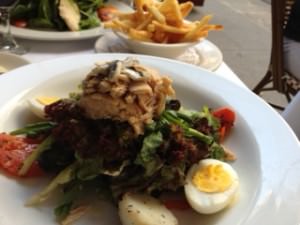 Classic french Nicoise salad. Oh, and a side of thin and super salty french fries.
New York.
It has energy; it has creativity. The streets are full of it.
Coming across this guy: a mat full of goods, he asked for people to exchange items and give a photo. I picked up a bracelet and gave him $5 from Jersey, England. It can't be used anywhere else but Jersey. I did reveal this beforehand.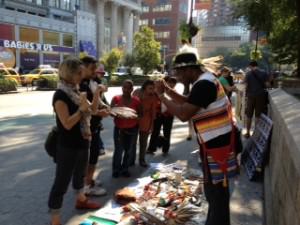 Walking south on Broadway, we came across this piano player whose dog sat proudly on top while he played. This guy has travelled across America, over 53 cities and counting. A second sign on his piano read: YOU OWE IT TO YOURSELF TO DO SOMETHING REMARKABLE WITH YOUR LIFE.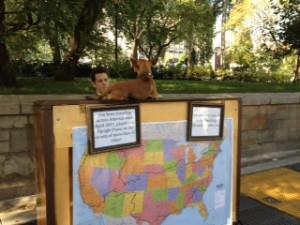 Love it.
Time Square. Too touristy. Oh, and apparently, hugs are NOT free. This one cost me a buck.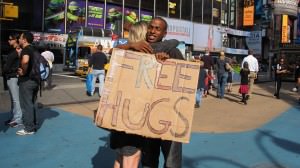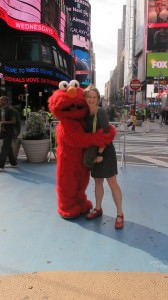 Even Elmo wanted cash. Gesh. Not you, Elmo. Not you.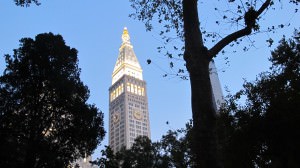 Empire State Building at night. On our way to eat, we stopped at Mario Batali's Eataly eatalyny.com. A super store of Italian food and hungry tourists, it had walls of olive oils and cheese but none of the charm of an Italian restaurant. Overwhelming. We searched for an exit, exhaling when we got to the streets. Crazy-town.
We asked some guys on the street and found a warm and low lit Italy Trattoria called Zero Otto Nove. The fava bean and artichoke app was divine; service was so flawless and friendly.
First day was dreamy. Ahh, friends, food and travel. ox Nancy.