01 Dec

Riding for lobsters! Nova Scotia's Gran Fondo

I don't go home often. From Toronto, it's a $500 flight or 24-hour drive to Nova Scotia.

Home is far.

But, home is also so different than Ontario, and Toronto. If you've ever visited the East, then you know what I'm talking about: life's pace is a little slower, people a little friendlier.

This past September, I went for the weekend to ride the Gran Fondo Nova Scotia. It's less a race and more fun. It's also in an area of the province I don't know well: Digby County in the south is also known for its Acadian heritage. So, for you non-historians, The Acadians are those French that remained in Nova Scotia during the British victory. The British assumed the Acadians were helping the French, so in 1755 the British began The Great Expulsion. Almost one third of the some 11,000 Acadians died en route back to France. Yikes.

Some stayed in the region, secretly. What remains today is a sliver of that culture.

Renting a car at the airport, I drove the three hours southwest on highway 101. Outside it's ugly: it's so windy I can see the white caps on the ocean and the rain is so hard I have the wipers on super-fast mode. I have no intention of stopping until I arrive at my friend's house, but when I happen across a Japanese Gallery, one must stop. Inside is a quiet homage to Japan. Etchings on the walls, dolls, and metal tea sets.  The owner, whose name escapes me, invites me in for tea.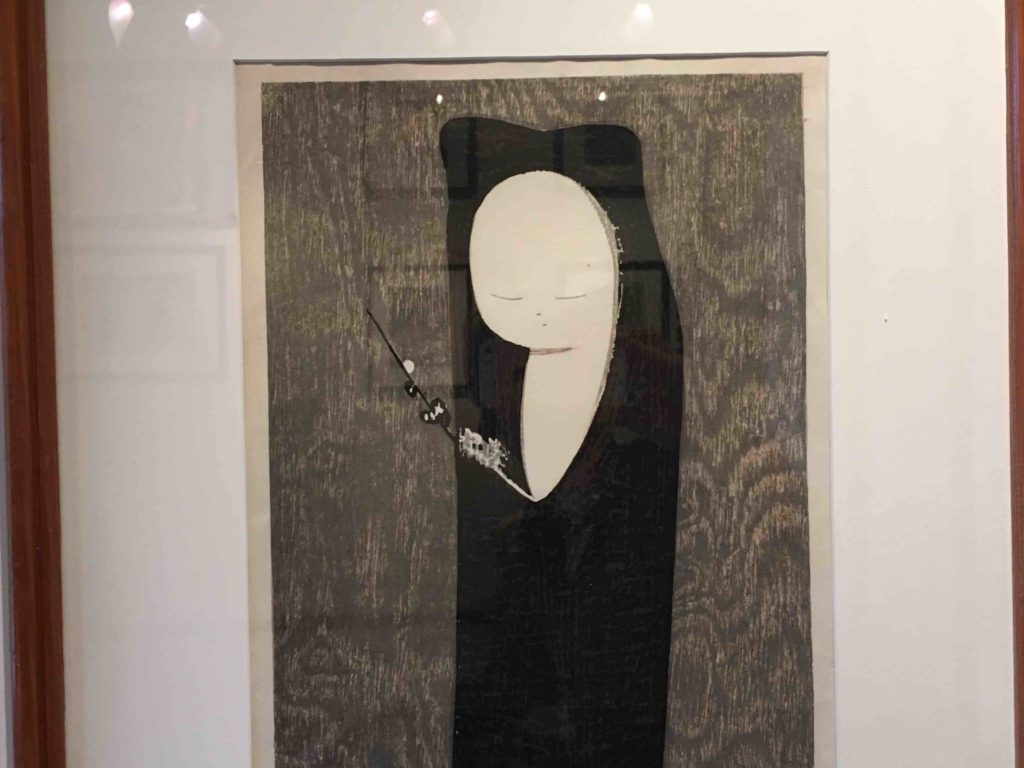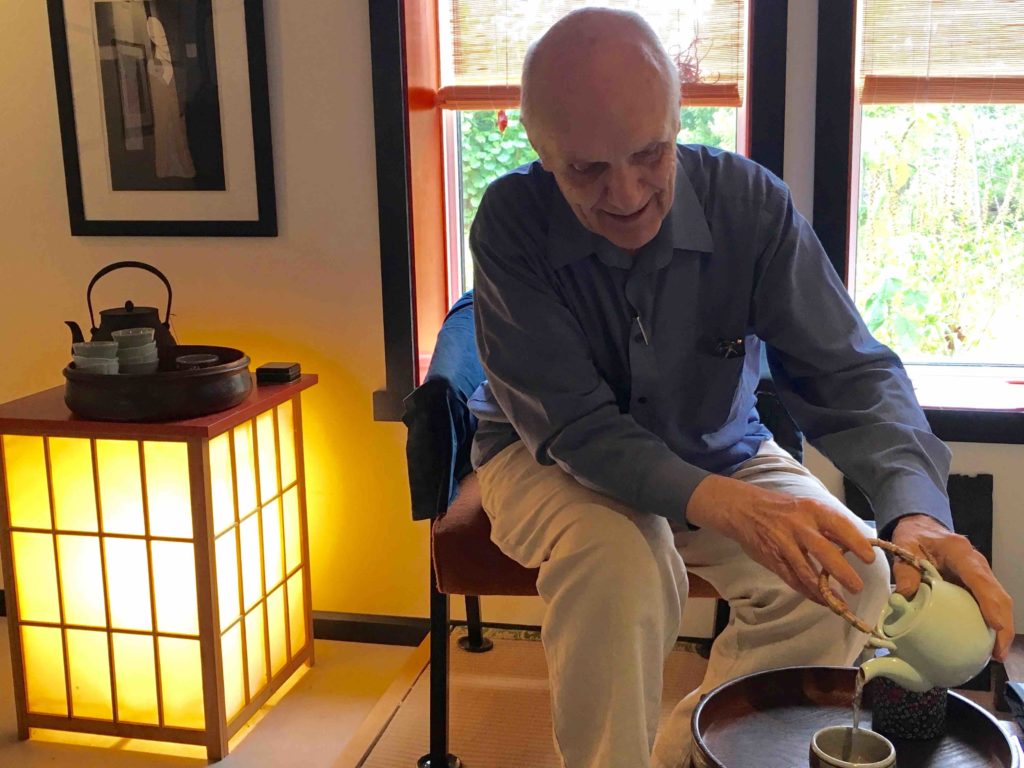 Imagine, one minute I'm cold and alone and next having tea with a stranger talking about life.
East coast for ya!
After a long goodbye, I pull myself away; more to see! Now the Frenchness emerges: Acadian flags, giant churches in every community and signs for rapure. What is this you ask? Well, if you extracted the sticky glue-like starch from potatoes, then add in some chicken with more startchy potatoes, ta-dah, you have rappie pie, Acadian cuisine. I much preferred fricot: chicken soup with more potatoes. Less gluey. Evelina's is the place. Acadian Rappie Pie. But according to sources, AKA Sandra, this pie doesn't 'exist anywhere else in Canada except in part of Southwest Nova Scotia, like Clare area, Yarmouth, Pubnico and Wedgeport. In these regions, it's a household name and featured in many restaurants." Try asking a Torontonian about rappie pie. Go ahead.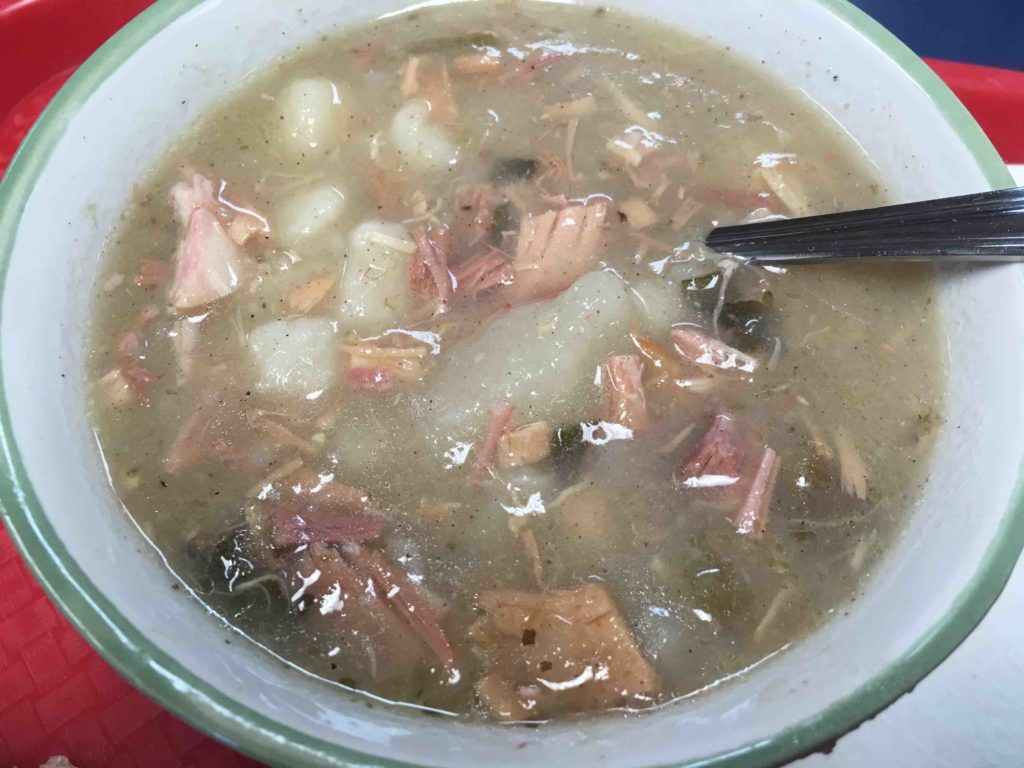 With the ocean wind whipping through me, the hot gooey soup warmed my me from my chilly fingertips to my toes. Oh, and you can't forget the giant white dinner roll to sop up the liquid, a standard for any Nova Scotian supper, and yes, we call it supper, not dinner.
The rain let up–a bit. Enough to venture outside for a pic or two. This one is the St.Mary Church, the largest wooden church in North America. From the back, it was mucho spooky: you can almost imagine a ghost appearing in the window.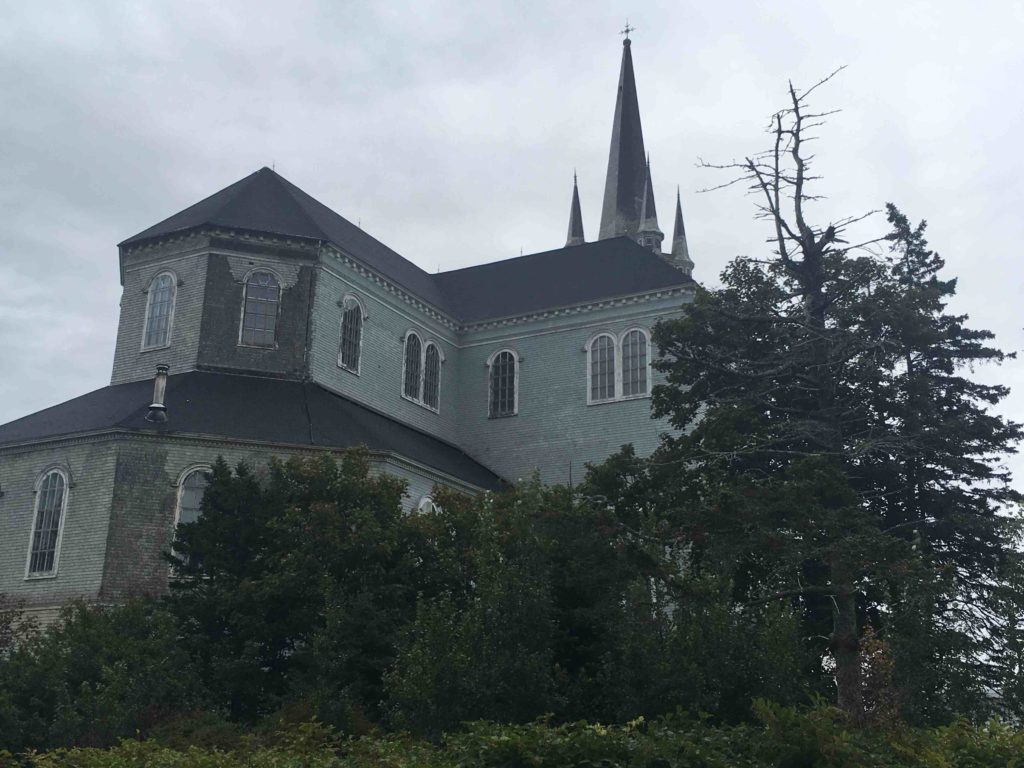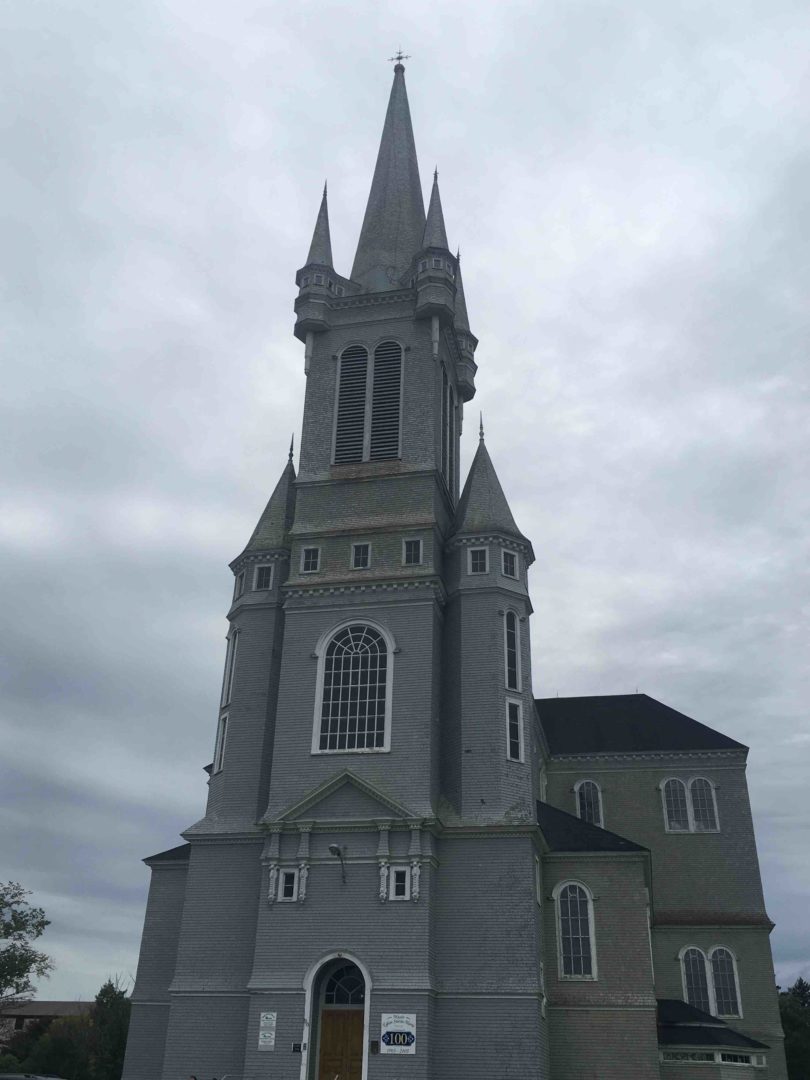 Finally arriving at Sandra Phinney's doorstep to open arms and wet slobbers from Bailey, her giant loveable pooch, I was home. Well, Sandra is not blood, but this friend is every bit as important as family. When I wrote about Toronto a few years ago, pretending I was a tourist, she did the same thing in Yarmouth. Over the years, we've bitched, laughed, cried and rejoiced together–most often on Skype.
Sandra told me about the Gran Fondo. Her son James and daughter Margo would also be doing it, and this would be the first time I'd meet her kids. Lucky kids to have the likes of this one for a mommy.
Ok, so the race. Right. My full story will appear in Canadian Cycling Magazine in March, but for now, these are some highlights.
Riders picked from 35, 67 or 117 kms. Considering I was going to Israel for a three-day stage race the following week, I opted for the 67 kms.
Starting out, the wind was pushing mightily against my chest. But, I felt so relieved. Yesterday I switched from the 117 to the medium. It was the end of September, but the coast always has more dramatic weather. I remember wearing a sweater in August while visiting Newfoundland.
Sandra Phinney took this picture from the top of the St.Bernard church! On this open road, next to the ocean, can't hide from the wind! But to help us get through, locals came stood in front of their homes with cow bells and banners. Cow bell makes everyone faster.
The second picture is Gilles Maillet's aerial shot of Mavillette Beach.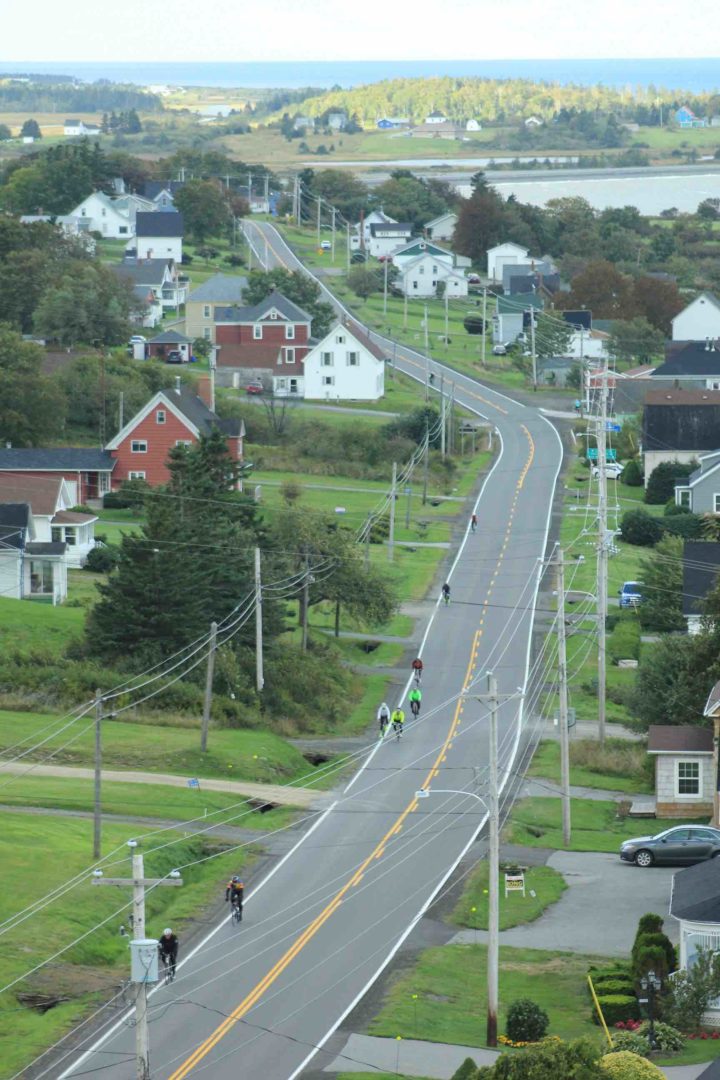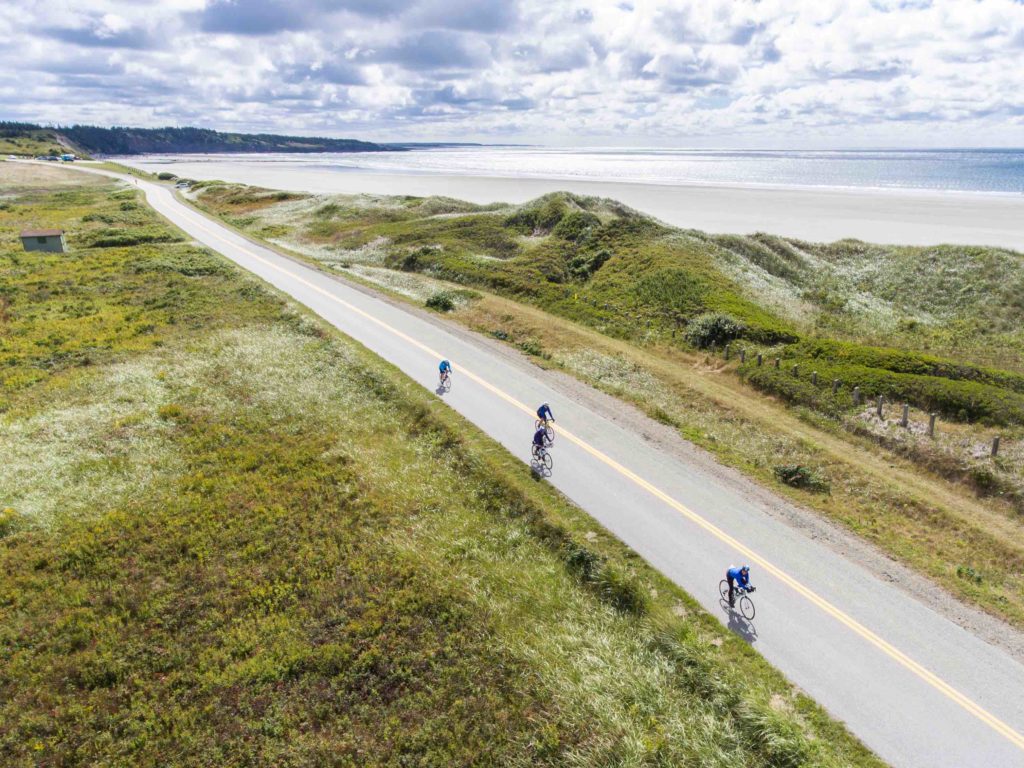 Once I got into a rhythm, I warmed up, but on my light carbon fiber bike, wind was still an issue. Riding next to Margo's boyfriend for most of the ride, one giant gust of wind picked me up and almost dumped me onto his bike. Quick reflexes saved us both from toppling over.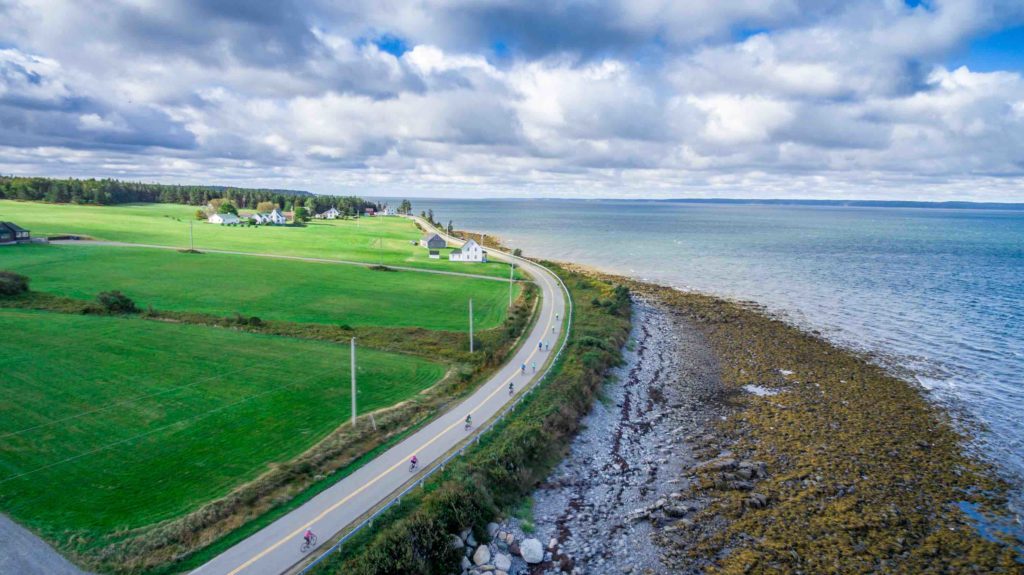 Returning along the Bas de Riviere, in the opposite direction, was dreamy: with the wind at my back, I was expending half the energy to pedal. (above/below photos: Joel Robichaud) Below is Smugglers Cove.  Reminds me of Scotland or even Newfoundland.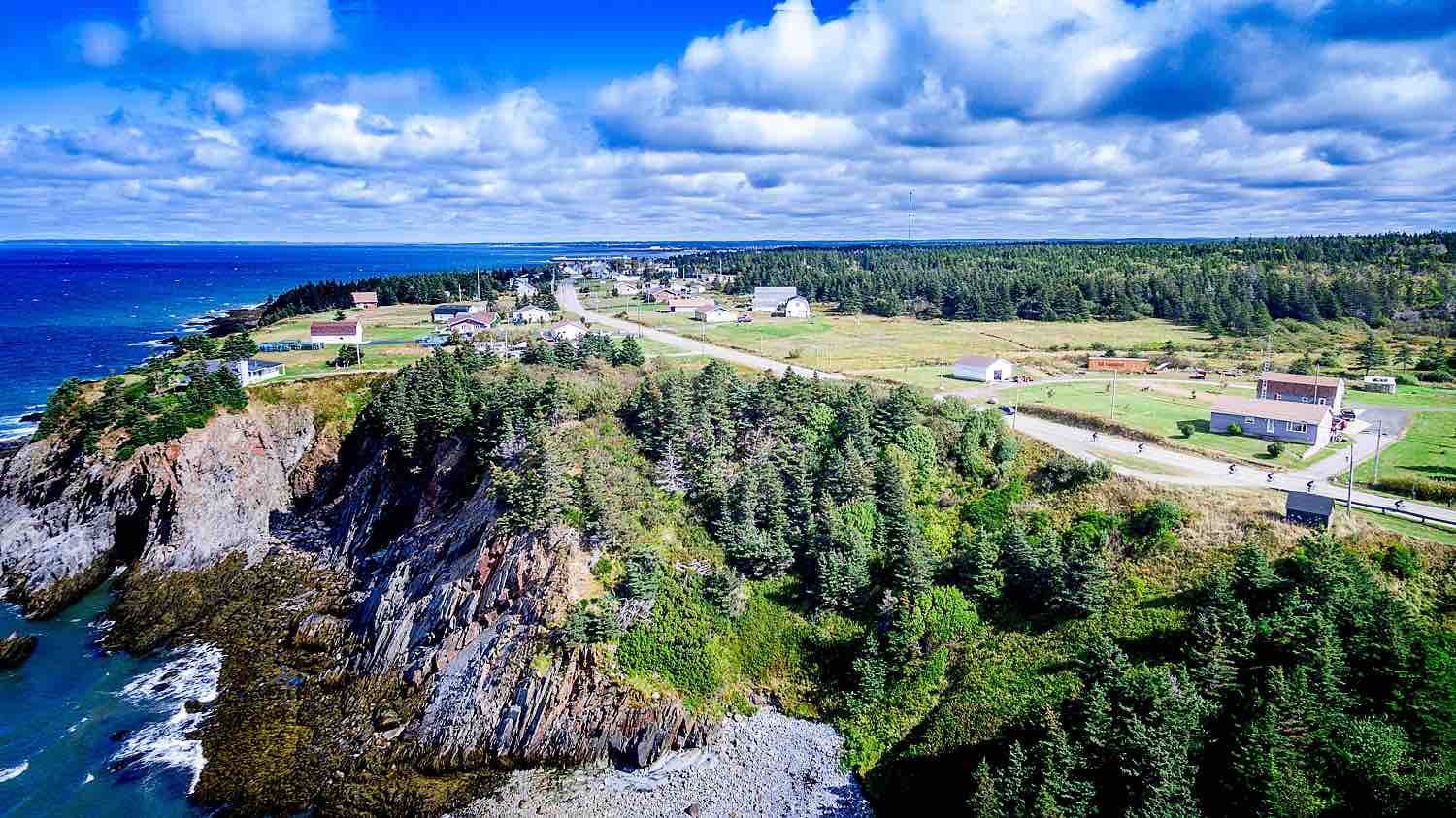 After a few quick chats with people, one guy who went to the 'other high school' in Dartmouth (I'm a Dartmouth High girl; him Prince Andrew); he also knew an old boyfriend of mine! Go figure. I carried on alone until the end. It's funny though how the last few kilometers always seem the longest when you're cold tired and hungry.
Arriving, I discovered I came in third place for my women's category. Pretty sweet!
But the real reason I ride: food. To eat, and eat well, after exercising is the best feeling. Ravenous and sick of gooey gels and leather-like energy bars on the ride, now I got to eat homemade potato salad, macaroni salad and lobster dipped in hot butter. Are you sh*ting me? Nope. That's how east coasters roll. Looking around the outside tent, there are a few hard core riders with sponsored jerseys, but it's less competitive in general. I spot a woman in jeans who rode alone. She's at a table with a bunch of new friends. It's easy to do that here.
Photo: Germaine Comeau