10 Jun

Race three: rocky domination

"I feel like I'm on a glacier pad, alone. Then,  someone kicks the pad, launching it into the ocean."

This is my mind-set the day before my third mountain bike race; naturally, any sane person would ask: why am I doing this? It's because once you start, something takes over. The competitor comes out and wants to race.

So far, I've placed second and then 5th, after a flat tire bumped me off the podium. But I'm learning each race has its own physical and mental challenges; this one would prove to be the hardest in both respects.

Despite pre-riding the course at Horseshoe Resort twice, the most I'd ever done, advantageous, but I still had to dismount my bike on some tricky sections. And when my tire flopped around on the trail, I didn't have the aggression or the will to control it. That worried me. But some of my doubt was also from hormones. Yes, that time when whack-mode takes ahold: every emotion you've ever experienced could come hurling out at someone who had the nerve to ask, 'what time is it?'

And, in an effort to unleash the pent up emotion, I sought a release. Ever watch that Budweiser commercial? You know the one with the puppy that has a connection with the horse? Pathetic, but it worked. I cried. Cork removed from the bottle-of-emotion.

Sleep the night before was spotty; at one point I recall sitting upright, stomping my feet onto the floor and huffing, mad that my eyes just wouldn't shut, and knowing that in a few hours I had to get up and suffer.

But luckily, we didn't have to get up early and drive a few hours from Toronto, we stayed at the resort; also bonus because my race was 9:30 instead of the normal 10am.

After forcing down some granola and cottage cheese, P offered to warm up with me, which made the 'glacier pad' feeling a little less lonely. Remembering how I didn't warm up enough last time, I went a little longer this time. "It's ok to suffer a little during the warm up–that won't take away from your race, trust me," he says. It seems counter intuitive; shouldn't you save all your energy for the race? But no, warming up properly means your body is ready for the hard stuff.

Moving into the starting corral, my main competitor wasn't there. A bummer when you think about it: what's winning if you can't beat the one person whose bumped you from the podium a few times? But I did recognize and hug Karen Duff, a new friend from the last race. Felt good.

As we chatted, I could hear other women talk: "Two other girls just backed out of the race. They were just too scared. It's a hard course." Gulp. There was no way I was backing out.

At the line, P is on the sideline. We strain to reach one another for one last kiss. I want to impress him.

Called up to the line, it's time to go. I'm moving. Washed out ruts in the road bounced the bike around and I'm near the end of the pack. "That's it, do your own pace, Mel!" I hear P. Horseshoe is known for climbs. At the top of the hill, the next section is fast; I drop into the big chain ring. Time to catch my breath. The trail skirts along the base of the mountain in front of the spectators, until forest opens onto single track. But, not before a sand trap — the bike swerves. Steady, I think. Then, a climb. Nothing too monstrous, but a minute later there's another one that cuts up quickly. A real heel digger.

Lifting my head, next, there's two options: giant boulder to the right or flat. "You can totally go over this," said P on the pre ride, referring to the boulder. No chance at this point. I choose flat, but not before seeing a fellow rider blast to the top, hold steady, then tumble down the side of the rock onto the trail. I ride around her. Hey, she's not hurt! I'm not completely heartless.

But maybe karma is kicking me because next thing I know I'm hurling over the bars into a pile of mud and leaves. Get up, get up, I tell myself, straddling the bike quickly. Back on, I hear someone behind me: 'good recovery."

And finally a reward: a series of swoopy switchbacks that don't require a single pedal stroke; just point the bike down and glide. About four of these give me a good rest and a chance to smile.

Lap one, done. Everything I do now is the last time. But, with less energy.  The steep switchback is draining me. I hop off and run. "Good thinking," says Karen, who is behind me and does the same.

Back through the narrow trail, my elbows keep banging into the trees: fatigue is setting in. And then the ramp. A series of flat rocks sandwiched between two trees at the end of a bowl drop. I hear P's voice from the pre-ride: "Don't touch the breaks and hammer up." It works. "Nice job," says a rider walking up.

I'm already at the last big climb. After that, the rest is gravy. P is there with news: "you're in first place." "What what?" Impossible. I always distrust good news until proven otherwise, but this news makes me want to suffer a bit more; I can't let it go now.

Near the end of the climb, I notice an older heavier man struggling. "Killer eh?" "You ain't lying," he says. We laugh and solider on.

And with the last climb done, it's hammer time. "Let's finish off this bitch," I say to a younger girl behind me. "Yeah," she screams. Grrr. I scrunch my face. I used to tell my regular spin participants to make their best sex face during a hard climb. It got them laughing, if only to forget the pain.

Coming out onto grass, there's the line. The crowd. The music. And P: "you won!" Hunched over the bars gasping for air, I don't believe it until he checks. Yup. Wow, that didn't feel like a win. Crashing more times than I can count–including twice over the bars–it was a struggle. And, maybe because my rival wasn't there, it felt less than ideal. But there it was. The hardest course I have ever raced, and I won it in an hour and two minutes, and my second lap was two minutes faster than my first. But perhaps because this race was a struggle, for everyone, it was also the most encouraging of all the races: other riders kept telling me to go hard, keep riding; one guy even gave my bum a little push when I slide off. Wow.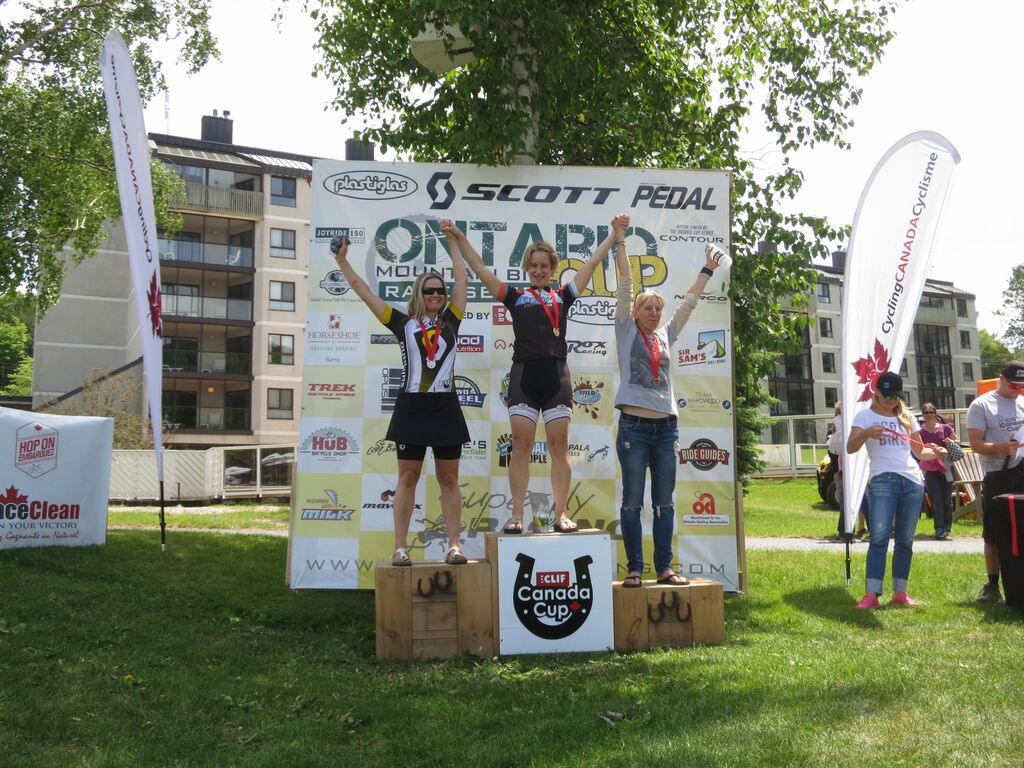 Next up: Hardwood Hills where I rendezvous with my rival.