15 May

The boys of Transardinia

I arrived on day two of the seven day Transardinia. In my experience, even though you only spend a short amount of time with your bike group, you get to know them quite well. Or, at least you see them in various moods–when something goes wrong with the bike, or they are exhausted beyond belief from riding all day, or they are joyful–how they react says a lot about them. It is a full `box of emotions`on these trips which can –at times– test your patience (when you expect to ride 65 kms and end up riding 85 until 8:30 at night).

We only had five days together, but here is a little info about my small, but mighty, group. And, the fact that they are riders in the first place means I love them already.

Marco is a dermatologist in Rome and was a delight.

He didn`t know much English, but from the moment he blew me kisses and sang Stevie Wonder tunes, I knew he was a good soul. His girlfriend, Emmanuela, drove with Marcello in the truck. When he is not saving patients from skin cancer, he is in a Stevie Wonder cover band.

`You are a strong woman,` he told me. He is a lovely person.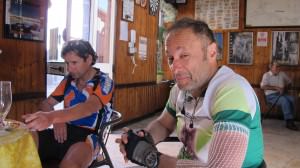 Next, Mario–an engineer from Vicenza, northern Italy, Mario spoke the most English of the group. For such a young guy–34–you can tell he is mature beyond his years. He travels tons for his job so he talks eloquently about culture and people.
I give you…Mario wearing my glasses and riding my bikie. He needed all new clothes and a bike–Ryanair lost his luggage!: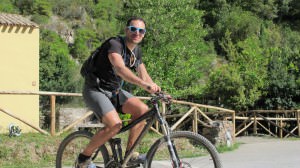 Then, we have Stefano–the most enigmatic of the group– he also spoke the least amount of English, but he was reserved and distant. It is amazing how much you can pick up from a person, even without words.This is the happiest I saw him on the trip.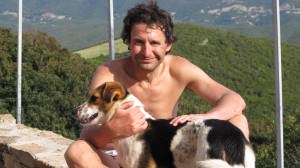 Finally, we have Amos, our leader. This is the second tour I have done with Amos. Amos is thoughtful– he cares about Sardinia a great deal–he knows everything about the land, people and the sheep!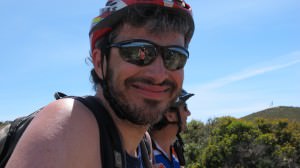 He is also a skilled rider that can climb like no ones business and hop over stuff like it`s nothing. Finally, Amos can eat like I have never seen another human being eat. One night I saw him eat three plates of pasta, two whole fish and a dessert. Oh, not to mention a basket of bread.
thank you all … you made five days seem like a month.
Melania