13 May

Transardinia DONE!

Ok, I am officially the first woman, and Canadian, to bike both on the west and east coast of Sardinia. I AM A TRANSARDINIAN!

I was here four years ago on a seven day tr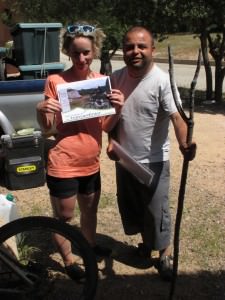 ip. Here is me, with my certificate and my buddy Marcello, from www.ichnusabike.it.
(www.transardinia.it)
I came late, but I rode about 350 kilometres –in five days– on pavement, singletrack, fields, dirt road through Sardinian cow fields,  farms, and rocky ocean coastline –stopping for refreshing swims.
But the star of the show: the food.
Like the east trip, called the classic, we ate food from the land staying in Agritourism farms where the owners would sit and eat with us. Everything from the sheep cheese to the fresh garden tomatoes, olive oil, homemade pasta was fresh…you could taste the earth and sun in the food.
Countless pounds of prochuitto and pecorino sheep cheese and homemade soft ricotta drizzled with fresh honey.
And, the lunches. Cycling 1,500 metres in the burning sun, endless switchbacks when you think there simply cannot be another turn to climb–oh, but there always is.
Then, when you think you cannot take it anymore, at the top is a mirage: the truck. It means food. Often lunch was spread under the shade of fig tree. Cous cous with olives, cheeses galour…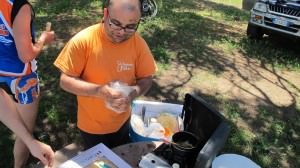 I loved the slow morning starts. Just as I thought we were leaving, another rider would turn to me and ask: safe…
But my favourite is the post ride suppers: starting at eight we often ate until 11pm or later.
It moved in stages starting with various antipasti of eggplant, olives, meat, maybe fried bread.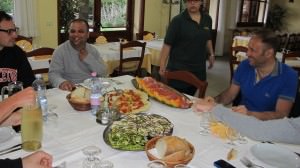 This is a pea and lamb meat pie with homemade pastry.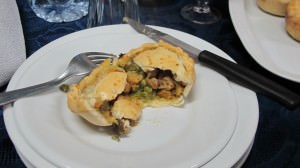 Then, sometimes TWO plates of pasta.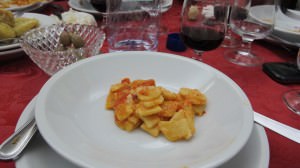 Two. Really? Carbs galour.
Then, because we are on the coast, fish.
Fish in caper sauce, or fish with black olives.
Then, maybe meat?
I told you the food was fresh…ok, my veggie friends, sorry but I must post this. This is a pig we had one night–slow roasted over a fire pit.
Obviously pre-roasting.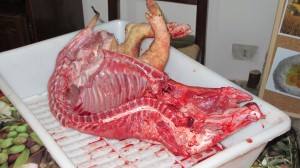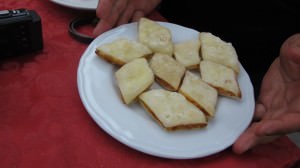 Then, dolci. Sweets. Last night was pastry filled with apricots and dusted with sugar.
Dolci always came with a dessert wine. Mirto is a Sardinian specialty. It kinda tastes minty; it is made from the berries of the myrtle plant — a bush.
On our last night, after the dolci and lemoncello, another liquer made from lemons, we had espresso and met the cooks.
The women that made the pasta invited us to peak at their
creation..each piece individually placed on a sheet.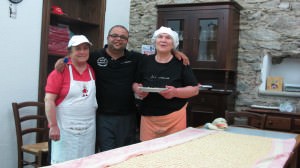 That is love. This is Italy. My Sardinia.
I love Sardinia; maybe the fact that I am from an island, Newfoundland, I appreciate an island mentality–you`re different from the rest. I have heard more than one Sardinian say: we are Sardinian first, Italians second.
Tonight I settled into my apartment.
I will post more blogs. But for now, vino, and food.
I will also introduce you all to my fine riding partners. Miss you all. Ciao bellas, for now.
Melania