17 Oct

Under the boardwalk- the ride just got better in London, Ontario

I cycle under the Oxford Street bridge every time I ride to work (Oxford and Talbot Street); from my place in Wortley Village, it's about six kms to the University of Western Ontario along the paved bike path. (www.uwo.ca). It follows the Thames River, and it's beautiful in the fall with all the changing leaves and sun playing on the water. But, under this bridge, it is also dark and often strewn with garbage: a place where I speed up. Don't linger. But, something made me get off my bike today.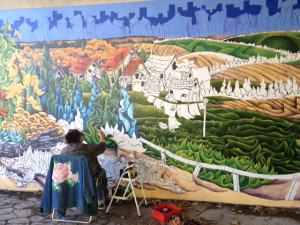 This is artist Tracy Root. She applied to a call out for the London Mural Project: a pilot project of public art in London. Another painting appears under the Wharncliffe Street bridge near the Children's Museum. "I came here a few times and tried to get a feel for the place and to decide what people would want." She is shocked at how many people use the bike path: 1,000 or more a day pass by her mural-in-progress!
Today is day-16 of the mural and she anticipates another three weeks before she's done. Here's a link to her Facebook page to follow her progress: http://www.facebook.com/LondonMuralProjectTracyRoot?fref=ts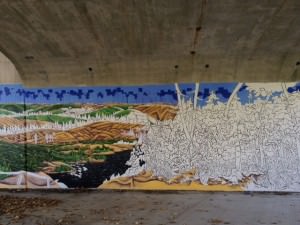 Tracy explains that public art in London is long overdue. "London is behind on this kind of stuff, but it's progressive of them to start. I hope I get to do the other side (of the bridge) as well."
I asked if the London Free Press (our daily newspaper) wrote about this.  She sent a press release to the paper. No story, but the paper published the press release –as is–on their website. They also included her comments: I'm not sure which editor to send this to…. 
Regardless, the art is beautiful. It makes me proud of my home. Well done, Tracy. See you tomorrow on my ride to work.