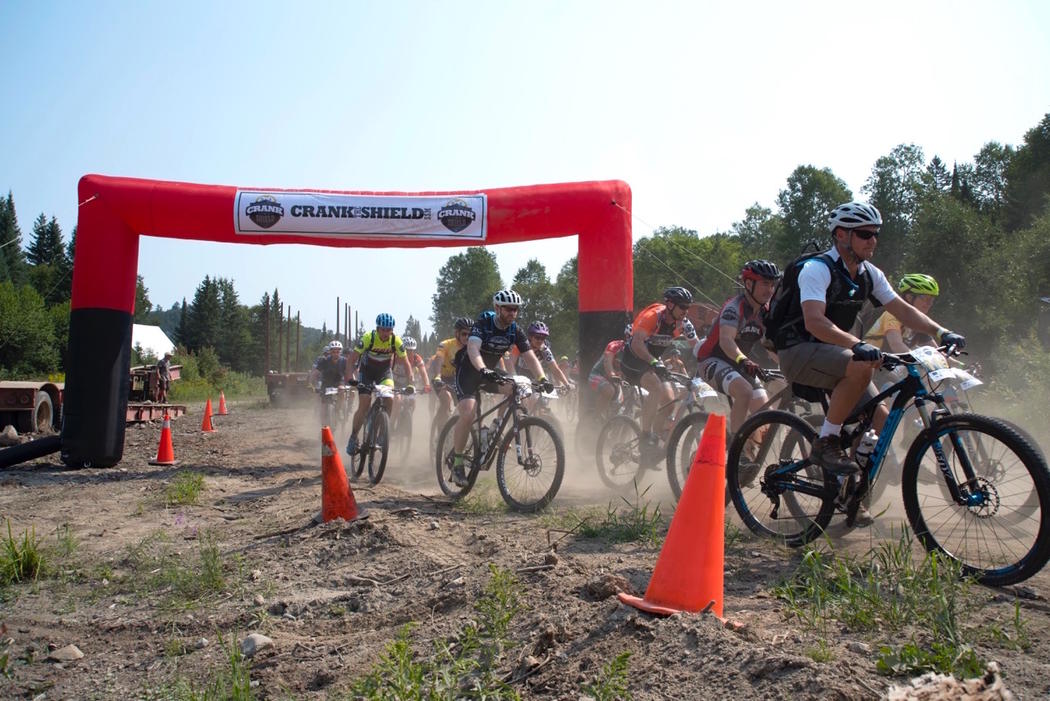 14 Oct

Crank The Shield – mountain bike stage race

Whether you go to roll knobby tires over the world's oldest rocks, or swim in waterfalls and roast marshmallows under the stars, you are bound to fit into one of the types of visitor who'd enjoy cranking the shield. Which of the below best describes you?

1. The hardcore racer

Some of Ontario's best amateur athletes left last year's race with a good spanking. "The combination of the climbing, the distance, and the physically demanding terrain makes for a challenging three days," says Paul Reinis, who took home third in his age category. Certain descents were so steep, some riders chose to walk. Elevation gains topped out on some of the province's highest peaks: High Mountain (569 metres) and Batchawana Mountain (653 metres). Organizers had riders covered with much-needed water and snack stations waiting on top.

2. Weekend Warrior Bikers

Paul Francis wasn't concerned with climbing any podium: "I felt great that I finished all three days." He also loved the camaraderie: "We all looked after each other because the shared challenge was to finish."

His buddy Steve Ridout recalls an incident when everyone stopped to help someone find their glasses in the forest. Race times be damned.

3. The Family Camper

Beach ball? Flip flops? Puppy? Why not? While their partners raced, spouses chilled out on expansive, and historical, beaches. Pancake Bay Provincial Park is a 3-km stretch along Lake Superior's blue waters, great for hiking, boating, and sand castles. From the Lookout Trail, hikers can see where the Edmund Fitzgerald sank in 1975.

The first night campers pitched tents at The Stokely Creek Lodge in Goulais River—hot showers on site, or a frigid dip in the river! (Hotel options are also available.) Campers packed up the next day and bags were transported to the next campsite: the base of Searchmont Ski Resort.

4. Travellers

Not surprisingly, the race corps included Americans and East Coasters, but last year it also attracted a group of Mexicans. "They were always joyful and so happy to be here," said Reinis. Rounding out the tourist experience, many visitors bought home souvenirs from painter Norman Brown, who stationed himself throughout the race, painting different scenes. Not every bike race has a resident artist, but Crank the Shield does.

5. Volunteers

After three days of cheering on racers with cowbells and horns, many volunteers, like Julie Rossall, stayed around to explore. She recommends The Robertson Cliff Trail, "It's a 20-minute hike up the steep rocky and rooty, but well-marked, trail, ending with expansive views of Lake Superior."

Or pop into the Soo Locks Visitor Centre, for a primer on the historical locks joining Lake Superior and Lake Huron. From the locks, explore a web of easy hiking trails along a channel of rapids and islands.

6. Even Train and Plane Spotters

From beginning to end, the race celebrated Algoma Country. Riders boarded the Agawa Canyon Train to get to the start line. The ride crossed a romantic trestle bridge across the Montreal River and chugged through landscape made famous by the Group of Seven.

On the final night, celebrations went late at the Bushplane Museum; where more than 30 restored bush and firefighting planes are housed in a warehouse on edge of St. Mary's River.

Over three days, Crank the Shield covers a lot of ground. As the happy crowds pack up to leave, it's clear the variety of terrain is matched only by the variety of people who are glad they have come to Crank.