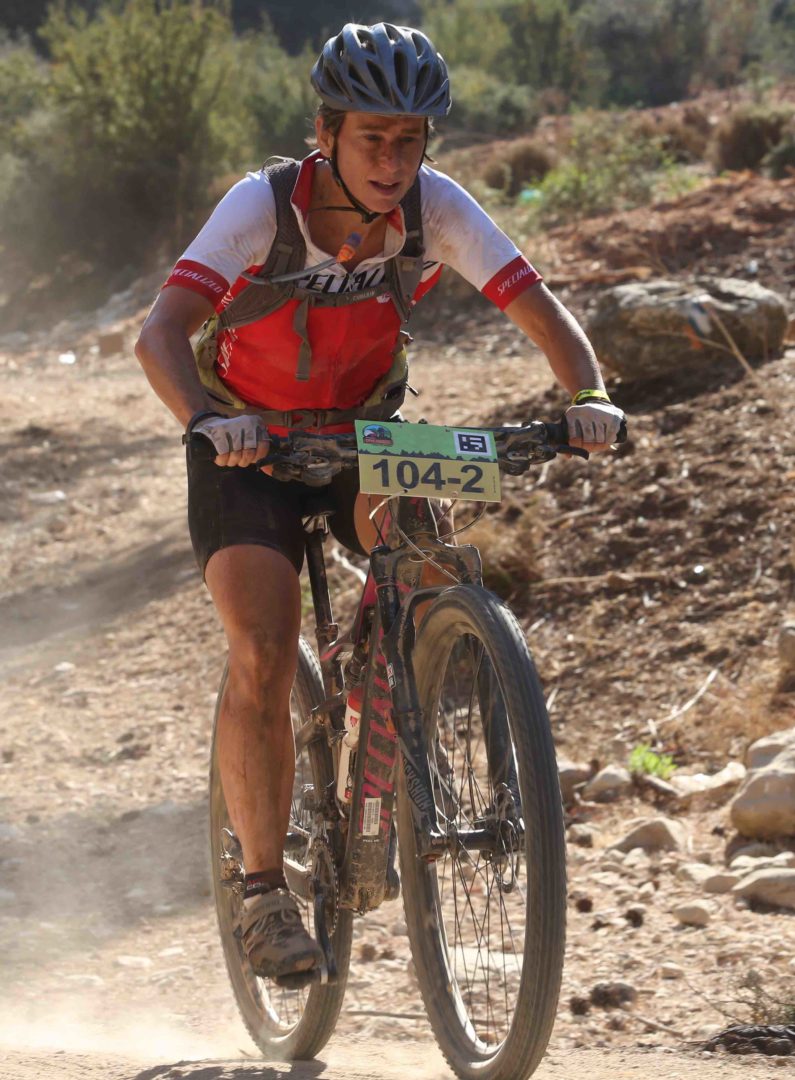 27 Oct

Epic Israel – petrified first stage race

Almost 5,000 meters of climbing over three days through Upper Galilee in Northern Israel. Shockingly, we placed second! Story for Mountain Life magazine. Epic Israel
Calf Burn: Canadian Steps up to Podium a 260 km Stage Race in Israel
Israeli techno music booms before sunrise. "You're going to love the suffer, the pain," screams the announcer.
Dry mouth, shaky legs, we're off. "Come on! Trust me," Karen Duff, my mountain bike partner screams. She points to the U.S. women's team, our closest competitors trailing behind. On the gravel road, the dust hurts my eyes and coats my teeth. Around a corner, a guy wipes out in front of me.

by Melanie Chambers
It's Day 1 of Epic Israel, a three-day mountain bike stage race in the Upper Galilee of Northern Israel. Riding 260 kilometres, climbing almost 5,000 metres—it's the hardest thing I've ever set out to do.
As a travel writer, I often write about cycling. Seven weeks ago, I was invited to Israel; the Tourism department was looking for more international riders.
Of the 300 teams, mostly Israeli men (about 92 percent) were divided into age categories; 30 teams are mixed and four are women's only teams. Many are pros, according to last year's statistics.

"Do you want to report about it, or participate?" the organizers ask. As a recreational mountain biker for 16 years (a few local races, nothing more than two hours) the challenge of riding upwards of eight hours a day for three days straight is intriguing. Can I take my riding to the next level?
I'm fearful.
Will I finish? Will I make the cutoff time? What kind of pain can I endure? And with a stronger, faster partner, a friend who trains cyclists part-time, will I be able to keep up?
The stress is getting to me. Weeks before leaving Canada, I broke out in stress-induced psoriasis.

Training felt like Groundhog Day: multi-hour rides, then hill repeats almost six days a week. Some days I cringed getting on the saddle. No late weekend nights and sadly, no red wine. I even got a heart rate monitor.
Then, the day arrived.
Touching down on a Tuesday after a 14-hour flight, I ready myself for Thursday's start. Thankfully, nerves and adrenaline cancel out the jet lag.
After a tight start on Day 1, the pack thins out—eventually we move single file onto single-track. The trail follows the edge of a cliff. "Focus, focus, focus," I say inside my head. Trust yourself. Trust the bike. Behind me, I hear, "Ahh, Canada, how you doing?" We are collectively known as 'Canada' by the Israelis. As one of only three Canadians, it feels good to hear.

Coming in at five and a half hours, we're second out of four women-only teams. The winners: 20-year-olds on the national Israeli team. That night, sipping glorious beer at the Hotel Galilion (every day's ride loops back to the hotel), some riders watch The Revenant on a giant outdoor screen. This atmosphere helps take my mind off tomorrow's ride.
Day 2 gets harder. After 20 kilometres of climbing, some riders continue, but burn out fast and walk. Pushing the bike, my calves are on fire.
Then the reward: racing downhill at 60 kms/hour, I've never cycled this fast; no doubt my loaner bike (a carbon racer from Specialized with 29-inch wheels) helped. Compared to my 26-inch bike, it's like upgrading to a racehorse from a pony.

The last five kilometres, something isn't right: there are riders on other side of the river.
"They had to add five more kilometres because of road issues," says a volunteer. My heart sinks. But we carry on and finish in second place again.
On the final day I get competitive fever. I want be on that podium.
Only 57 kilometres to go, but it's 1,400 metres of climbing. "Oh come on, really?" yells Karen, turning the corner to find yet another climb.
A rider is sitting on the ground, shaking his legs. Tossing him a salt tablet for the cramps and yelling some encouraging words, I keep riding.

With my butt over the back tire, carefully descending, Karen and I are together—until we're not. "Karen?" no response. I ask passing riders. After a half hour, I'm freaking out. A rider offers his phone—someone's in an ambulance, says a race organizer at the next fuel station. Could it be Karen?
At the fuel station, I find Karen. "Where have you been? The Americans are here—let's go!" she says. Sucking an energy gel, I barely stop moving. Quickly forgetting our misadventure.

Soon, music emanates from the finish line below. But no celebration yet, the path turns into a series of rocky drop-offs; we're forced to carry our bikes. Racing through the flat finish, we hear our names and maintain our second place. Coming through the finish, pumping our fists, I feel like I'm in a movie.
Weeks ago I didn't think I would finish this race. At the race, I felt out of place. Today, I've never felt better for being wrong.

Subscribe to Mountain Life Annual
Published once per year in stunning coffee-table quality, Mountain Life Annual seeks to be a photo-driven national outdoor voice of record.