14 Oct

Georgian Bay–take me home

A few weekends ago, yes, I'm only getting to this now, I went to a photography workshop hosted by Colin Field, my former editor at Mountain Life Magazine and friend. www.colinfield.com

www.gb.mountainlifemag.ca. I haven't been up that way for ages. On the three hour drive to Thornbury from London, I stopped for coffee in Flesherton. Right next door, I spot a sigh: The Bicycle Cafe. www.facebook.com/thebicycle.ca. Hold the phone. 

Bruce Trail near Hogg's Falls

Well, I ended up having supper, African lentil stew, and a glass of French wine from the Loire Valley. The front half is a restaurant and the back half, behind a curtain, is a bar and stage. Way cool, right? What a find.

For the entire weekend, I stayed at Colin's place, and his wife Rheanna fed us killer food like egg tarts with bacon and parmesan cheese. The four of us in the workshop piled into his car

and raced down concession roads to find waterfalls and goodies to snap. Here's some at Hogg's Falls.

Hogg's Falls is about seven meters tall and flows from the Boyne River. A map below shows access– park the car and it's a short walk onto the Bruce Trail.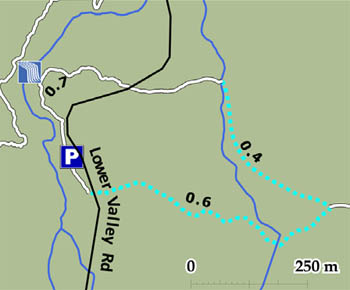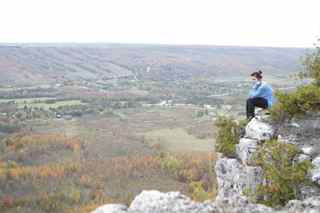 Over 150 meters above the Beaver Valley, Old Baldy Lookout is normally a killer sunset spot. Grey coverage put a damper on that idea, but it was beautiful all the same.
ACCESS: Grey County Road 13 just outside Kimberley, east side of the road on Grey Highlands Road.