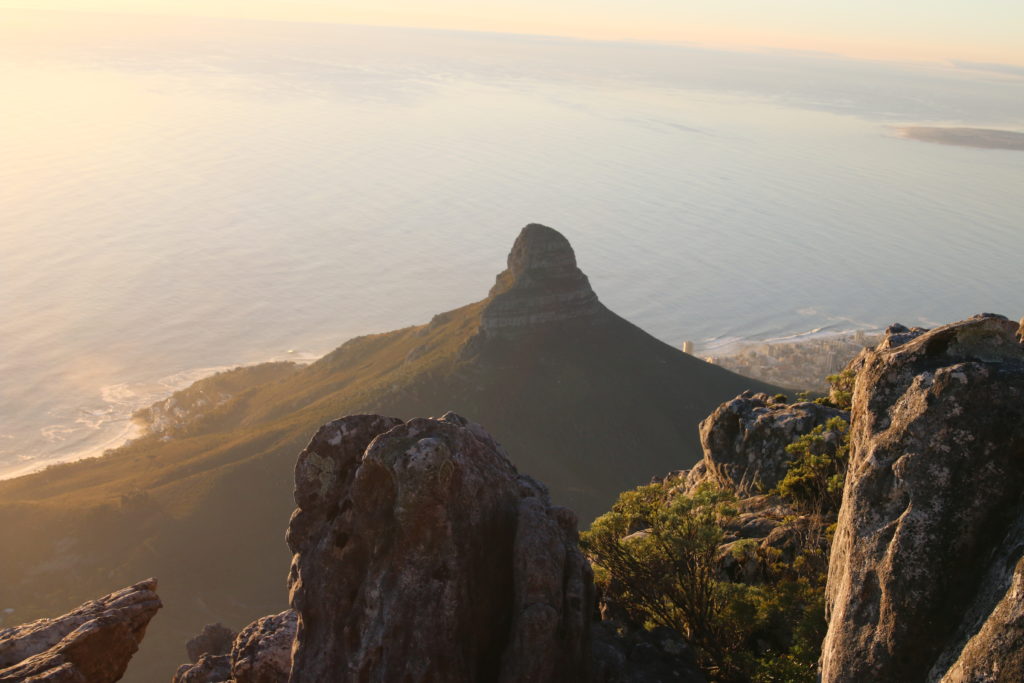 29 Aug

Cape Town Guide: Europe in Africa

It feels like Europe, or even Vancouver to be precise, but Cape Town decidedly does not feel African. As a doppelgänger for Vancouver, it has the mountains and ocean, oh, and the uber healthy crowd hiking and biking. It also has the galleries and vegan restaurants. And not far from the centre, it has glorious wineries.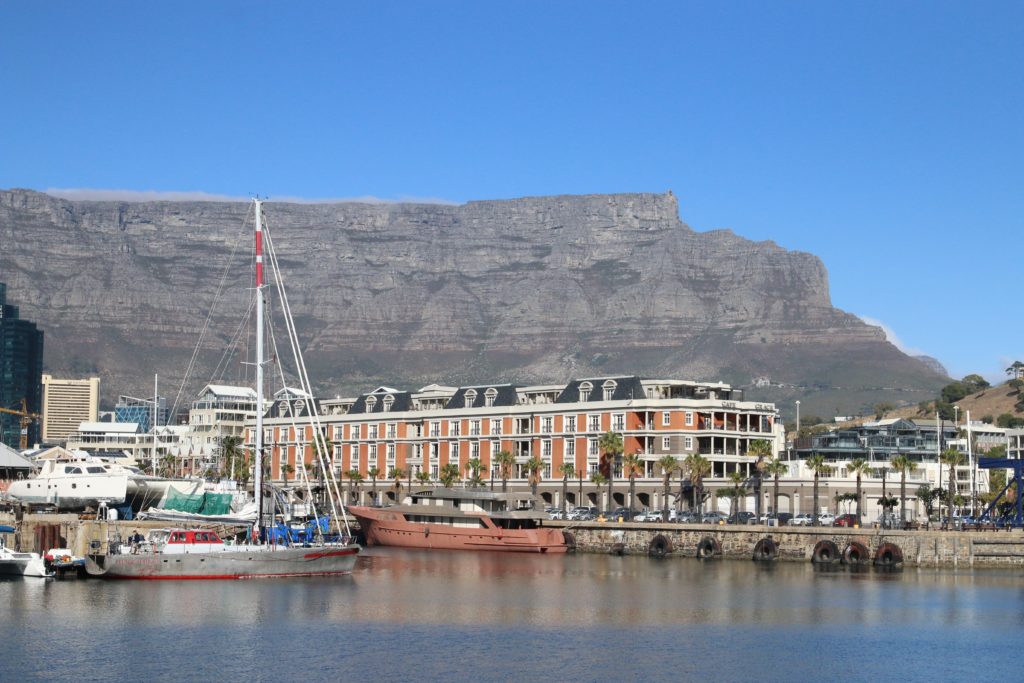 Capetonians are ridiculously friendly. Off-the-charts-friendly.
Exhibit A: 'come stay in my house for a week while I'm away.'
Or, exhibit B: 'hey, let's drink five coffees (I wasn't allowed to pay)?'
Or, C: 'hey, grab some meat and I'll take you to a braai.' 
(NOTE: do not, I repeat, do not call it a barbecue. I almost got my hand slapped. A braai is done over an open wood burning flame, don't you know?)
After a week and a bit hanging out with Capetonians, here are my top picks.
$120 7pm till 11pm
I found this gem in an airline magazine. Imagine: someone picks you up and drives you to the homes of jazz musicians where you get to relax and listen to them play for you. Oh, and they make dinner for you.
When I went at the end of May, Africa's winter, I was the only guest. It felt like the musicians were serenading me.
After eating two helpings of chicken daal, I sat on musician Hilton Schilder's sofa and listened to him play the piano. Many of his songs were dedicated to Tezna, his wife of 35 years. His songs were playful and soft – I almost fell asleep surrounded by his family photos.
Next stop: in a funky apartment building near the cool restaurants on Kloof Street, Maya Spector's voice is a mix of Amy Winehouse and Alicia Keys. Wearing a pink ribbon in her hair, the Japanese born South African sang her creations "Bad Man," and "My Simple Little Song."
I drank some juice, ate chips and snuggled into a pillow.
$35 ticket at Waterfront. Half hour ferry ride.
Nelson Mandela and many political prisoners against apartheid did time here (17 years for Mandela). From the island, looking onto Cape Town, I imagined Mandela looking out his prison window at the lights of the city, civilisation. It's only 11 kilometers away from this desolate and dry island.
The ferry was packed, and the bus was borderline claustrophobic, but it's a must-do. A former prisoner gave us a tour. One of the stops was at the lime quarry where many prisoners, including Mandela, worked in the back breaking heat. He left almost blind because of the white glare from the sun. The guide pointed to a cave in the quarry: "that's where they took shelter from the heat for lunch."
Prepare to do something relaxing after this tour; it will effect you in ways you cannot describe. I felt bewildered and sad for days.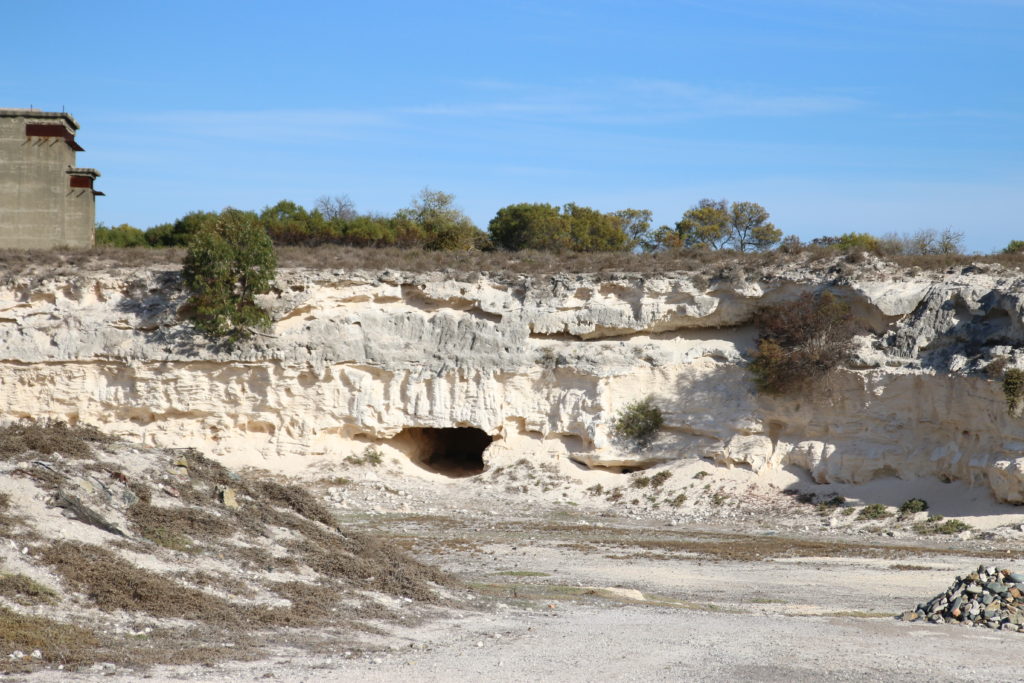 Neighbourhoods of Waterfront and Sea Point
Cape Town has great nightlife! I went out tonnes – something I was advised against in other SA cities.
Mojo Market is full of international food — the country's first Baskin Robbins, and Hokey Poke (poke bowls!) and even South African yummies such as malva pudding with custard, biltong (beef jerky) and yes, braai!
Waterfront, where you find the ferry to Robben Island, is full of shops and great restaurants. I had a fruity Belgian beer at Den Anker. Perfect view of the Table Mountain and Lion's Head. Noon the canon goes off; don't freak out like the Americans beside me did.
Cycle Kirstenbosch and Chapman's Peak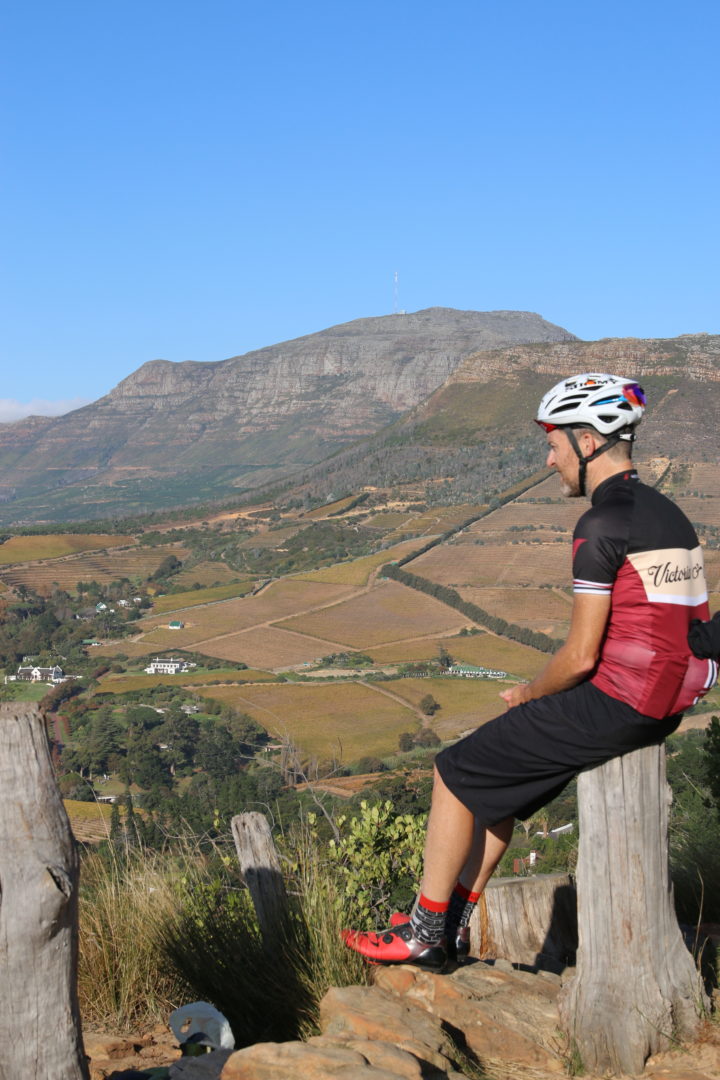 This is a city of cyclists, er, country, of cyclists. But, forget about commuting. Drivers are crazy and safety (crime) is a big issue.
In Cape Town, near the base of the mountains, a network of trails are beautifully manicured. My favourite, as it's new, is a soft cedar path near the Kirstenbosch Botanical Gardens.
For a few days, the editor of RIDE South Africa, Tim Brink, showed me a taste of some sweet ass trails.
For road riders, the ultimate is a coastal trip to the southern tip called Chapman's Peak. It was about 50 kms round trip with plenty-oh-hills.
We stopped at Dario's Italian Cafe in Hout Bay for pizza and coffee.
Eats
Next to being in Spain, Chef Liam Tomlin's Canteen serves the most authentic and delicious tapas I've ever had; well, the plates are a bit large to be called tapas but it's in that spirit. Risotto with edamame, peas and parmesan; Calamari slightly crispy and lemony served with boiled potatoes soaked in olive oil; grilled cauliflower with parsnip chips. No taste was out of place.
The next day, I met up with a friend I met in Peru, a full-on yogi and vegan for some amazing fresh eats at Raw and Roxy.  Owner Beatrice Holtz was diagnosed with a list of ailments and turned her life around with food. After eating my raw vegan lasagna, I felt great.
Best Cool coffee shop
Even the name is cool: House of Machines. Coffee shop by day, at night expect concerts and cocktails. And, if you do like bikes of the electrical variety, the shop has motorcycle group rides. The web site describes it as an eclectic mash of men's favourites, but I just like the craft beer and vibe.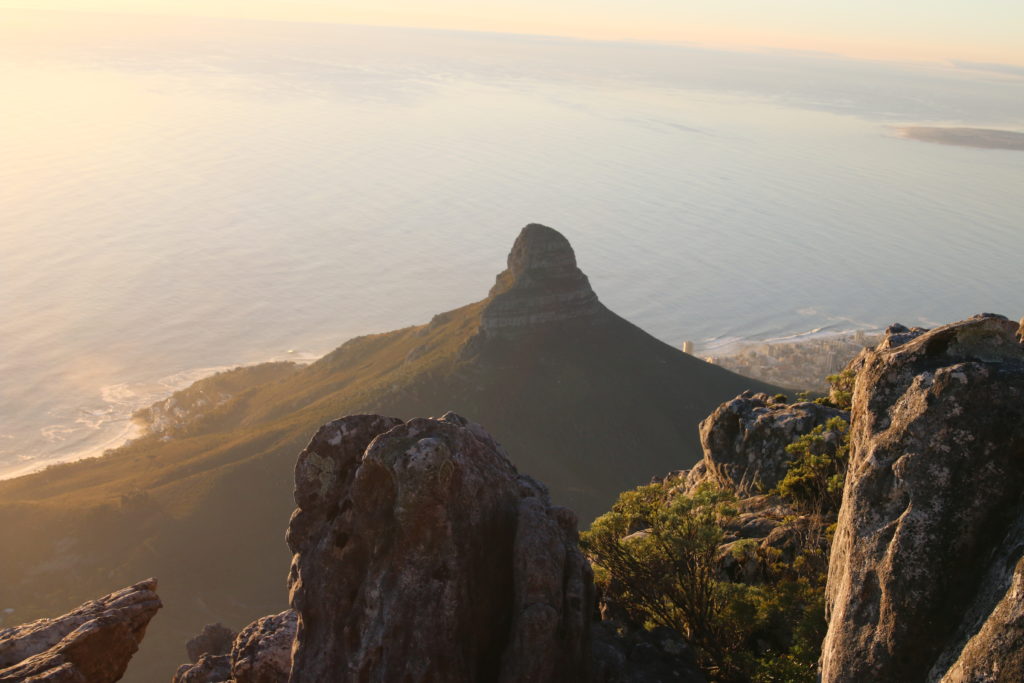 We decided to hike a mid-level route: India Venster included a wee bit of scrambling up rocks, but nothing too crazy and took us about four hours hiking. After taking killer pictures of the ocean, and Robben Island in the background, we took the spinning cable car down ($25CAN).
With tons of routes, ranging from a stroll to scrambling up rocks and using ropes, you could spend a good week hiking here.
Regardless of your route, bring a hiking buddy and tell someone where you're going. Seriously. My friend and I followed Google Maps, but if you're travelling alone, hire a guide.
The day we were hiking the police found a body in the Platteklip Gorge – a woman decided to turn back while her family continued. She was missing for two months before they found her body. G.uuuulp.
Grab a guide: click here for a reputable company.
Art and Booze: First Thursdays gallery and bar tour
The first Thursday of every month art galleries open up for a 'gallery crawl.' Essentially it's a big street party, but I did see some amazing artists' work.
WHAT ARE YOUR FAVOURITE CAPE TOWN SPOTS?