14 Jul

Day 12: the Goddesses of the bike

I have never seen women ride bikes like this, ever.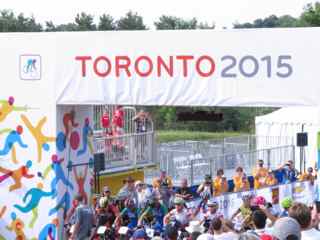 I'm at the Pan Am women's mountain bike race and two of Canada's finest are here. Emily Batty is currently ranked the 7th best in the world; Catharine Pendrel is in 2nd place. They dominated the track riding neck-to-neck until Batty passed Pendrel in the last seven seconds. Seven seconds. Madness.
In fact, they were ahead of the pack of 14 other riders by more than five minutes when they nabbed the gold and silver medals.
Originally from Fredericton, New Brunswick, Pendrel rode her first race on her brother's bike. Apparently she was consumed by fear during the early days. But more than that, Catharine's coach didn't think she was winning material when he saw her ride, at first. She had to convince him to take her on. It reminds me of Julia Child: she didn't start cooking until she was in her late 30s!
Batty had home town advantage as she's from a small town nearby Hardwood Hills, the mountain bike venue. She was only 10 when she rode Hardwood for the first time–she's in her late 20s now.
Look at Catharine sliding into the air! Apparently only the first five of the 16 riders even attempted going over this boulder — the others took the easy way around, which was also the longer route.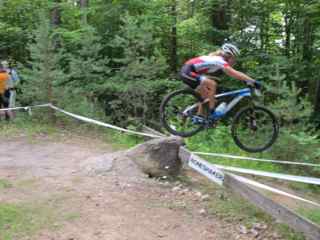 Click to see these ladies zoom!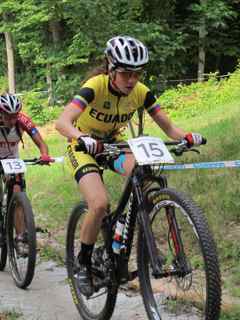 It was a bit shocking that in the entire Americas, there were only 16 riders competing here at the Pan Am's. Since these games are about emerging athletes, "shouldn't we have hundreds of women out there?" said P, who knows this racing world well. Agreed. We should, P.
I got a fever and the only prescription is more cow bell!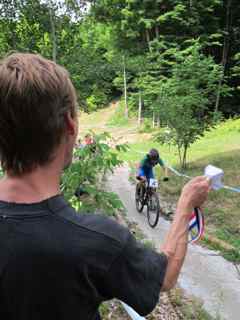 The organizers were handing out cow bells — the hills were alive with the sound of cow bells. 
It was exciting to run to different spots, like this notoriously tricky section called the Boneshaker, to see the women and let er' rip with the bell!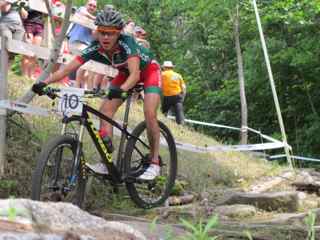 Another cool venue item: because of the huge Latino contingent, the announcers spoke in Spanish and there were amazing, albeit expensive, tacos. Leagues above the regular burger fair, but still not enough of it.
Days later, I still have images of Catharine and Emily swooping down the Boneshaker and Catharine gliding over that boulder. It's inspiring and it makes me want to be a better rider. Thanks ladies.