05 Jul

Day Four: Queen of Kensington

When I was a kid growing up in Dartmouth, Nova Scotia, I watched the CBC (Canadian Broadcasting Corporation) show, The King of Kensington. Actor Al Waxman portrayed Larry, a working class all-round nice guy who lived with his new hot wife and mother. But the real star was Kensington Market, which you see only the introduction (the rest was filmed in a studio).

But this show also signified Toronto for me: gritty at times (I visited Yonge Street at 13!) and also immensely cultural.

Today I had a formal food and history tour with a long time resident of Toronto, Shirley Lum, who has been doing these tours since 1993. So, this post is more visual than writing.

We began at the corner of Spadina and St.Andrew: "people said they never knew how to find Kensington so the city created these red poles— Home Again, Home Again, signifies that the market is home to some Torontonians, and not just a market.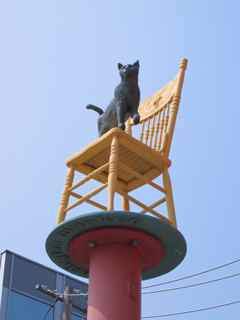 Looking south from our corner, toward the CN Tower and the financial district , Lum asked me to imagine that 200 years ago this didn't exist: "It was all forest until in 1870 the British military came here, Captain George Taylor Denison's home was the only one in the area." Hard to imagine as Kensington is so smushed with buildings today.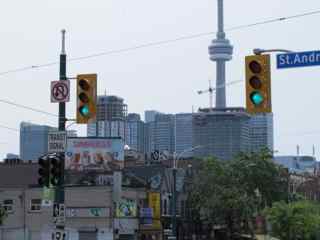 So, predominantly English, Welsh, Scottish and Irish Protestants and Catholics, in 1930 the area opened up: "there were waves of ethnic groups that stopped in the 1980's," says Lum.
*Jewish and Ukrainian families arrived around 1911 until 1930 (once 30 synagogues; now there are only two).
*40's Hungarians and then in the 50s, the Portuguese. "But now the Portuguese are really moving out…it's harder and harder to find a tarte de nada in the market." She's talking about the dreamy custard pastry.
Finally, the 60 and 70s saw a rush of Asian and Caribbean residents, and then the Lebanese and Latino's–bring on the empanadas! It wasn't until the year of love, 1969, when the first Chinese restaurant open its doors in the market.
Our first food stop, Moonbean Cafe, where we eat a few Ukranian yummies.
Bureka…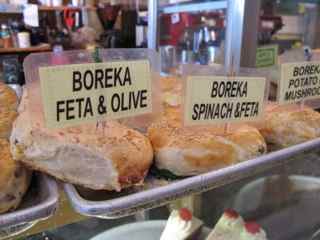 And something that looks like a croissant, but is really sweet, dense and chocolaty! No complaints.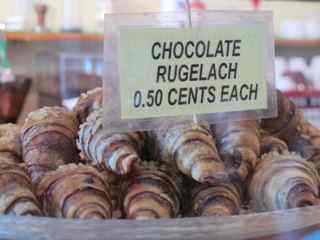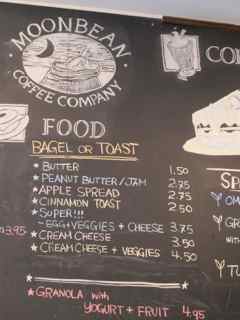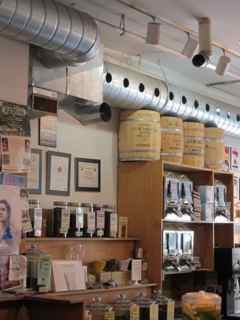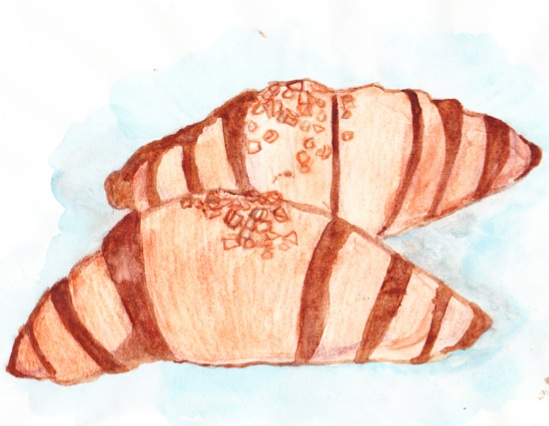 Vieve's rugelach! 
"This place used to be a vintage clothing store." She explains the long tradition of Jews selling used clothing: 'shamtah' is Hebrew for rags. So, naturally we head to Vintage Row on Kensington Ave.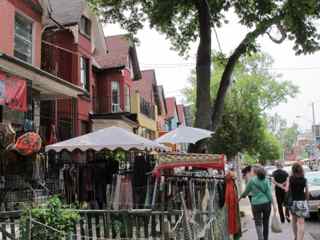 And then Lum does something really cool: she pulls out vintage photos of homes. "So many places used to have their own chickens out front…I even remember as a kid the smell, oh the smell!"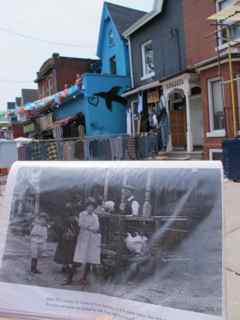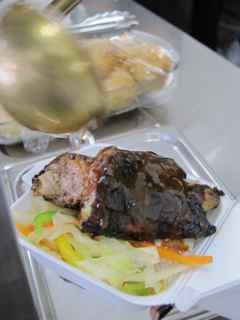 Jerk Chicken at Rasta Pasta! Spicy.
We stuck with the Jamaican theme and visited a grocery store for a Jamaican patty, but found so many goodies like the aloe leaves, Jamaican spinach, cassava root and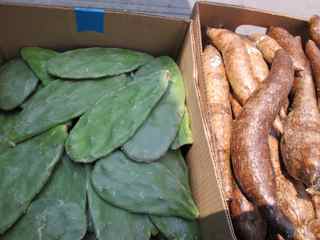 Then, a Jamaican version of Red Bull–but the sexy kind!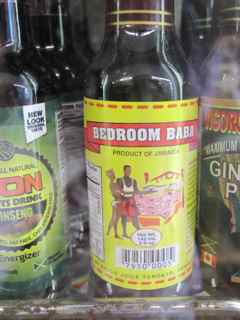 And after a stop at the Cheese Magic, where flirty guys make you want to take home a few wheels, we visit Akram's for some falafel, hummus, babaganoush and pear nectar from Turkey!
And finally, we stopped at Denison Square where the Captain's house once stood, now a synagogue. Facing the water, the driveway stretched from Dundas to Queen, once the southern boundary of Toronto! The park in front was also where the Captain inspected the horses every day.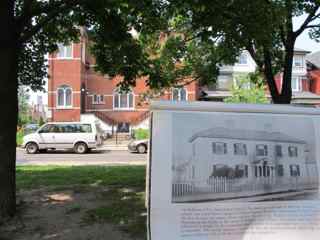 Finally, in this park, we end the tour with my friend Al Waxman–a bronze statue of the actor with two benches inscribed with notes from his fans and one from his wife.