03 Jul

Day Two: A good ole' Russian Whisking

"If I pain you, you say, yes?" says the adorable Russian gymnast-looking banshyk, a Russian masseur.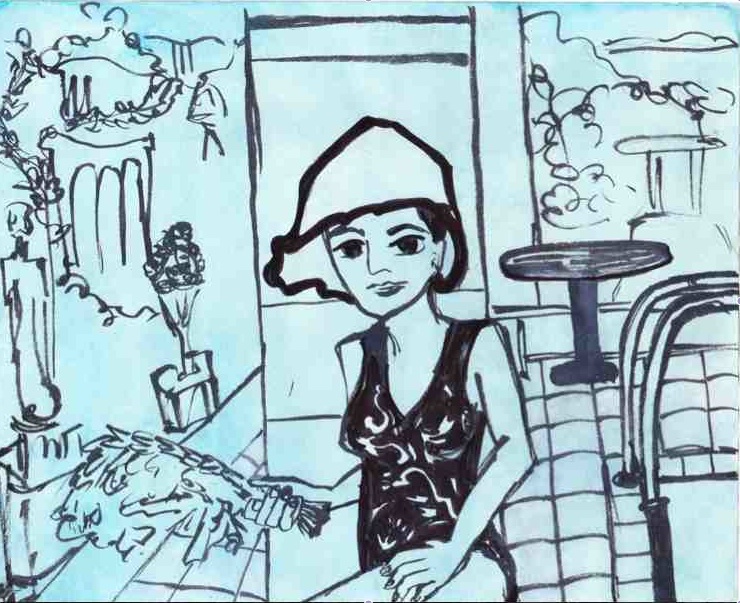 Face down on a hot wooden sauna bench, I look up: "OK."
Wearing a borrowed one-piece bathing suit, something my grandma might wear, it's so stretched I could easily stick a grapefruit into my bra, a big one. Prostrate in the dry sauna, with hunky-Russian whipping me with bouquet of birch leaves, the heat makes it hard to breath.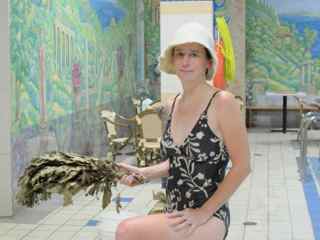 After soaking the leaves in water, he waves them in the air to get them hot, then lightly dusts my back. The pain is inevitable. He pulls his arm up and the leaves come crashing onto my back and instead of lifting them off, he presses the hot leaves into my skin. Soothing sting.
Oh, the hat. You're asking yourself: why the hell would you be wearing a felt hat into a sauna? Well, it's tradition, first. And if you're Russian, don't F! with tradition. But one of the guys sitting near the pool explains that it's to protect your hair: "heat destroys your hair, and the hat also keeps you cooler." It seems counterintuitive, but OK. You're the Russian.
After the whipping, Russian Gymnast (RG) splashes some ice cubes on my head. Did I just become Jennifer Beals in Flashdance? He also adds in a good scrub with his loufa gloves: "You skin peels good." When RG escorts me outside, P looks up from his lounge chair: "you OK?" Oh yeah, we're just cooling it down now." But not before I notice the heat patches on my legs. Pretty?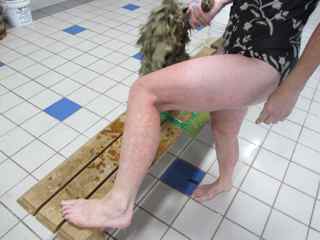 North of the city, like way north, past the 401 highway, past a myriad of car dealerships, in a strip mall with a kebab store and Asian nail salon, Red Square evokes old world Russia at the Russian bathhouse http://www.sandunyspa.com. My boyfriend and I are the only non-Russians in the banya.
Inside, it feels like we're back in the USSR: a baby blue wall mural of Romanesque columns and toga-wearing-Gods; cartoon paintings of naked women, yet the men are clothed, surrounding the perimeter of the pool room. And here's the kicker: the pictures are splattered with inexplicable white splotches. Didn't ask; don't want to know.
In the bar: white leather sofas and two giant plasma TV's playing 80s pop synthesizer-inspired videos — think Russian Justin Beebs.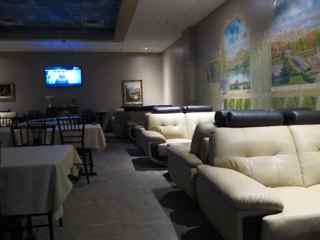 When we arrived at 4:30PM (it's open from 3PM until midnight), the place was deserted except for two older men wearing men reading newspapers around the pool, and Papa–a Korean man.
"Why are you called Papa?"I asked.
"Cause I'm old."
"How old?"
"Sixty four." Wow, you look good.
P and I started with a quick shower, Jacuzzi then dry room–the hottest of the three saunas and work our way down to the steam room–then a quick jump into the cold pool–not as cold as you'd think, but wow– flash awake!
Apparently, over sausage, potatoes and kvass (a fermented bread drink that tastes like kombucha tea), the manager tells us we got it backwards going from the hottest to the coldest. "You shocked your system. Instead you should start easy — go from the steam room first, which warms up your insides…take deep breaths to moisten the body," says Dmytro Vitvyytskyi. "Then, you go to wet sauna, the Russian sauna." This one has the wood burning stove and smells like a Russian cabin in the woods.
Finally, the steam room is so thick you can't see ahead. Unbearably hard to breath, I leave after a few minutes, then it's a sprint to the cold pool! Sweet Jesus that's chest-thumping good.
After a final dunk in the pool, I emerge feeling oh-so-smooth and revived.
A new Mel-ski!