02 Jul

Day One: Little heads at The Royal Ontario Museum

"Look at its tiny head!" says Vieve, pointing at the dinosaur's skeleton that spans the entire length of the museums's foyer.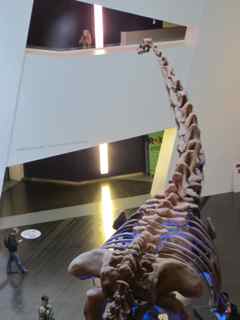 This is Genevieve Sebastian's interpretation of Little Head at the ROM.
Perched on top of its body, its head is almost smaller than mine.
That's the funny thing with evolution: big heads progress confirming that nerds will eventually take over the planet. Yahoo.
I'm at the Royal Ontario Museum that has been on Bloor and Avenue Road in Toronto since 1914; it's one of North America's largest museums of natural history, culture and art that pulls in over one million visitors a year. Here are a few of my favourites on my first ever visit. But, a bit of background.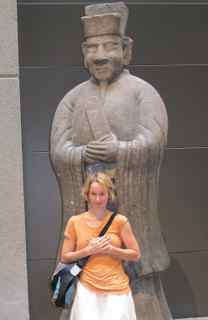 The ROM. Some love it; some hate it, architecturally speaking, of course.
And by that I'm talking about the 2007 redesign that saw the brick facade grow a  futuristic glass and aluminum structure called the Michael Lee-Chin Crystal, the man who donated about $30 million for its construction.
Old world brick meets new world shiny glass and metal.
I won't dwell on this, because personally, I think it looks cool but I don't know what it looked like before. And, I'm even not a fan of the architect, Daniel Libeskind. (In his Berlin Jewish Museum, the architecture and interpretive exhibits took away from the content).
So, back to the museum. The dinosaur gallery's life-size skeletons, which remind me of the movie, Night at the Museum, are surreal. It feels like after dark the giant extinct animals are all going to come alive and dance around to Boney M. I don't know why I said Boney M. Thinking of extinct species brought them to mind.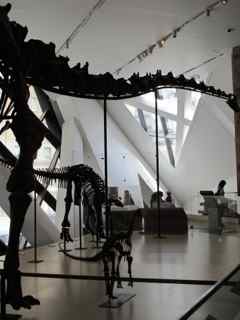 So, get a load of this guy. This dinosaur's name is Gordo and he is the largest barosaurus dinosaur in Canada, actually, the largest dino in Canada. But, for 40 years Gordo sat in the basement of the ROM unbeknownst to anyone. Here's a link to the story: https://www.rom.on.ca/en/rom-recollects/stories/under-our-noses.
Unearthed in Utah, his real fossil bones are actually placed in a life-like pose. Gordo is 150 million years old. Did you get that? One-Five-zero plus million.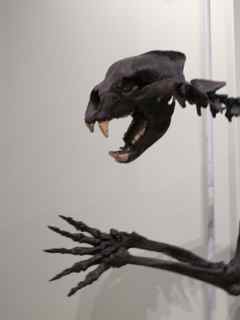 And finally, it's jazz hands!
This is Vieve, the artist, sketching a dino's small head.
I also loved the Egyptian exhibit; this culture is all about the aesthetics: everything from the way Egyptians were buried to the designs they created on bracelets were intricate and attention-grabbing. Beauty mattered.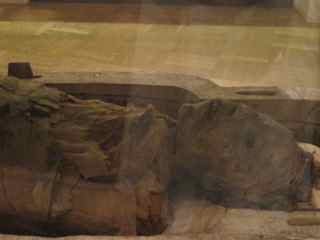 Looking at the mummy of Antjan, a wealthy landowner who lived about 715-525 BC, I hear a woman behind me: "Do you think that is real?"
"I think so," I reply.
"Are you from Toronto?" No, Connecticut.
"What do you think of Toronto?" I ask. "Well, it reminds me of New York." Her husband pipes up: "only cleaner."
"The traffic is just as bad," she says. Agreed.
I suggest the couple visit Kensington Market and keep moving.
Pompeii is a temporary new exhibit, and while it's not the real thing, which I have been to twice, the casts of the dead, curled up reaching for the burning flesh on their face, is fascinating.  I must say: go to Italy to see Pompeii before you die. No, really: a Gladiator amphitheatre, bakeries with bread crumbs still inside, primal sex paintings of bazaar Roman rituals… it's unbelievable. An entire city galvanized in ash.
Even the dogs …
Crouching for comfort. A man's last final minutes.
Wow, am I that bleak? What a way to end the blog of my first July Project post: a hap-hap-happy montage of people burning to their inevitable death. Stay tuned for tomorrow when I get beat up at a Russian bathhouse.