It's not hard to feel isolated in Norway--it's almost 2,500 km long; Canada is almost 10,000 but Norway's coastline is... ready for it? 
21,925 kms!
It curves up north and touches, yes touches, Russia. And what makes the coastline so unique are the spots of islands and fjords, which Bjornar tells me are 'long and deep bays, sometimes 10s of thousands of kilometres long.'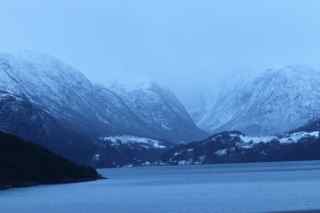 "We're in a fjord in Trondheim," he tells me. I had no idea. We decide to take a little trip to the west coast of Norway that involves two ferries and over five hours of driving through fjords and scary snowy mountains lost in the clouds. A remote fishing village--once the largest village between Trondheim and Bergen in the middle ages--Bud is now a smattering of a few dozen houses and a fish plant on a ragged coastline.