After three weeks, I have a routine in Bali. After breakfast, I walk through my neighbourhood of Nyuh Kuning. Stepping over the daily Hindu offerings and incense,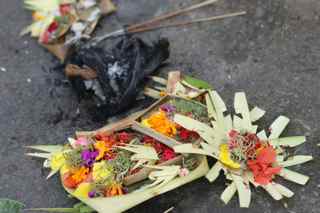 refusing the local taxi operators, and watching the kids in uniforms hop on the back of motorbikes heading to school. I often stop for a coffee at Copper Cafe while ensuring monkeys don't land on my head from the nearby sanctuary. Sometimes for a treat I have the sweet black rice in palm sugar and yogurt. The nutty rice is soaked for a day then boiled for four hours. Then after a few hours of marking assignments, a girl's gotta work, I mosie into the centre of Ubud to people-watch and have a $10 massage. Here are a few highlights from my past few weeks. Cooking class: chicken with Balinese lemongrass sauce. Many local family-owned restaurants, called warungs, offer classes ($25 for about four or five hours!) Think fresh spices like turmeric, aromatic ginger, fresh bay leaf, lemongrass. (I had no idea how to cook with lemongrass before: smash it and then stick it in the water to boil with the chicken!) The chef kept telling us (my friend Virginia and daughter Angie visited): "
thinner, chop thinner
!" Virginia's hand was aching from chopping! The result is a paste rather than 'chopped' veggies.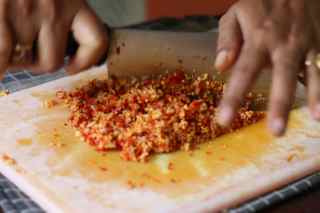 "Indonesian food is simple, but the process is not simple," says Kadek Suwartini who owns
d'waroeng
www.d_waroeng.com
.